Since the October 4 debate, Mitt Romney has flipped the script on the presidential elections. What seemed like an inevitable victory for the Obama campaign due to strong leads in swing states of Ohio, Florida, Pennsylvania, and Virginia has become a neck and neck race. Romney's strong performance in the debate, coupled with Obama's anemic defense of his policies has led to stunning shifts in many state and national polls.
In this article, I want to examine how a Romney victory would affect the coal stocks, which I believe would be the biggest beneficiary of a Romney victory in terms of overall return. Also, I will be looking at the impact on coal stocks with an Obama victory.
Odds of Romney Win Have Increased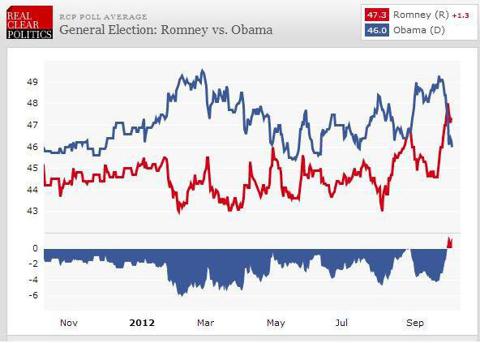 Coal Stocks Under Obama
Since Obama was inaugurated, the S&P 500 Index ETF (NYSEARCA:SPY) is up 92%. In contrast, the coal sector has been one of the weakest groups. Many stocks in the sector are well below their March 2009 lows, and one major producer - Patriot Coal - declared bankruptcy. The reversal in fortunes for many of these companies since they went parabolic in 2008 on the back of $130+ oil is an apt reminder that commodity production is a rags to riches to rags story.
There are many reasons responsible for the weak performance of coal in addition to environmental policies affecting coal. In fact, the biggest culprit is low nat gas prices. With low nat gas prices, many power producers have switched to nat gas from coal.
Another factor is the weakness in the Chinese economy. One illustration is the performance of steel stocks which also have lagged the recovery in the general stock market. China is the largest source of marginal demand for many commodities including coal and steel, so its economic prospects certainly influence the coal sector. The chart below compares the Shanghai Stock Exchange (NYSEARCA:FXI), Arch Coal (ACI), US Steel (NYSE:X), and natural gas prices to illustrate their weakness off the March 2009 bottom.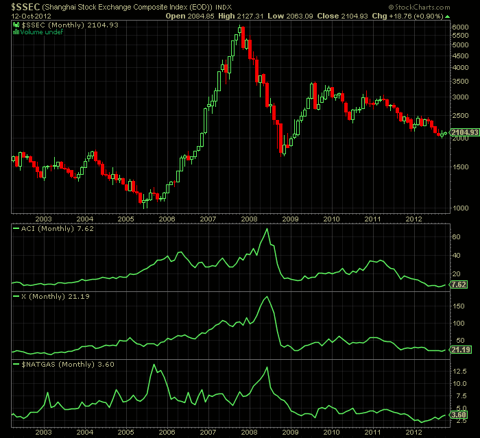 Of course, the environmental policies which are leading to the shuttering of many coal generated power plants are partially responsible for weakness in coal costs. The EPA's case for these policies is that the low cost of coal does not fully capture its environmental and health impact, therefore some sort of action is required for the cost of coal to reflect these externalities.
The administration's policies are designed to reduce emissions of sulfur dioxide, mercury, and carbon dioxide. Ten years ago, coal accounted for 50% of US electricity production, today it is 32%, with some forecasting a drop to 25% in the future due to the combination of low nat gas and environmental regulations.
Both factors, coupled with weak Chinese data, have conspired to push the coal industry down. Any sort of relief from these factors will provide a boost to coal stocks, and that is what I want to focus on.
If Obama were to win a second term, I think there certainly is still upside with the coal stocks from a strengthening Chinese economy and rising natural gas prices. However, initially there may be weakness due to removal of the possibility of less stringent environmental regulations. I would expect that at first, coal stocks would react very negatively to an Obama victory.
Romney and Coal
Mitt Romney has fully embraced the coal industry and made a support of the industry as a centerpiece of his economic platform. In fact, he frequently talks about a 10 year target of North American Energy Independence with coal production being a centerpiece of this effort. "By the way, I like coal. I'm going to make sure we can continue to burn clean coal. People in the coal industry feel like it's getting crushed by your policies," said Romney in the debate. Since his statement of support for coal stocks and his surge in the polls, the coal stocks have been on fire which is more impressive given the recently weak stock market.
This chart compares the performance of other coal stocks such as Arch Coal, Walter Energy (NYSE:WLT), Peabody Energy (BTU), and James River Coal Company (JRCC).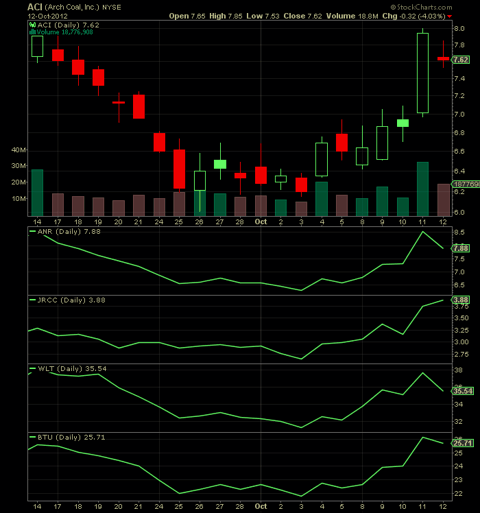 It should be noted that both Chinese stocks and natural gas have displayed impressive strength during this period, so while I am willing to say that the debate helped the coal stocks, it is not the only factor in the coal strength this month. Nevertheless, the upcoming election is the largest dynamic variable that would affect the coal sector in the short term.
In addition, future Chinese data and nat gas prices may deviate somewhat from expectations in the short term, however the election is a binary outcome, so going long the coal stocks is an effective way to play an increase in the odds of a Romney victory, especially since the current expectation is that a Romney victory implies an easing in regulations.
Conclusion
The three largest drivers of coal prices are natural gas prices, Chinese growth, and environmental policies. On a shorter timeframe, the biggest unknown is the election which would have a huge impact on environmental policies. A relief in the severity of environmental policies via a Romney victory is a potential huge catalyst. This is evidenced by the strong move up in coal stocks with Romney's standing in the polls.
In a future article, I will examine long term catalysts for the coal stocks, the fundamentals of individual producers, and signs of selling exhaustion.
Disclosure: I am long JRCC. I wrote this article myself, and it expresses my own opinions. I am not receiving compensation for it (other than from Seeking Alpha). I have no business relationship with any company whose stock is mentioned in this article.