Another ugly morning on the Toronto market isn't enough to distract investors away from Questerre Energy Corp.'s (OTCPK:QTEYF) successful drilling results.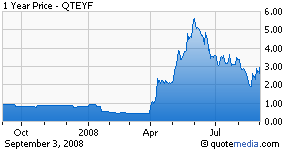 Questerre stock, which has already quadrupled in price since April, jumped 20% Wednesday morning after announcing that drilling at its Gentilly shale gas well in the Utica play in Quebec was positive, flowing more than 800,000 cubic feet per day.
Questerre, along with project partner, Talisman Energy Inc. (NYSE:TLM) has another frac to the testing program based on the results, and maintains the option to add two additional fracs to follow.
Questerre CEO Michael Binnion stated:
This is an excellent result for a vertical frac, especially given that only one set of perforations was stimulated.

There is obviously a lot more work to do and it will take time for final results to come in, however, initial results continue to meet or exceed our expectations.
Wellington West analyst Kim Page maintained his "speculative buy" rating  and C$8.75 12-month price target on the stock, saying Questerre is well-positioned with interests in the Utica play and a diversified production base in Alberta and Saskatchewan.