By John Nyaradi

Greece continues its recent run, as Europe works to save the beleaguered nation.
Once left for dead by most analysts and pundits, Greece seems to be rising from the grave under the leadership of Prime Minister Antonis Samaras. The Europeans have held countless summit meetings regarding the crisis in Greece, but the latest one seems to be yielding concrete results as Samaras asks for an additional two years to meet austerity targets in the midst of a severe recession and Depression-level unemployment.
The summit yielded a bubbly press release from the European Union:
We welcome the determination of the Greek government to deliver on its commitments and we commend the remarkable efforts by the Greek people ... good progress has been made to bring the adjustment program back on track. (source: Bloomberg)
Samaras needs the next payout of 30 billion eurodollars to keep his country afloat and seems to be making progress towards that goal. The move toward a delayed requirement to meet austerity goals has been picking up steam as Christine Lagarde and her International Monetary Fund advocated for more time and against excessive austerity, and German Chancellor Angela Merkel went to Athens to reaffirm her commitment to Greece and mend fences with the rioters who met her in the streets.
The two-year reprieve will cost money, of course -- some 12 billion euros is the current estimate -- and leaders have to figure out how, when, and by whom this will be paid. But for today, everything is hearts and flowers as major power brokers like Merkel, Ollie Rehn, vice president of the European Commission, and Luxembourg Prime Minister Jean-Claude Juncker all gave Greece a pat on the back and their apparent seal of approval.
For investors who want to go "long" Greece, the ETF of choice could be Global X FTSE Greek 20 ETF (NYSEARCA:GREK).
Click to enlarge image.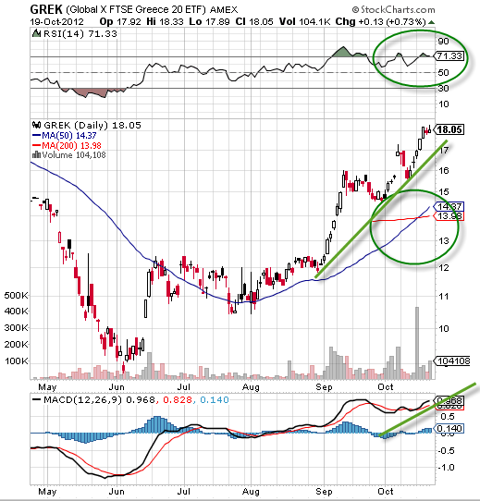 In the chart above we can see how GREK has been in a strong uptrend that started in September. The index is above both its 50- and 200-day moving averages, and the 50-day has crossed the 200-day to form a "golden cross" buy signal. Momentum, as represented by MACD in the bottom panel, is also positive while RSI is at overbought levels above 70.
The upshot here is that GREK is in a strong uptrend but subject to a short-term correction due to overbought conditions. For the last five days, it has gained 10.2% and for the last month the ETF is up 17.1%.
Major holdings include Coca-Cola Hellinic Bottling Company, Coca-Cola Hellenic Bottling Co., National Bank of Greece, and Hellenic Telecomm, among other companies with revenues centered in the island-studded nation. While this is the ETF of the Week, other, more stable and potentially "safer" European ETFs also have offered opportunities in recent days.
Choosing ETFs based on international markets adds diversity to a portfolio and, in recent days, two larger European economies -- represented by iShares MSCI Spain Index (NYSEARCA:EWP) and iShares MSCI Germany Index (NYSEARCA:EWG) -- have been strong performers. Spain's ETF gained 3.9% over the last five days and 25% since early August, while Germany's ETF has climbed 13% since early August.
In all, Greece and its ETF are hot and could remain on the front burner given that the European Union, European Central Bank, and International Monetary Fund have all joined forces to save the troubled cradle of Western civilization.
Disclosure: I have no positions in any stocks mentioned, and no plans to initiate any positions within the next 72 hours. I wrote this article myself, and it expresses my own opinions. I am not receiving compensation for it (other than from Seeking Alpha). I have no business relationship with any company whose stock is mentioned in this article.