When it comes to investing, we always hear the phrase "past performance is not indicative of future results." While that phrase can be true, I always also like the phrase "those that ignore the past are doomed to repeat it." Why do I bring these up? Well, while it is true that past results don't always repeat themselves, investors can sometimes learn from the past, which provides ample opportunities looking forward.
Two weeks ago, I published an article telling investors to sell shares of Philip Morris (NYSE:PM), and reacquire them on a pullback. The reasoning was rather simple. Philip Morris shares had run up to a new high and appeared a bit overvalued compared to the rest of the industry. As I showed investors, since the stock first broke $90 earlier this year, there had been six pullbacks of at least $4. With Philip Morris trading around $94 at my time of writing, I encouraged investors to wait buying the name until at least $89.
Well, sure enough, the stock started pulling back a little. It was around $92 to $93 earlier this week, and then the company released its fiscal third quarter earnings report. After the report, the stock fell nearly $4, and sits just above $88 currently. For those looking to get into the name, the recent decline might provide an opportunity. Today, I'll discuss the third quarter results and examine where things stand currently.
Third Quarter Results:
On the face of it, the report was not great. Revenues came in at $7.92 billion, widely missing expectations for $8.25 billion. The company said that cigarette shipment volume was down by 1.3%, led by an 8.1% falloff in the European Union. On the earnings per share front, the company posted $1.38, which missed by a penny.
Now there were some positive numbers. To analyze the complete picture, I'll first present the company's Q3 margins, and then show you how we arrived at each number.

Overall, net revenues fell by 5.29% from the prior-year period. However, the cost of those revenues declined by 9.24%. Gross margin dollars for the period declined by $179 million, or 3.25%. That decline was not as much as the decline in revenues, and thus you saw gross margins increase, as seen above.
Likewise, marketing, administration, and research costs fell by 6.68% in the period. This is the company's biggest operating expense (not counting cost of goods sold), which led to an overall decline in operating expenses of 6.8%. Overall, operating income fell by $54 million, or 1.47%. Again, that fall was not as great as the fall in revenues or gross margin dollars, so operating margins increased by even more than gross margins.
Interest costs did rise for Philip Morris by 9.9% in the period, reflecting a higher amount of total debt. Additionally, the company's effective tax rate for the quarter rose from 29.38% to 31.89%. For the period, net income declined by $137 million, or 5.57%. That rate was slightly higher than the decline in revenues, and thus, net profit margins fell by 9 basis points over the prior-year period.
Guidance Update / Balance Sheet Changes:
In terms of earnings per share, Philip Morris narrowed its earnings per share forecast for the year. The previous range was $5.10 to $5.20. The company announced a new range of $5.12 to $5.18. The midpoint stays at $5.15, and analysts are currently expecting $5.21.
In terms of the balance sheet, the following table shows some key financial numbers. I've compared this quarter's end result to prior Q3 ends as well as the Q2 numbers from 2012 to see how things have changed over the last three months specifically. Dollar values in millions.

The company's cash position increased by nearly $1 billion during the quarter, but the total debt load increased by $1.6 billion. Short-term debt decreased by $1.06 billion, but long-term debt increased by nearly $2.7 billion. Total debt as a percentage of total liabilities increased to 58.74% in the quarter, up from 58.35% at the end of Q2, and 54.53% a year ago. Long-term debt represented 78.1% of total debt, up from 71.3% at the end of Q2.
The good news here is that current assets increased by $2.04 billion compared to a $104 million decline in current liabilities. That was enough to get the current ratio back above 1, and turn working capital into a positive number. However, the company has nearly as many liabilities as assets, something I'm sure some investors will not like.
Why am I making such a big deal about the balance sheet? Well, Philip Morris investors rely on the company's dividend and buybacks. During the quarter, the dividend was increased by 10.4% to an annual rate of $3.40. Currently, the stock is yielding 3.86% based on Friday's close. The company also announced a new three year, $18 billion stock buyback during the quarter, and bought back $1.5 billion of shares during the quarter. That helps explain why earnings per share did not fall as fast as net income, since the share count was reduced over the past year.
Changes to the industry growth picture:
I stated in my last article that Philip Morris was a sell because the premium the stock traded at compared to industry peers was just too much. Well, that premium has since come down, which makes the name more attractive again. In this section of the article, I'll provide a number of comparisons to the same four names I usually do: Lorillard (NYSE:LO), Altria (NYSE:MO), Reynolds American (NYSE:RAI), and British American Tobacco (NYSEMKT:BTI).
The first table I will provide shows the two-year growth potential for each names, in terms of revenues and earnings per share.

Since my last article, the following analyst revisions have been made:
Philip Morris: 2012 revenue growth reduced from 1.8% to 1.7%. 2013 revenue growth forecast increased from 5.5% to 6.0%. Two year total is now 7.8%, up from 7.5%. 2012 earnings growth increased from 6.4% to 6.8%. 2013 earnings growth increased from 11.2% to 11.5%. Two year total up from 18.2% to 19.1%.
Lorillard: 2013 revenue forecast increased from 5.4% to 5.6%. Two year total up from 10.1% to 10.3%. 2012 earnings growth reduced from 8.6% to 8.5%. Two-year earnings growth forecast reduced from 19.4% to 19.3%.
Altria: 2012 revenue growth forecast increased from 1.8% to 4.1%. 2013 revenue forecast reduced from 1.5% to 1.1%. Two-year total increased from 3.3% to 5.2%. 2012 earnings growth forecast reduced from 7.8% to 7.7%, and 2013 reduced from 7.7% to 7.3%. Two-year total reduced from 16.1% to 15.1%.
Reynolds: 2012 revenue decline improves from -1.3% to -0.5%. 2013 revenue growth reduced from 0.9% to 0.8%. Two year total improves from -0.4% to 0.4%. 2012 earnings growth forecast decreased from 5.3% to 5.0%. 2013 earnings growth forecast increased from 6.4% to 7.5%. Two-year total increased from 12.1% to 12.8%.
British American: 2012 earnings growth forecast increased from 7.4% to 8.3%. 2013 earnings growth forecast reduced from 7.3% to 7.2%. Two-year total increased from 15.2% to 16.2%.
Why do I make such a big deal when it comes to the growth forecasts for all of these names? Well, it all comes down to valuations. Throwing out a bunch of revenue and earnings numbers seems meaningless if you don't know what you are paying for them. That's where it all comes back to the premium I mentioned before.
So the second table I will provide shows how Philip Morris's valuation stacks up against the other four. I will provide price to sales and price to earnings numbers based on the current expectations for each year. In the following table(s), "then" is my last article, and "now" is today.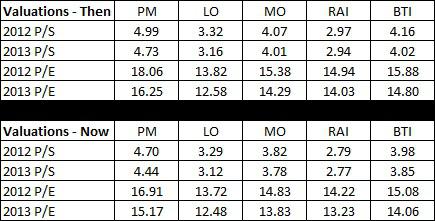 Obviously, with Philip Morris's stock coming down in recent weeks, the valuation has gotten a bit more reasonable. At the same time, some of the other names have come down in price as well, especially after the earnings news from Philip Morris last week.
I mentioned that Philip Morris was trading at a huge premium to the other names in this space a few weeks ago. But the recent decline has that premium coming back down, as seen in the following table.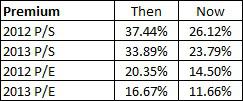 Investors have always seemed to pay a premium for Philip Morris. They have been a fan of the growth potential, and the large stock buyback makes it an attractive name. As someone who has owned Philip Morris stock in the past, and been very bullish on the name over time, I admitted in my last article that the premium was just too much. However, that premium has come down by about 30% since my last article, making Philip Morris stock a bit more reasonable.
Conclusion - you can start getting back in now:
I'll admit that on the face of it, the third quarter report from Philip Morris did not look tremendous. It wasn't, but there were some positives. Gross margins and operating margins rose, and net margins could have rose if not for a higher tax rate. The balance sheet saw some changes, which may have some investors worried. However, if the company was in poor financial shape, the dividend would not have been increased by more than 10%, and an $18 billion buyback would not have been announced.
With Philip Morris shares down $6 since their latest high, investors could start looking to get back into the name, or accumulate even more. Now, we could see some further declines if markets remain weak. Overall, earnings season has not been spectacular. If that trend continues, Philip Morris will probably head down to $85. But for now, the stock looks a bit better at $88 than it did at $94, and that provides a good opportunity.
Disclosure: I have no positions in any stocks mentioned, and no plans to initiate any positions within the next 72 hours. I wrote this article myself, and it expresses my own opinions. I am not receiving compensation for it (other than from Seeking Alpha). I have no business relationship with any company whose stock is mentioned in this article.