After reporting earnings on Thursday morning, Verizon Communications (NYSE:VZ) jumped over 2% as investors were impressed with mobile growth and reduced capital expenditures.
The company is a global leader in delivering broadband and other wireless and wireline services to consumer, business, government and wholesale customers. Verizon Wireless has more than 94M retail customers though it is 45% owned by Vodafone (VOD).
Verizon has been able to reduce capex as the telecom sector has become less competitive with AT&T (NYSE:T) and itself creating dominant positions in wireless. Unfortunately the recent developments in the wireless sector could place pressure on those plans. With the Softbank investment, Sprint (NYSE:S) will no doubt be a thorn in the side for the next couple of years.
Q3 2012 Highlights
The company reported the following highlights for Q3 2012:
64 cents per share in adjusted EPS (non-GAAP), which excludes 8 cents per share in charges, compared with 56 cents in adjusted EPS in 3Q 2011 - a 14.3 percent increase.
7.5 percent year-over-year increase in wireless service revenues in 3Q 2012; 7.9 percent year-over-year increase in retail service revenues; 31.8 percent operating income margin and 50.0 percent segment EBITDA margin on service revenues (non-GAAP), both record highs.
4G LTE service now available to more than 250 million people in 419 markets across the U.S.
4.6 percent year-over-year increase in wireline consumer revenues, the highest in a decade; consumer ARPU (average revenue per user) up 10.3 percent year over year, to $103.86.
With capital expenditures of $11.3 billion in the first nine months of 2012, free cash flow (non-GAAP, cash flow from operations less capex) was $13.4 billion through third-quarter 2012, compared with $9.0 billion through third-quarter 2011 - an increase of 49.9 percent.
The company reported earnings of $0.64 just matching analyst expectations.
Capital Spending
One key issue going forward will be whether Verizon can continue reducing capital spending. The company has been successful in 2012 at growing revenue while also spending less on equipment. This move has led to a substantial increase in free cash flow for 2012 as the slide from the presentation shows below: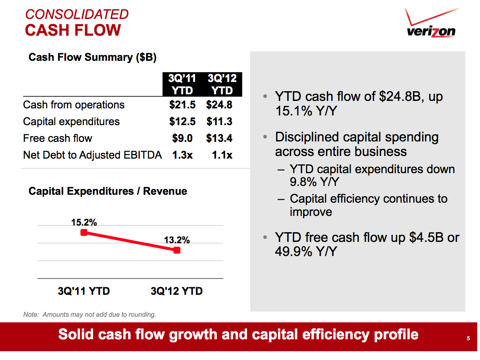 A major benefit is that the company has spent 16% less on wireless capital spending so far this year compared to 2011. The new cash infusion at Sprint should make it more competitive; hence placing Verizon back on the spending block.
As the CFO made clear on the earnings call, any change that threatens revenue growth or the status as the best wireless network would cause the company to change the capital spending trajectory.
Stock Price
The price remains near 52-week highs at nearly $46. At this level, the stock trades at more than 16x 2013 earnings.
1 Year Chart - Verizon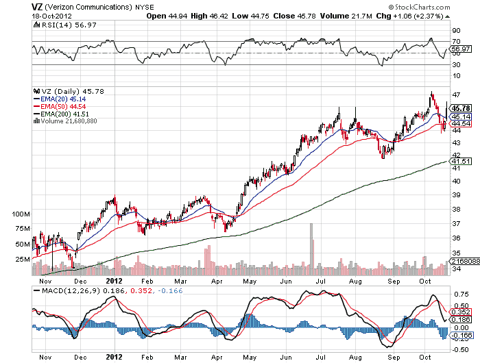 Conclusion
While investors flock to the stock for the 4.7% dividend, the real key is whether the company can continue reducing capital spending as a percentage of revenue. With over $40B in net company, the last thing Verizon needs is another spending war to keep the network competitive.
For the stock to make new highs, investors need to see that Sprint will not impact the spending trajectory. Investors still interested in the sector should look into buying Vodafone instead. Not only does the company own a 45% stake in Verizon Wireless, but also the focus on wireless services around the world provides a more compelling investment thesis. Also, the negativity from owning networks in Europe might be in the process of bottoming out.
Disclosure: I am long VOD. I wrote this article myself, and it expresses my own opinions. I am not receiving compensation for it (other than from Seeking Alpha). I have no business relationship with any company whose stock is mentioned in this article.
Additional disclosure: Please consult your financial advisor before making any investment decisions.