Have you noticed? In the case of valuing Intel (NASDAQ:INTC), Mr. Market has gone completely crazy -- unless you think that someone who offers to sell you something worth a dollar for 70 cents is a perfectly rational individual.
Intel, the biggest microprocessor manufacturer in the world, has just experienced a 27% decline from 52-week highs of $29.27 to $21.26. That's because of fears that ARM Holdings (NASDAQ:ARMH) and its ecosystem of companies -- like Qualcomm (NASDAQ:QCOM), Nvidia (NASDAQ:NVDA), and Applied Micro (NASDAQ:AMCC) -- are going to keep Intel out of the mobile devices market and challenge its dominant position in the PC market.
These fears, although not completely unfounded, have been totally blown out of proportion. Intel enjoys huge economies of scale in the PC business, and anyone willing to compete with it should just look at how AMD (NYSE:AMD) is faring -- not well. Intel can outspend in R&D and underprice any willing competitor in the PC market. Spreading your R&D costs over a huge number of units sold gives you the ability to keep your R&D cost per unit lower than that of your competitors. This makes you profitable with extremely low prices that your competitors wouldn't be able to stand. But as Intel's gross margins demonstrate (60%-plus) price is not the dominant factor in the CPU business. And outpacing Intel in a technological arms race is far from easy.
Furthermore, its huge expertise, proven technologies, and massive R&D make it easy and natural for Intel to move in the mobile devices business. For more specific analysis on Intel's technological advantages, I recommend two excellent posts by fellow contributor Ashraf Eassa. You can find them here and here.
With these concerns out of the way, let's move on to valuation. Based on the latest Q3 results announcement, Intel has a TTM net profit of $2.35 per share. That indicates a 9.05 P/E ratio. In addition, it has a $0.90 dividend, resulting in a 4.23% yield. As you can see below, these are the lowest P/E and the highest dividend rate Intel had for the last decade.
Click to enlarge images.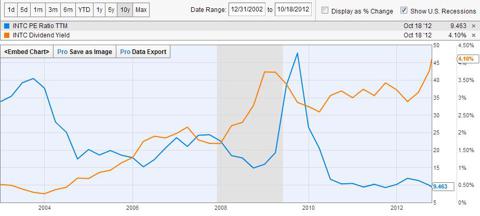 Two valid concerns, though, haven't been answered yet. Is this dividend safe? Are earnings going to grow or shrink?
The answer to the first question is quite simple. In the table below, you can see that Intel's free cash flow (operating cash flow - capital expenditures) is more than enough to cover the $0.90 dividend. Moreover, with growth prospects looking favorable (as you'll see later), we may even see a dividend increase some quarters down the road.
| | | | | | |
| --- | --- | --- | --- | --- | --- |
| | 2007 | 2008 | 2009 | 2010 | 2011 |
| FCF ($mil) | 7,625 | 5,729 | 6,655 | 11,485 | 10,199 |
| FCF / Share | 1.28 | 1.00 | 1.18 | 2.02 | 1.85 |
Let's address the second question now. Are earnings going to grow or shrink? As I said earlier, Intel has some very powerful weapons not only to keep competition at bay, but to go on a full frontal assault to the mobile devices market.
Intel has already allied with two big smartphone manufacturers, Motorola and Lenovo, and is making a debut in the tablet area with Microsoft's Surface. As you can see below, the smartphone and tablet markets are here to stay and grow. This means there is plenty room for both competitors to grow into that segment. But this isn't a predefined fight, and the ARM ecosystem is poised to respond sooner or later in the server or the PC area. So although the odds are in favor of Intel, this battle is far from over.
Smartphone Shipment Forecast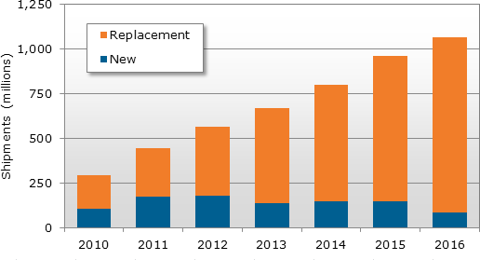 Source: NPD DisplaySearch Smartphones: Displays, Designs and Functionality.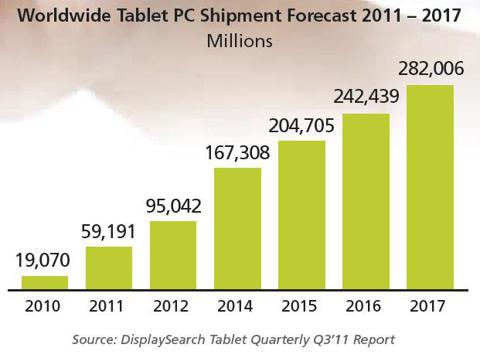 Finally, the bottom line: How much is Intel worth? Well, given its great financial position (low leverage), its cash of more than $2 per share, and the robust free cash flows shown above, its dividend is perfectly safe. On the other hand, 4% historical revenue growth doesn't seem difficult to achieve, even if Intel gains only a small portion of the smartphone and the tablet boom.
All these boil down to a fair dividend yield of around 2.5% (close to the industry average) and a P/E around 14 compared with the industry's average of 17. The value implied by those numbers is between $32 and $36 per share. And that is an absolutely attractive 45% to 67% upside potential. Or, to put it differently, Intel trades around 60% to 67% of its fair value.
Disclosure: I am long INTC. I wrote this article myself, and it expresses my own opinions. I am not receiving compensation for it (other than from Seeking Alpha). I have no business relationship with any company whose stock is mentioned in this article.