The Dow Jones Industrials Index has risen to a 4-year high last month despite a lack of supporting favorable economic news. Growth in China's economy has slowed. The European debt mess continues while the eurozone tries to dig its way out of a recession. The U.S. economy is only trudging along and early earnings releases are getting mixed reviews (and that's being generous) as global macroeconomics are only mediocre.
Next year is close and the outlook isn't good. Unless Congress comes up with a last minute compromise, the new year will bring $600 billion of higher federal taxes and budget cuts. At the same time interest rates are near record lows, which increases demand for stocks. That reduces stock yields, making earning income more difficult for investors. Dividend Aristocrats, companies that have increased annual dividends for at least the last 25 years, are helpful for earning attractive yields and growing dividends. Two of the finest with long streaks of raising dividends reported earnings last week following good runs of their stocks. Johnson & Johnson (NYSE:JNJ) has increased annual dividends for 50 years and Abbott Labs (NYSE:ABT) has a 40-year streak.
Johnson & Johnson --- 10 years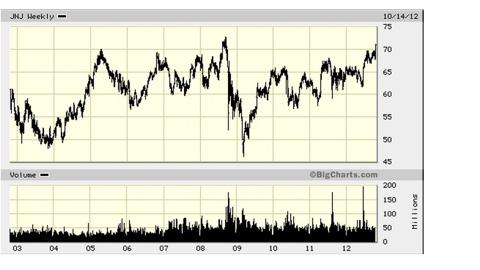 Click to enlarge
Abbott Labs --- 10 years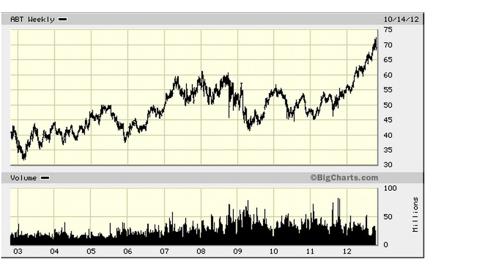 Click to enlarge
JNJ sales in Q3 were $17.1 billion, up 6.5% from last year. Operational results increased 10.8% before the negative impact of currency. Domestic sale increased 13.4% and international sales increased 1.4% (growth was 8.9% before the currency impact). EPS was $1.05, and after adjustments EPS was $1.25, slightly ahead of last year. Drugs in the pipeline, the Synthes acquisition, growing revenue after 3 years of flattish sales and fewer stories of product calls in the Motrin division have attracted investors. EPS guidance for 2012 was updated to $5.05-$5.10, excluding special items.
ABT had diluted EPS in Q3, excluding specified items, of $1.30, 10.2% above last year and above company guidance. Diluted GAAP EPS was $1.21 including one-time items. Global sales increased 4.1%, before the foreign exchange effect. But reported sales slipped 0.4%, which includes an unfavorable 4.5% from the foreign exchange effect. The company narrowed EPS guidance for 2012 to $5.06-$5.08 from $5.00-$5.10, reflecting an expected strong performance.
Introduction of new drugs brings risks. One day after the earnings announcement, ABT and its development partner Reata Pharmaceuticals ended a trial for testing bardoxolone (a kidney failure drug). The drug was in the third of 3 stages of clinical tests. ABT had paid Reata $450 million in 2010 for worldwide rights it didn't already own. It was expected to generate $1 billion sales in 2014. However, the company has several product launches scheduled across pharmaceuticals, vascular and diagnostics that can contribute to future growth.
ABT is separating into two public companies at the start of 2013. ABT will be a diversified medical products company and AbbVie will produce research-based pharmaceuticals. ABT will include branded generic pharmaceuticals, devices, diagnostics and nutritionals businesses. AbbVie will include the proprietary pharmaceuticals (such as the drug mentioned above) and biologics. Most importantly for investors, ABT and Abbvie dividends are expected to be $2.16 next year after the split, above $2.04 paid this year.
During more than a decade of uneven capital gains, JNJ and ABT stocks have delivered higher stock prices and growing dividends. In the last 1½ years JNJ rose $10 and ABT has risen $20 (after a $6 drop last week) to near record levels. JNJ increased the dividend 51% since 2007 and the ABT dividend was raised 61%. Meanwhile JNJ struggled with numerous product recalls for OTC drugs and ABT just suffered a major setback for a new drug. JNJ stock is $71.86 with a 3.4% yield and ABT at $66.15 offers a 3.1% yield. Faltering foreign economies, a U.S. economy facing slow growth and a fiscal cliff, which can bring on recession in the U.S., calls for conservative investment thinking. These stocks can deliver growing dividend income and rising stock prices.
Disclosure: I have no positions in any stocks mentioned, and no plans to initiate any positions within the next 72 hours. I wrote this article myself, and it expresses my own opinions. I am not receiving compensation for it (other than from Seeking Alpha). I have no business relationship with any company whose stock is mentioned in this article.