Exxon Mobil Corporation (NYSE:XOM) has been a stalwart of the S&P 500, providing consistent dividend growth. For the last decade, on most measures, it has been one the largest most valuable companies in the world. XOM has provided its employees and stock investors a fantastic wealth creation machine. However, with a forward yield around 2.6%, much of the value should come from stock appreciation.
Recurring Investment and Dividends Reinvested
In fact, from just a single share, dividend reinvestment, and quarterly recurring $100 investments over the past 40+ years would result in a stock position worth over $1 million. The single share was purchased on May 4, 1970 for $53.75. Then all dividends are reinvested as well as just $100 every quarter. This slow share accumulation shows patient investing. From just 1 share, the splits, dividends, and reinvestment eventually expand to 11,359 shares, worth just over $1 million. The following table shows the detail: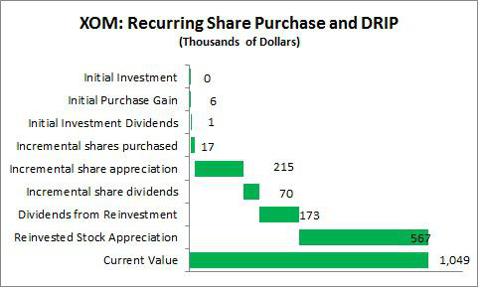 Source: Yahoo!Finance for dividend and stock price data, Author calculations.
One thing to note is that the real driver of performance was capital gains on the incremental stock purchases. XOM pays a somewhat lower dividend yield than many popular dividend stocks which suggests that it has reinvested more operating cash flow internally that drives the overall value of the stock. Thus the $1+ million position only produces around $23k in dividends for the most recent 12 months.
Upfront investment with Dividends Reinvested
A different approach would be to purchase a large upfront position and then forego the incremental stock purchases. A similar position could be obtained by purchasing 50 shares for just under $2,700. This would still require dividend reinvestment. The following chart shows the value creation: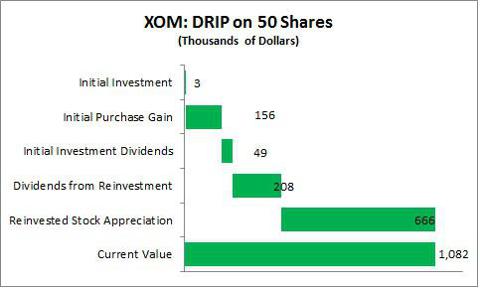 Source: Yahoo!Finance for dividend and stock price data, Author calculations.
Again, one can see the large impact of stock appreciation, which is a much bigger driver of value creation than the actual dividends themselves. It should be noted that in both cases, incremental cash is required each year to cover the taxes on the reinvested dividends. While this amount is relatively small in the larger picture, it is still a material number. For example, the most recent year had $23k in dividends which would result in about $3.5k in taxes at the 15% qualified dividend rate.
Conclusion
Time is a great ally for dividend investors and with a quality company like XOM with solid management, it can result in stunning results over time. The key insights for investors is that investing and saving is a long term program. Whether you start with a good nest egg and let it grow or build your position slowly over time, the results speak for themselves.
Disclosure: I have no positions in any stocks mentioned, and no plans to initiate any positions within the next 72 hours. I wrote this article myself, and it expresses my own opinions. I am not receiving compensation for it (other than from Seeking Alpha). I have no business relationship with any company whose stock is mentioned in this article.
Additional disclosure: Disclaimer: This article is for informational and educational purposes only and shall not be construed to constitute investment advice. Nothing contained herein shall constitute a solicitation, recommendation or endorsement to buy or sell any security.