Social networking giant Facebook (NASDAQ:FB) has endured a difficult debut in it's initial year as a public company. Let's take a closer look to see if the stock currently represents a good buying opportunity.
Current State of the Business
Facebook is one of the largest social networking companies in the world with a user base that now numbers over a billion users. In the most recent quarter ended June 30, 2012, revenues increased 32% to $1.184 billion from $895 million in the same quarter of 2011. Operating income fell to a loss of $743 million vs. operating income of $407 million in the same quarter of 2011. Net income was a loss of $157 million, or $0.08 per diluted share, vs. net income of $159 million, or $0.12 per diluted share, in the same period last year.
For the six months ended June 30, 2012, revenue increased 38% to $2.24 billion from $1.6 billion in 2011. Operating income fell to a loss of $362 million from positive results of $795 million in the same time frame of 2011. Net income fell to $27 million, or $0.02 per diluted share, from $311 million, or $0.22 per diluted share, in the six months ended June 30, 2011.
It is important to point out the comparison between 2012 and 2011 shows dramatically increased costs in all areas, mostly due to preparing for becoming a public company and the associated share-based compensation expenses. Many of these costs are probably one-time events, so investors should look closely at the upcoming earnings release for this quarter to make sure these expenses are just one-time issues.
Growth Prospects for Facebook
The key investment premise of investing in Facebook is owning an asset that will expand quickly in the future. Much of the projected growth is based on the large number of global users. Currently, the ability to create revenue streams from the massive user base is just beginning. Owners of the stock are counting on management to find more methods to extract larger amounts of money from the increasing number of users.
Let's take a look at some of the metrics Facebook uses to illustrate my point:
Click to enlarge images.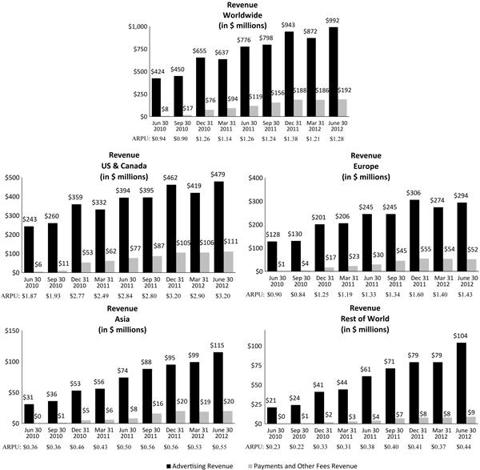 Source: Facebook 10-Q filed July 30,2012.
One can see that the average revenue per user on a global basis is only $1.28. In the United States and Canada, the average rises to $3.20 per user. In Europe, the figure is slightly above average at $1.43 per user. In the rest of the world, the numbers are much smaller, as seen by an average of about $0.50 per user. Incrementally, the amounts are slowly rising.
Mobile Growth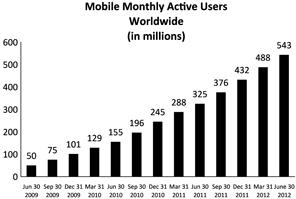 Many investors have become disenchanted with Facebook because of its lack of success in the mobile space. Specifically, the growth of mobile users has been impressive, but the ability to capitalize on these users is an important problem facing Facebook.
Acquisitions and Cash Available for Future Purchases
In April 2012, Facebook acquired Instagram for $1 billion in cash and stock (the purchase was comprised of $300 million in cash and 23 million shares of the common stock). Spending $1 billion of shareholder capital is a material transaction for almost any company, and the focus for shareholders with Instragam is to see how much revenue the Instagram business is going to start to generate as time goes on.
If Instagram helps the Facebook mobile platform by incrementally generating a yearly revenue stream of $200-$300 million, the acquisition will easily be accretive. If the revenue figures do not approach or exceed those figures, management has to be questioned about why it deployed the capital for this purchase.
Facebook has cash balance of $10.2 billion and a reasonable investor can expect the company to put these dollars to work by buying companies, which can enhance and grow the Facebook platform. I believe Google (NASDAQ:GOOG) would be the company to look at to find a template for how Facebook will approach its acquisition activity.
Google bought YouTube in 2006 for $1.65 billion. In 2007, Google added Doubleclick to its advertising platform for $3.1 billion. Each of these purchases significantly added to the scale and scope of the Google business, and shareholders have benefited from the accretive nature of those wise decisions. Facebook has the ability to use its own cash, as well as finance any acquisition using debt wisely, so the important issue is: Can Facebook find opportunities to deploy large amounts of capital in a manner similar to the way Google did when it used its own cash hoard to become a much stronger company?
Search and Other Initiatives
The most obvious large target that Facebook should have an opportunity to take share in is in the search space. In looking at the most recent quarterly results from Google, advertising related revenues came in at $11.53 billion, so on a yearly run rate the company generates nearly $50 billion from search and advertising related concerns. If Facebook can take customers away from Google and Microsoft with any kind of effectiveness, the size of the advertising and search related market is so large the effort could have a substantial impact on Facebook's ability to grow.
Another new attempt by Facebook is an effort to capitalize on application developers using paid discover. Certainly, anything that adds high margin revenue in the booming application market could eventually be a very lucrative business if executed on a large scale.
Valuation
Facebook common shares are priced at $19.00 per share as of Oct. 20, 2012, according to Yahoo Finance. With 1.879 billion fully diluted shares, the current market capitalization is $35.7 billion and the current enterprise value is $35.57-$10.20 (cash and marketable securities), or $25.37 billion. Current 2012 earnings per share estimates come in anywhere from $0.48-$0.51, giving Facebook a trailing P/E ratio of approximately 35-40. Typically, stocks with a multiple that high are priced for perfection. However, in looking at the valuation of Facebook, the key issue for investors is trying to project how much growth will take place in operating, net income, and cash flow growth over the next one, three, and five years. How quickly those items grow determines how expensive or inexpensive the current stock price currently is.
I will make the assumption the one-time costs in the second quarter of approximately $1.1 billion are not recurring. With that in mind, we start out with a baseline operating margin of close to 50%, so the current annual revenue run rate would be $4.4 billion (1.1*4), and the yearly operating profit would come in at $2.2 billion (4.4*0.5). Using the $2.2 billion of operating profit as our 2012 number, we can now derive different valuation metrics based on different projected growth rates.
| | | | | | | | |
| --- | --- | --- | --- | --- | --- | --- | --- |
| Annual Growth Rate | Baseline 2012 Operating Cash Flow (in billions) | 2013 Operating Cash Flow (in billions) | Market Cap/2013 OCF | 2014 Operating Cash Flow (in billions) | Market Cap/2014 OCF | 2015 Operating Cash Flow (in billions) | Market Cap/2015 Operating Cash Flow |
| 10% | 2.2 | 2.42 | 35.7/2.42=14.75 | 2.66 | 13.42 | 2.93 | 12.18 |
| 20% | 2.2 | 2.64 | 35.7/2.64=13.52 | 3.17 | 11.26 | 3.80 | 9.39 |
| 30% | 2.2 | 2.86 | 35.7/2.86=12.48 | 3.72 | 9.59 | 4.84 | 7.38 |
| 40% | 2.2 | 3.08 | 35.7/3.08=11.59 | 4.31 | 8.28 | 6.03 | 5.92 |
Clearly, the multiples an investor pays during any year becomes lower as the growth rate goes up. The same principle can be applied to valuation based on earnings per share.
Again, using our 50% operating margin and $2.2 billion operating profit as our 2012 baseline number, and a 35% corporate tax rate, we derive 2012 earnings per share as follows:
$2.2 billion *(1-0.35) = $1.43 billion/1.879 billion shares outstanding = 0.76 cents per fully diluted share EPS.
Using $0.76 as our 2012 EPS estimate, we get the following valuations based on the different growth rates:
| | | | | | | | | |
| --- | --- | --- | --- | --- | --- | --- | --- | --- |
| Annual EPS Growth Rate | 2013 Earnings Per Share | P/E Ratio using 2013 EPS Estimate | 2014 Earnings Per Share | P/E Ratio Using 2014 EPS Estimate | 2015 Earnings Per Share | P/E Ratio Using 2015 EPS Estimate | | |
| 10% | .76*1.10=.84 | 19/.84=22.62 | .92 | 19/.92=20.65 | 1.01 | 19/1.01=18.81 | | |
| 20% | .76*1.20=.91 | 19/.91=20.88 | 1.09 | 19/1.09=17.43 | 1.31 | 19/1.31=14.50 | | |
| 30% | .76*1.30=.99 | 19/.99=19.19 | 1.29 | 19/1.29=14.73 | 1.68 | 19/1.68=11.30 | | |
| 40% | .76*.40=1.06 | 19/1.06=17.92 | 1.48 | 19/1.48=12.83 | 2.07 | 19/2.07=9.17 | | |
Any investor familiar with valuation and the reality of the marketplace knows these are some dangerous assumptions being made. Companies rarely grow at the same rate every year. In fact, while every investor would like growth rates to be constant, they rarely are. The crucial consideration is to try and figure out about how quickly Facebook will consistently grow. The growth rate also has to take into account acquisition activity and whether those purchases will materially change the expansion rates in revenue, cash flow, operating profit, and net income of the company.
Also, I did not include the possibility of Facebook exploding at more than 40% per year. Certainly, growing at that rate for a long period of time is difficult. Still, the reality is if a company builds at rates above 40% per year, the current price gets much cheaper. Again, the pertinent question is how quickly will Facebook grow?
Other Concerns -- Lockups
One major impediment for current investors are the number of restricted shares owned by employees or other investors that will be free from restrictions. Take a look at this table:
Date Available for Sale into Public Market

Number of Shares of Common Stock

Aug. 16, 2012

271,123,815 shares held by the selling stockholders in our IPO other than Mr. Zuckerberg

Date between Oct. 15, 2012 and Nov. 13, 2012

approximately 133 million shares underlying net- settled Pre-2011 RSUs held by our directors and then current employees and approximately 55 million outstanding shares and approximately 55 million shares subject to stock options held by then current employees other than Mr. Zuckerberg

Nov. 14, 2012

approximately 1,197 million outstanding shares and approximately 20 million shares underlying other net-settled Pre-2011 RSUs

Dec. 14, 2012

149,432,006 shares held by the selling stockholders in our IPO other than Mr. Zuckerberg
You can see the largest block becomes available to sell in the middle of November 2012, about three weeks from now. You would expect to see selling pressure as those shares come off of those restrictions.
Percentage of Facebook Revenue Based on Advertising
A large percentage of Facebook's revenues come from advertising. According to the 10-Q:
The substantial majority of our revenue is currently generated from third parties advertising on Facebook. In the first six months of 2012 and 2011 and the full 2011, 2010, and 2009 years, advertising accounted for 83%, 87%, 85%, 95% and 98%, respectively, of our revenue.
Many companies are largely dependent on one area of their business for the bulk of their revenue. As an enterprise grows larger, it usually tries to have a wide variety of revenue streams in different areas so it is not vulnerable to a slowdown in its main business. If advertising spending falls because of a slowdown in the domestic or global economy, Facebook is certainly vulnerable because of its high concentration of revenues in advertising.
Mark Zuckerberg Runs the Show
Take a look at this passage from the 10-Q:
As a result of voting agreements with certain stockholders, together with the shares he holds, Mark Zuckerberg, our founder, Chairman, and CEO, is able to exercise voting rights with respect to a majority of the voting power of our outstanding capital stock as of June 30, 2012. Mr. Zuckerberg therefore has the ability to control the outcome of matters submitted to our stockholders for approval, including the election of directors and any merger, consolidation, or sale of all or substantially all of our assets.
If you are a Facebook equity owner, you are relying on Mark Zuckerberg to make good decisions about how the company proceeds. Many great companies are dominated by one decision maker (Berkshire Hathaway, Microsoft, Google, Oracle, Starbucks, etc.), but it does make a shareholder susceptible to possible problems of corporate governance, among others, if the decision maker does not make creating shareholder value a priority.
The Bottom Line
Facebook is well positioned to grow in the future. It has a massive user base and a very intelligent founder running the company. Buying Facebook common stock is a calculation on how quickly the company can build the business and how long it can sustain its growth. My own opinion is that I would like to buy the stock at a lower price point, especially if the shares continue to fall because of selling from restricted shares.
Disclosure: I have no positions in any stocks mentioned, and no plans to initiate any positions within the next 72 hours. I wrote this article myself, and it expresses my own opinions. I am not receiving compensation for it (other than from Seeking Alpha). I have no business relationship with any company whose stock is mentioned in this article.