Anyone who reads my articles knows I have a bullish view on the gold mining sector. Back in June, I urged readers to purchase shares of gold miners through the Market Vectors Gold Miners ETF (NYSEARCA:GDX). This is what I wrote then:
Nowadays, the sector of gold companies is bitten, battered and thrown to the sidelines, up to a point of complete devastation. Current valuations reflect an utter disaster.
In the following 3 months, the sector rallied and I expected a quick correction. I therefore recommended to pocket a quick 25% profits on our position and sell 50% of our original position. The price of shares then retreated by about 8%.
This is how volatility looks like
Below is a graph that shows the monthly performance of GDX.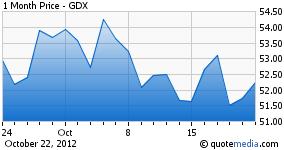 As you can see, this sector lost about 8% over the course of a month. Although this decline could be somewhat disturbing to a few shareholders, we should always look at the "big picture" - the robust uptrend in the gold sector. Check the graph below.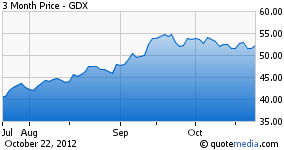 Here we can see that every strong uptrend has its corrections. That is completely natural and even welcome. These corrections only fuel the next coming rally.
Stocks are still cheap
Gold mining companies are still very cheap. Take a look at a few noteworthy companies below.
| | | | | |
| --- | --- | --- | --- | --- |
| Companies/Metrics | forw. P/E | Price/Book | 52 week High to Low | Current Price |
| Barrick Gold (NYSE:ABX) | 7.6 | 1.57 | $31 - $53 | $39.15 |
| GoldCorp In. (NYSE:GG) | 15 | 1.6 | $32 - $56 | $43 |
| Kinross Gold (NYSE:KGC) | 9.2 | 0.9 | $7- $15.25 | $10.2 |
| New Gold Inc. (NYSEMKT:NGD) | 15.8 | 2.3 | $7.13- $12.84 | $12 |
The opportunity at hand
The extreme volatility surrounding the gold sector leads to higher premiums on options on the underlying stocks. GDX, for example, offers a premium of $2.8 for the obligation to purchase shares of GDX for the price of $52 a share on December 21st, IF shares close under $52 on that day.
In that case, we are just fine with the purchase of shares at $52. I am of the opinion that the current weakness in GDX is nothing but a rally taking a breath. A correction is always to be expected, and it is merely an opportunity for us to purchase shares at a discount.
The sign
Friday's trading session gave us a sign that gold is still in an unbeaten uptrend. Although the general market lost about 2%, GDX climbed by 0.4%. Not only that, but the price of gold, the metal, lost almost 1.2% on Friday's session. In the face of such heavy selling, GDX stands out solid like a rock. In a way, this represents a positive "floor" to the price.
How the trade plays out
There are three different scenarios that can happen on expiration day on December:
Price of GDX> $52: You get to pocket the premium and have no obligations.
Price of GDX= $52: You get to pocket the premium and have no obligations.
Price of GDX< $52: You get to pocket the premium, but you will also be obligated to buy the shares at the predetermined price of $52. Since this is an excellent price to pay for the shares, we are fine with that obligation. Of course, you need to adjust the number of shares you are obligated to purchase to the trading position size that is right for you. This rule applies to any trade you make, regardless of the use of options.
Trading instructions
Sell to open the December 2012 Puts, strike $52 on GDX, for no less than $2.5.
Disclosure: I am long GDX. I wrote this article myself, and it expresses my own opinions. I am not receiving compensation for it (other than from Seeking Alpha). I have no business relationship with any company whose stock is mentioned in this article.