Amgen, (NASDAQ:AMGN), the large-cap biotech giant, reports 3rd quarter, 2012 financial results after the bell on Tuesday, October 23rd. Analyst consensus is looking for $1.47 in earnings on $42.5 billion in revenues for expected year-over-year growth of 5% and 7% respectively.
Earnings and revenue estimate revisions been gradually moving higher over the last 12 months.
Last quarter, AMGN grew revenues and earnings 13% and 34%, with big beats on earnings per share and revenue.
AMGN is up 35% this calendar year (excluding the dividend), which is a return double that of the S&P 500, and remarkable for the fact that it has gotten little attention on the Street.
Like a lot of large-cap pharma/biotech names, the stealth rally in AMGN has occurred on analyst expectations of just 9% revenue growth and 19% earnings growth, which actually isn't too shabby given that the S&P 500 as a while is forecast to grow earnings in 2012 just 5%.
AMGN laid dormant for years, and it now appears that the biotech giant has found a bid on better expectations for its pipeline and its attractive valuation. One noted large-cap pharma and biotech analyst told me that AMGN would be worth at least $70 with a zero pipeline success rate, although AMGN's pipeline is starting to attract some attention.
Robin Karnauskas of DB upgraded AMGN this morning and noted that the stock is trading at a discount to both l/c pharma and biotech, with better ROE and better dividend growth prospects. Robin thinks that AMGN could eventually pay a 3% dividend, which at today's price would be $2.60 per share.
In addition, AMGN has garnered a cash hoard of $29 per share, but has also been issuing long-term debt too, so some of this is a wash.
Technically, AMGN just traded above its previous all-time high of $86.92 back in Sept. '05. IF AMGN can remain above that key support level, the technicals will tell us the stock has more upside.
From a valuation perspective, AMGN is trading at 14(x) and 13(x) expected 2012 and 2013 earnings per share for expected 19% earnings growth in 2012 and 8% next year. On a p/e basis, AMGN remains reasonably-valued assuming a mid-single-digit earnings growth rate for 2013.
Since we tend to focus on cash-flow, AMGN's cash-flow valuation looks even better, at 10(x) 4-quarter trailing cash-flow per share of $7.50. and free-cash-flow of $6 per share.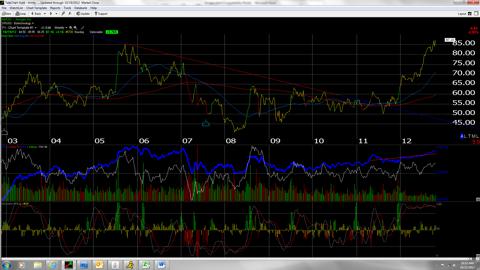 AMGN is cash-rich, and with strong cash-flow and free-cash-flow and a growing dividend and a modest valuation, not to mention a pipeline being valued at very little, which might have some decent drugs on the cusp of approval, so we think the future's so bright, we have to wear shades (to quote a famous rock star).
We'd prefer a pullback to the mid $70s to buy more AMGN, but if the stock can hold the Sept '05 previous all-time high of $86.92 after earnings on Tuesday night, then it is likely headed to $100.
Disclosure: I am long AMGN. I wrote this article myself, and it expresses my own opinions. I am not receiving compensation for it (other than from Seeking Alpha). I have no business relationship with any company whose stock is mentioned in this article.