Credit Suisse recently predicted that the housing market won't bottom out until the ratio of median housing prices to family income returns to historical levels:
(From the WSJ):"One of the key comparisons was the NAR median existing-home price (seasonally adjusted by Credit Suisse) to median family income. The ratio maintained a relatively narrow range from 1981 to 2000, when it started to explode. Assuming that trends in prices and incomes remain constant, Credit Suisse forecasts that home price will return to the historical range some time late next year.
"What's evident is that a substantial down payment on the housing adjustment has already been made, although there still appears to be wood left to chop," Credit Suisse said in its research report."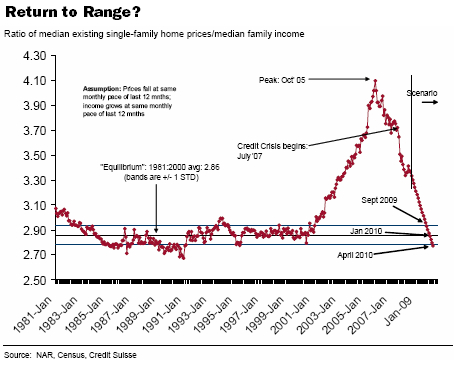 Graphic courtesy of the WSJ
After reading many proclamations of a pending (or present) housing bottom based on recent price changes, some may question Credit Suisse's analysis or ask "why do prices have to return to historical affordability levels?". The reason for this is simple: you can't have a stable housing market if people are buying into housing situations that aren't sustainable over the long-haul and/or without using exotic loans, and until we return to historical affordability levels we will continue to have above average rates of default and foreclosure. The housing market bottom is more of a function of a return to sustainability/affordability, than it is a function of a slow down in depreciation rates and price changes.
You can read more here.
Sources:
The WSJ:"Home-Price Bottom May Still Be a Year Away" -- Phil Izzo, September 3, 2008. 
Disclosure: At the time of publishing the author didn't own a position in any of the companies mentioned in this article.