Over the past months, the online investing world has spun in circles over the lawsuit brought forth by a small intellectual property company, Vringo (VRNG), against proverbial industry titan Google (NASDAQ:GOOG). Much of the dissection has attempted to quantify the potential settlement or jury award Vringo stands to receive, and in turn, the company's valuation under different scenarios. However, by their quantitative nature as investors, and due to the disconnect between the raging fire of coverage on the Internet and absentia of the case in traditional media, the most important question (a qualitative one) that pivots the entire discussion of Vringo's prospects has been left unturned. What are Vringo's expected chances of coming out on top?
Tangentially, the potential settlement depends on each side's assessment of the probability of winning and losing the trial through jury verdict. Thus, the biggest variable in both the chance of a settlement (and its monetary value) is the expectation of the trial's outcome. After all, lawyers in intellectual property cases have often been likened to risk managers. Head first, then, into the tea leaf reading of this tempest in a teapot.
Historical Context
Vringo, quite astutely, brought the case in the Federal District Court of Eastern Virginia. PriceWaterhouseCoopers notes in its 2012 Patent Litigation Study that the district "continue[s] to be more favorable to patent holders, with shorter time-to-trial durations, higher success rates and larger median damage awards." In this vein, the court case is under the time-limited trial format, and Seeking Alpha contributor Steven Kim approximates it will take 8-10 days to complete. My gut tells me the accelerated schedule is an advantage to the patent holder, given that it has an affirmative claim rather than a defensive one. And whereas Vringo brings 2 strong patents and a beautiful story, Google's weak patent management in the early 2000s has left them grasping at straws (see Steve Kim's transcript of the opening statements). The no frills affair that is taking place in the Federal District of Eastern Virginia will make the substantive arguments of Vringo all the more powerful to a lay jury.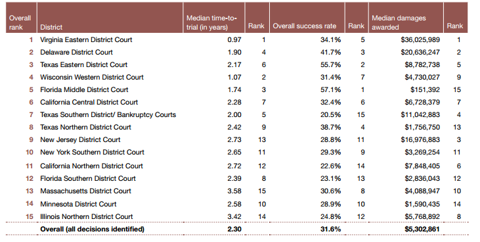 Without doubt, Vringo is the home team. Not only is it the home team, but it is already in the bottom of the eighth inning. After Google submitted a motion for summary judgment, Judge Raymond Jackson concluded, "The court finds that summary judgment is inappropriate at this time as there are genuine issues of material fact in dispute." For non-practicing entities (read: companies holding patents that are utilized in a business sense), historical probability of trial victory jumps to over 60% if the case passes summary judgment, as seen below (Patent Holder Success Rate, 1995-2011 Source: PwC):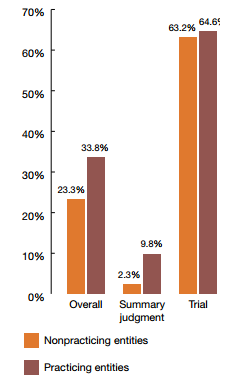 Although there are important caveats to the use of empirical data in the analysis of future occurrences, the law is a conservative system that often lumbers on as it has.
Trial Environment
Painting with broad brush strokes, an analysis of the case's potential outcome revolves around the judge, lawyers, and jury. And after the first day of trial hearings, some color has been added to expectations of the case. First, Judge Jackson Raymond has up until this point, seemed to be more amenable to Vringo's arguments. As Steve Kim writes, "On balance, these pretrial orders seem once again to fall mainly in Vringo's favor. In a battle of the experts, it appears that all of Vringo's proposed expert testimony will be allowed in, whereas a significant portion of Google's expert testimony and damages evidence has been striken." This continues the trend begun in the Judge's Markman ruling, which leaned towards Vringo in its adjudication of definitions of certain common terms in the case. Last, some insight can be gleaned from Jackson's move to mandate the parties to attend a judicial settlement conference, demonstrating that an individual with a broad understanding of the information of the case believes there is merit to Vringo's claims.
Second, a survey of the legal teams representing Vringo and Google seems to tip the balance towards the small challenger. Vringo's David Cohen was senior litigation council in Nokia's $700 million patent victory over Apple in 2011, while David Stout was a lawyer and co-founder of NTP, who won a patent litigation case against Research in Motion to the tune of $600 million in 2006. On the other hand, Google is represented by the law firm Quinn Emanuel, which is licking its wounds from its recent $1 billion loss representing Samsung against Apple. On a more human level, this case represents Vringo's lunch and dinner - the company's lawyers and Andrew Lang (the co-inventor of the two patents during his Lycos years) hold considerable positions in Vringo stock. In moments of uncertainty, I'd rather place my money on the bird with only one egg in its nest than the one safe-guarding someone else's and a track-record of failure. Finally, the presence of Andrew Lang on Vringo's team is nothing short of a compelling story of an inventor who now rightfully deserves part of what a behemoth has earned on his work in a jury's eyes.
Third and finally, the completion of jury selection created a panel of 7 women and 2 men. It is interesting to note that one of the jury members sued one of Google's co-defendants, Target, for worker's compensation in the past, which is favorable given the David and Goliath narrative at play. However, more importantly, new work in the field of juror composition has concluded that gender is significantly correlated with jury verdicts. Women tend to find for the plaintiff more often than men in civil litigation by a significant double-digit margin. Combined with this finding, the author, an experienced trial consultant, notes that civil litigation also hinges on jurors' trust of big business. Take the current public outrage over corporations in the United States, combine it with one juror's legal battles with Target, and you have a jury that is primed for Vringo's side of the story.
Conclusion
Given the empirical data, qualitative information about the judge, lawyer, and jury composition in the case, and a very healthy dose of shamanism, we can come closer to an expected outcome of the case. Given the base-line 62% success rate of non-practicing entities in patent litigation cases in the Eastern Virginia Federal Court after the plaintiff has jumped over the summary judgment threshold and a myriad of other favorable qualitative factors for Vringo, I estimate the probability of a plaintiff verdict to be in the range of 70% at the beginning of the trial.
This directly impacts the probability of settlement, and very favorably at that. Yet Google will not settle before its Thursday earnings, and might not settle at all given its worry that settling might be akin to smearing itself with blood for future patent predators. Without settlement, Vringo's stock will continue to fall throughout the trial. This is because the majority part of the stock's valuation is a call option on the value of a settlement or favorable verdict that is subject to time value decay. Regardless, a Vringo victory would put all of those concerns to rest. The investing world is spinning in circles, but few cases in memory have been so clear.
Disclosure: I am long VRNG. I wrote this article myself, and it expresses my own opinions. I am not receiving compensation for it. I have no business relationship with any company whose stock is mentioned in this article.