My father speaks about the dot-com bust like it was Vietnam. He was an immigrant who came to this country on a work visa from a tech company back in 1998, so I guess that, in some ways, it was. The most scalding difference is that the Silicon Valley napalmed itself.
My dad is quick to remind me that today's tech market is frighteningly similar to the bubble in the early 2000s - this coming from an engineer at the Ent of the valley, Microsoft (NASDAQ:MSFT). In the air there is a certain malaise when it comes to tech stocks. No wonder given the well publicized, oft criticized Facebook (NASDAQ:FB), Zynga (NASDAQ:ZNGA), and Groupon (NASDAQ:GRPN) guffaws of the past year. Yet any investor worth his salt would know that merely following trends is the quickest way to be left holding some Palm stock in your portfolio.
Academics have often approached the issue of value versus growth, and the preponderance of academic studies conclude that value stocks (whatever that might mean) outperform their growth counterparts. That's why I'm writing about a small-cap technology stock with negative earnings. Wit aside, it seems that the macroeconomic currents in the technology world have necessitated fundamental value analysis. And Glu Mobile (NASDAQ:GLUU) is that rare breed of growth company that stands up to it.
Centered in an Explosive Market
Glu Mobile is a mobile gaming content developer with a current market capitalization of slightly over $200 million. With 11 years of mobile gaming experience and nearly 700 employees, it has significant expertise in the mobile gaming market and a potent first-mover advantage. This experience and intelligent acquisitions have led to consistent year over year revenue growth since 2010, and 2012 non-GAAP revenue is forecast at $94.4 million. Most importantly, GLUU's adjusted EBITDA is slated to turn positive for FY2012.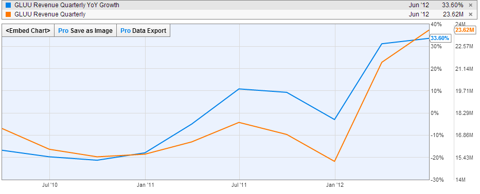 The company is at the intersection of two powerful growth catalysts. First, the global gaming market is slated to explode in the coming years, rising from $3.77 billion in 2010 to $17.6 billion in 2015 according to Ichiyoshi Securities - a CAGR of 36%. Widespread adoption of mobile gaming by the general population and a broad transition to smartphones and tablets that provide an enveloping game experience are the key drivers of this growth.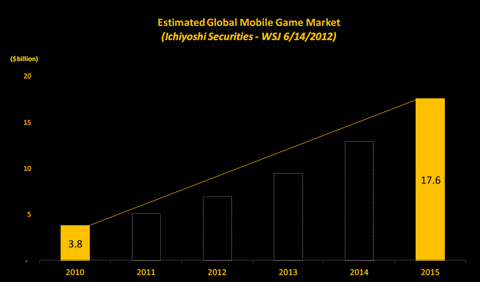 Click to enlarge
Second, the freemium game model GLUU engages in, where players can download a game for free and revenue derives from in-game purchases of items and currency, has teethed and is growing more rapidly than other game delivery models. The Freemium model is gaining traction in the MMO space. Social games, delivered predominantly in the freemium format, are also experiencing rapid growth that will continue in the future (Source: Casual Connect "Freemium Gaming Metrics").

Click to enlarge
As the market grows, the company will be able to leverage operating expenses like R&D and SG&A more fruitfully.
Glu's Product Execution
In the center of this torrid growth sits Glu Mobile. It has continued to penetrate the mobile gaming market with cumulative lifetime installs rising from 70 million in Q1 of 2011, to 277 million as of the Q2 2012. Even more importantly, the ratio of daily active users to monthly active users for its games has been rising - this is the key statistic of player retention and engagement (Source: Craig Hallum Alpha Select Presentation).

Click to enlarge
The increase in daily active users / monthly active users ratio indicates that the newest Glu games are generating greater stickiness with users. This greater player engagement leads to an increasing average revenue per daily active user. Last, Glu will experience significant user growth in Q3 and Q4 because release of about 18 of its 24 or so annual games has been back-loaded toward the end of the season. The sort of strong execution Glu has demonstrated bodes well for its ability to absorb the market's future growth.
Market Valuation
GLUU shares currently trade at around $3.20, a significant decline from their 52-week high of $5.90. This decline stems from two unwarranted sources. First, the market has soured on Zynga, which has continuously reduced revenue and growth forecasts, taking Glu along for the ride. Although in the same general industry, GLUU's upgraded forecasts are in sharp contrast to Zynga's downward trend. This phenomenon is attributable to Glu's focus in the growing mobile gaming segment as opposed to Zynga's dependence on the Facebook platform.
Second, shares have tanked after a speculative note issued by Northland Securities claimed that discussions with management led it to believe that Q3 game launches were bleak. The merits of Northland's outlook are questionable, especially given that the majority of Glu's forthcoming releases are back-ended and have not hit the market or did so after the note's release.
Combined, the two undercurrents have led to a precipitous drop in GLUU share price, and a gleaming fundamental opportunity. And the recent purchase of $9.9 million in GLU shares by one of its directors at the currently depressed prices confirms that the stock's depression may be unwarranted. Finally, comparable analysis provides another strong reason GLUU may be undervalued. It is hard to justify a 2013 forward P/E for Glu of 19.29 in light of Zynga's forward P/E of 60, even if Zynga's trailing 12-month revenues of $1.27 billion dwarf Glu's $77.24 million.
The most important risk GLU faces is a lack of execution in an increasingly competitive environment. Ramped up competition from the likes of Zynga and established producers like Electronic Arts in the freemium mobile space is a strong concern that will only increase in the future. At the same time, the WSJ is spot on when it writes that, "a turf war is breaking out" in the mobile gaming industry as Japanese companies like Gree Inc. and DeNa Co. are seeking to develop a global presence and directly compete outside of Japan. Glu's track record and expertise in the industry should mitigate these dangers to a certain extent, and the growth of the industry implies that there will be plenty of revenue to fight over.
In the end, it could be much worse than being a long-term player in a high-growth industry facing some fresh entries. And margin compression should not be an issue given that consumers don't view purchases in freemium games as substitutes because they are already engrossed in the specific title. Tangentially, higher competition has already sparked consolidation in the fragmented industry and more deal activity could surely be a part of the mobile gaming future. With that comes silver lining for Glu, given its strong position in the market and management's openness to an acquisition that creates value for shareholders.
Discounted Cash Flow Valuation
Using a discounted free cash flow valuation model, we can ascertain Glu's economic value with greater accuracy. The model is broken down in a base, outperform, and underperform scenario:

Click to enlarge

Click to enlarge
Base Scenario: The global mobile gaming market grows at the current forecasted rate, and Glu maintains its current absorption of the market.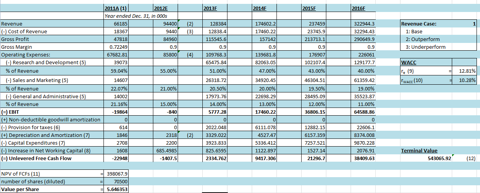 Click to enlarge
Outperform Scenario: Growth in the global mobile gaming market is 5% higher than forecast, and GLUU leverages its first-mover and core competency advantage to increase its absorption rate.

Click to enlarge
UnderPerform Scenario: Growth in the global mobile gaming market is 5% lower than forecast, and GLUU faces increasing competition, leading to a lower market absorption rate.

Click to enlarge

Click to enlarge
Overall, the valuation range is between $4.28 and $7.63 per share, with a base case valuation of $5.65 - a 72% upside from the current share price of $3.28.
Conclusion
Glu Mobile is a unique pure mobile gaming play that stands at the intersection of tremendous future growth in mobile gaming and the freemium revenue model. All this as the company turns profitable this year, holds a cash position of over $20 million, has no debt on the books, and puts out robust year over year revenue growth that will allow it to leverage its operating expenses. The severe and unwarranted pull-back in its share price during the past months presents a strong entry-point, confirmed by an insider purchase of nearly $10 million in shares.
An in-depth valuation of the company's future forecast earnings illuminates the strong value present for investors. For those whose hearts have been broken by the petulant and underwhelming technology sector, Glu Mobile presents an opportunity to seal the wound.
Disclosure: I am long GLUU. I wrote this article myself, and it expresses my own opinions. I am not receiving compensation for it (other than from Seeking Alpha). I have no business relationship with any company whose stock is mentioned in this article.