We've compared the rallies of the tech and homebuilder bubbles with the rally in oil plenty of times here.  Below we highlight the returns from trough to peak of the three asset classes during their respective bubbles. 
As shown, the Nasdaq went up 640% during its 1990s bubble, while the homebuilder stocks went up 839% during their 2000s bubble.  From oil's bottom of $16.70 in November 2001 to its recent peak of $145.29 on July 3rd, the commodity rallied 770% -- right in between the rallies of the Nasdaq and homebuilder bubbles.
click to enlarge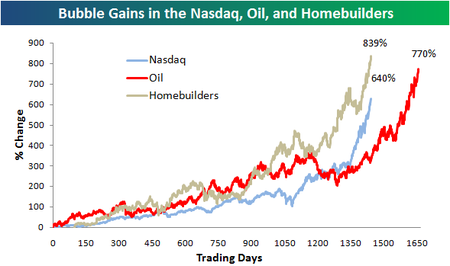 While it's pretty much unfathomable and also unlikely, we charted what the declines in oil would look like if the commodity took the same path as the Nasdaq and homebuilders on the way down.  From peak to trough for the Nasdaq, it went down 77.93% over 647 trading days.  From peak to trough for the homebuilders, the S&P 1500 Homebuilder index went down 78.38% over 750 trading days.  For oil to match the Nasdaq crash, it would get all the way down to $32.06 by February 1st, 2011.  For it to match the homebuilder crash, oil would fall to $31.40 by June 27th, 2011.
Again, odds are that oil has no shot of getting back to the $30s anytime soon, but since the rise in oil was very comparable to the tech and housing bubbles, it's interesting to see what a comparable decline would look like.