By Brendan Gilmartin
Overview
Netflix (NASDAQ:NFLX) is scheduled to report 3Q 2012 earnings after the close of trading on Tuesday, October 23 at approximately 4:05 p.m. EST with a conference call slated to follow at 6:00 p.m. Consensus estimates call for results at the mid-point of the outlook provided in July.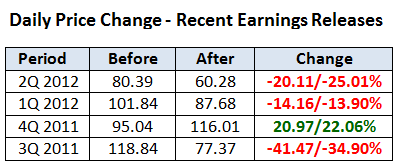 Outliers And Strategy
Netflix is expected to post a profit of $0.04 per share in the 3Q period. Revenues are seen rising 10.1% to $904.89 million (Source: Yahoo Finance). The consensus forecasts are in the middle of the range that the company issued back in July:
3Q 2012 Earnings Per Share: (-$0.10) - $0.14.
3Q 2012 Revenues: $890 mln - $911 mln.Netflix is trading at 35.7x trailing earnings, in-line with its 5-year average of 30x, and just 1.04x sales with high short interest.
Recent News
10/22: Netflix strongly hinted it was ramping up its presence in key markets such as Germay, Turkey, India and Japan, according to a post on The Next Web. The publication points out that the company is seeking linguists for the native languages of these countries and others - an indication it is seeking to rapidly increase its international presence.
10/18: Netflix announced it was launching in Finland, culminating a week of events that also introduced Netflix to Sweden, Denmark and Norway. The company noted 10 million broadband households in Denmark, Finland, Norway and Sweden can now subscribe to Netflix.
10/09: Bank of America / Merrill Lynch downgraded Netflix from Buy to Underperform, according to a post on StreetInsider.com. The report cited valuation, following the recent run-up, coupled with increased competition both domestically and abroad.
10/08: Morgan Stanley upgraded Netflix from Equal-weight to an Overweight rating with a price target of $85, based on a report on StreetInsider.com. The firm does not see Amazon as a strong competitive threat and the value of its domestic business supporting the current valuation.
09/23: According to a report on comScore.com, Netflix remains the clear market leader in the online movie rental space.
08/20: Netflix announced it hit the 1 million member milestone in the UK and Ireland within 7 months.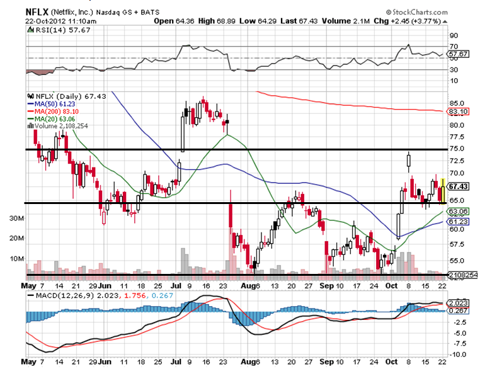 Click to enlarge
Technical Review
Trading in Netflix has been considerably choppy over the past several months, with no clear direction, but a bias toward the downside. Sentiment also appears skewed toward the downside with short interest at roughly 30% of the float, even with the shares now trading 50% below the 52-week high established last February. Despite those concerns, momentum has improved over recent weeks, with the 20-Day SMA crossing above the 50-Day SMA, while the Relative Strength Index and MACD are also pointed in a positive direction. Should earnings therefore surprise to the upside, there is room for the shares to run up toward $75.00. Conversely, there is downside risk to the recent lows near $53.00 if results come in sufficiently below consensus. (Chart courtesy of StockCharts.com)
Summary
After recently plunging to the lowest level since early 2010, Netflix shares have been rebounding in the weeks leading into the 3Q 2012 earnings release, led in part by short-covering (~30% of the float sold short), coupled with evidence of aggressive international expansion efforts, highlighted by recent success in the U.K. and Ireland and its recently announced push into the Scandinavian countries. Despite those efforts, the company is facing intensifying competition in the domestic market from the likes of Google (NASDAQ:GOOG) and Amazon.com (NASDAQ:AMZN), along with increasing content acquisition costs. Despite these headwinds, forecasts call for Netflix to grow and maintain its subscriber base on both online and mobile, while investor expectations have fallen considerably, paving the way for a move higher if 3Q results and guidance are above lowered estimates.
DISCLAIMER: By using this report, you acknowledge that Selerity, Inc. is in no way liable for losses or gains arising out of commentary, analysis, and or data in this report. Your investment decisions and recommendations are made entirely at your discretion. Selerity does not own securities in companies that they write about, is not an investment adviser, and the content contained herein is not an endorsement to buy or sell any securities. No content published as part of this report constitutes a recommendation that any particular investment, security, portfolio of securities, transaction or investment strategy is suitable for any specific person.
Disclosure: I have no positions in any stocks mentioned, and no plans to initiate any positions within the next 72 hours. I wrote this article myself, and it expresses my own opinions. I am not receiving compensation for it (other than from Seeking Alpha). I have no business relationship with any company whose stock is mentioned in this article.