Questcor (QCOR) announced it will be releasing earnings on Tuesday, October 23, 2012, with a conference call at 4:30pm.
Investors are anxious to find out the details, considering all the negative headlines in the last month. It's no wonder, with Aetna's (NYSE:AET) Policy Coverage change, United Healthcare's (NYSE:UNH) document updates, a government investigation, and Citron's many blog posts regarding Questcor.
However, we have received some guidance already, and there are a number of positive signs.
Growth Rates
Questcor's Prescription Trends may be found in its latest Form-8k. The chart below pulls together information from the tables the company provided. There are obvious trends showing sustained growth in all four indications Questcor is currently focused on.
(click images to enlarge)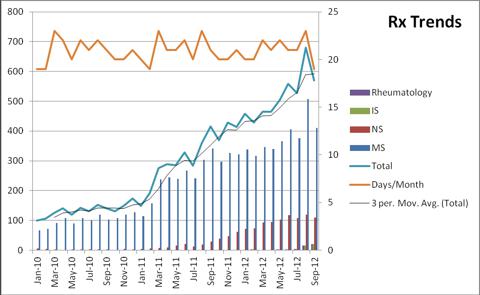 Source: Questcor SEC Form-8k Filing
It is important to note the Days per Month when interpreting these results. There are a few research reports that allude to September's numbers as a drop in business. However, when the number of working days in September is accounted for, we see an increase in the shipment average per day. Last month had one of the lowest numbers of working days since February 2011. Yet the numbers are still higher than all previous months. The exception is August 2012, which had the highest number of working days since the previous August. This also confirms the "scripts per business day" increases in their Form-8k.
The Quarter on Quarter shipping growth rate appears to be on track and rising, even with one fewer day in the last quarter.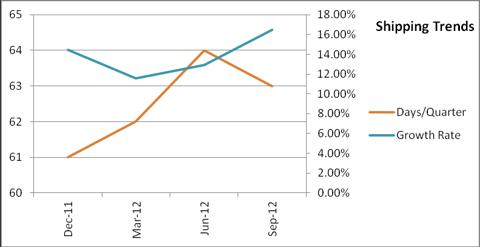 Source: Questcor SEC Form-8k Filing
Questcor has an extremely low PEG Ratio and the Price to Earnings is also attractive, whether using the trailing or forward P/E. Looking at any of the standard valuation measures indicates that Questcor is currently very undervalued at Friday's close of $24.99.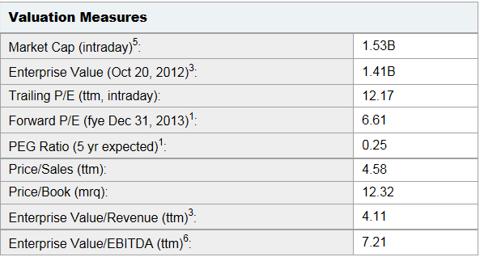 Source: Yahoo Finance
Current analyst estimates for earnings have been steadily increasing, along with each month's shipment reports. The current range is $0.66 (low), $0.77 (mean), and $0.84 (high). Last Quarter's earnings were .69/share, beating analyst estimates by $0.05/share, or 7.48%.
Positive Catalysts
There are quite a few positive catalysts for investors to consider.
In May, Questcor announced an expansion of its share repurchase program. Previously the company repurchased 798k shares in March of 2012, and 3 million shares from late April through May. This brought the total shares repurchased to 19.2 million since the program was initiated.
On September 28, Questcor increased expectations for price per share by announcing another share repurchase with a kicker. The company will now be providing a quarterly dividend to investors of $0.20, with an ex-dividend date of October 31. Seven million more shares will also be repurchased.
Kidney Week will be starting October 30, and 13,000 nephrologists will be reviewing studies on the efficacy of Acthar on Proteinuria. A quick review of the abstracts indicates positive outcomes. and more studies are already in progress. Please read my article, "Kidney Week Should Prove Beneficial For Questcor's Acthar" for more information.
Questor filed a Form-8k stating the Medicaid rebate has been approved at 23% versus the previous 100%. Medicaid reimbursement reserves were $34 million as of June 30, 2012. Most of these reserves are based on Medicaid rebates.
Negative Catalysts
There have been a multitude of class action lawsuits filed in the last month. All of them appear to be related to Citron's blog post regarding Aetna's policy change to remove Acthar as a treatment for Multiple Sclerosis exacerbations.
Shortly after, Questcor announced there was a government investigation. There are very few details available, except the investigating District Attorney's name, in the company's latest Form-8k.
Aetna's policy decision still has many unanswered questions. Aetna was scheduled to release another update on October 13. The lawsuits were filed naming Aetna's change in the complaint, and we have not heard any updates since. I believe Aetna is taking the prudent course of action while its legal department reviews the situation. If we do get an update soon, I'm sure it will have been thoroughly reviewed beforehand.
It's worth noting that Aetna is still covering its current members' Acthar prescriptions, based on its previous policy.
Citron's Latest Blog Entry
Citron continued its series of blogs regarding the Aetna's document updates on Friday, October 19.
This time, Citron included language that some may have missed. The source of the information -- a hyperlinked Humana (NYSE:HUM) document -- never contained Acthar before. Citron essentially stated Humana is in the process of updating its documents to include Acthar.
Hardly a negative, and more a reflection of Questcor's increased sales. Members, doctors, and others are now starting to consider Acthar as a treatment option.
What Citron failed to mention was the purpose of the document. The only clue to readers may have been the hyperlink, which included "/marketing".
A quick search of Humana's plan types shows all plans (except Puerto Rico) covering Acthar.
A bizarre aspect of Citron's blogs is how much press they get. One Seeking Alpha member (DinYC) summed it up nicely: "I mean come on, 'claiming' ?!!? I claim that Astazeneca is bidding 50$ for QCOR. Please post to your newsfeed."
Reporters are also starting to question Citron. Here are a few examples:
Citron's successes seemed to consist of investigating Chinese companies a few years ago. In my opinion, that was low hanging fruit, considering the regulatory environment that was present. Even that success may be in question. Citron has posted there is pending litigation between it and the Chinese companies. Citron has now turned its focus on the U.S. markets. I recommend investors use caution when reading Citron's blog.
Conclusion
Questcor had been considered a strong growth company, and its share price had reflected that before the recent pullback, which may not be warranted. The prescription trend chart demonstrated what the additional indication of Proteinuria has meant in 2012. We can also see that the results of Questcor's new Rheumatology sales staff are positive, and Multiple Sclerosis prescriptions are still growing.
Comparing Questcor to the rest of the Healthcare/Biotechnology sector shows it is in a lonely group of companies that are profitable in the under $2 billion segment. Moving up the ranks to the large cap drug makers, we find the trailing P/E lagging, and fair valuation may be a P/E of 20. Historically, Questcor had an average P/E of roughly 20 to 23. That alone could mean QCOR is undervalued by 45%. Taking into account forward earnings estimates, maybe 75%.
Maintaining the current P/E of 12 may bring the share price to $34.56/share with Wednesday's earnings report. Using the same conservative guidance, $45.36 for 2013.
Considering the aggressive growth expected for 2013, 2014, and 2015, once headwinds have been overcome, we may expect the historical 20 times earnings to return. If this were to occur, it's reasonable to see $75.60 or more reached in 2013.
Questcor's earnings for the third quarter could reasonably reach $0.79 to $0.83 per share, when calculated on past earnings per vial shipped.
------------------------------------------------------------------------------------
You may find additional information in my previous articles:
Disclosure: I am long QCOR. I wrote this article myself, and it expresses my own opinions. I am not receiving compensation for it (other than from Seeking Alpha). I have no business relationship with any company whose stock is mentioned in this article.