We're treading water.
Wherever I go these days, as soon as people find out I work in investing they want to know what I think of the market. My answer is the line above, "we're treading water." As hard as it is to believe, most of the damage this bear market's done to stocks occurred before 2008 even began (hat tip to Greg Feirman of Top Gun Financial for pointing this out).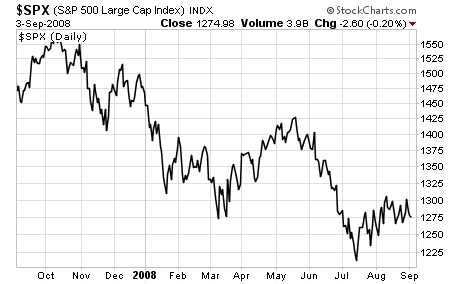 Between its peak of 1,562 on October 10, 2007 and its intraday low of 1,270 on January 23, 2008, the S&P 500 declined roughly 20%. Since then, the S&P 500 has been largely range bound between 1,250 and 1,400. As I write this, the market just closed at 1,237, worse than the level it hit back in late January.
Like I said, we're treading water. In light of this, it's difficult to gauge where the market will head for the remainder of 2008.
Or is it?
One item few individuals in the mainstream financial media have noted is that all of the rallies we've seen in 2008 were the products of interventions by various regulators AKA lifeguards.
The first rally came shortly after the Bear Stearns deal. With the Federal Reserve planting a perceived backstop for the financial industry and establishing itself as "lender of last resort" for investment banks, investors piled into the market believing Wall Street CEOs' proclamations that "the worst was over." That rally lasted two months.
The second rally came after a dual intervention between the SEC — which tightened restrictions on short-selling — and the Treasury Dept — which convinced Congress to write a blank check for Fannie Mae (FNM) and Freddie Mac (FRE).
This rally was even feebler than the last and was largely the result of investors covering their shorts. If you look at the above chart again you'll notice that this rally only lasted a month before losing steam: the S&P 500 has been turned away at 1,300 four times in the last month.
We've now seen the Federal Reserve, the SEC, and the Treasury Department throw everything they've got at the stock market. Yet none of their actions have resulted in a sustained rally driven by genuine bulls.
Stocks may continue to trade sideways for some time. However, to me, it seems pretty clear the overall market is heading downward, as it did today. In the history of markets and regulators the latter group have NEVER once solved the former's problems.
I'd strongly suggest establishing several shorts in preparation for what's to come. If the S&P 500 breaks below 1225 we're in for a very, very nasty fall.