Mexico has generally been known for its silver mines, but has recently seen a considerable uptick in the gold sector, where it has shot up the ranks to become the world's tenth largest producer. Such an increase can only be accompanied by the gold-mining majors, but with junior indices such as Market Vectors Junior Gold Miners Index (NYSEARCA:GDXJ) showing robust growth, it's worth looking at some of the juniors as well. Investors looking for the highest upside often turn to exploration companies and one of the best such opportunities lies with Mexico-focused Newstrike Capital (OTCPK:NWSKF).
The company, which began drilling at its 100% owned Ana Paula project in October of 2010, has seen a dramatic increase in capital activity over the past two years. The company's publicly traded shares have reached a market capitalization of $281 million dollars and its balance sheet boasts an accumulated $34 million in cash. The main driver of this impressive growth has been the company's drill results at Ana Paula, considered a risky speculative project at the outset. There has been significant mineralization of gold at 104 out of 108 drill sites, a hit rate almost unheard of in the industry. The most recent drill results include a 76 meter intersection of 10.57 g/t grade gold, the highest grade currently seen in the mineral-rich Guerrero Gold Belt. In addition, much of the gold is open pit, allowing for extremely cost-efficient extraction.
Despite the unexpected success of the project, it should not be too surprising given the company's experienced management and exploration team. CEO Richard Whitall was formerly a director at Miranda Mining, a pioneer in the mining trade between Mexico and Canada. VP of Exploration Gillian Kearvell, formerly led exploration teams in Mexico for Teck Resources, where she discovered the nearby Morelos mine now owned by Torex Gold Resources (OTCPK:TORXF). Field Operations Consultant Craig Gibson has made five major discoveries in the Guerrero Gold Belt as well.
In an interview with one of our analysts, Whittall stated that his interest in Ana Paula dated back to his time at Miranda, who then owned the property. He was further convinced of the project's efficacy by Kearvell, who stressed the geographical similarities between Ana Paula and nearby Los Filos, the second-largest gold mine in Mexico now owned and operated by Goldcorp (NYSE:GG). Originally purchased for the abundance of low-grade deposits as found at Los Filos, Newstrike's exploratory drilling found an unanticipated geological formation that trapped a concentration of high-grade gold in an open pit area. This will make the deposits very cost-effective to extract.
Whittall has also stated that the project is a turnkey mine, i.e. one that they anticipate will be either bought by or operated jointly with a senior producer. With positive drill results and sound project economics, Newstrike should be able to accomplish this very easily. While the company's maiden resource statement is not out at press time (it is due at the end of the year), the company has publicized virtually all its drill results meaning that current estimates of Ana Paula's viability should not differ significantly from the coming NI 43-101.
In addition, the project's location in Mexico is a plus as well. According to Real Assets Investment Research's Daniel Fridson, America's southern neighbor is one of the ideal destinations for mining majors. "Over the last year, the top ten companies in the gold sector have conducted major M&A transactions centering on properties in the Philippines, Papua New Guinea, Tanzania and Argentina. A look at the economic numbers and recent political history of those countries shows them to be far riskier than Mexico." The company also has nearby power generation, water and roads, not to mention easy transport to the port of Acapulco, also in the state of Guerrero.
Such boosts to overall project efficiency are critical in today's environment where the shares of industry majors have underperformed because of spiraling capital expenditures. While price and price expectations of gold continue to strengthen, many blockbuster deals have seemingly backfired. Jamie Sokalsky, Barrick's (NYSE:ABX) new CEO has stated as a response that "returns will drive production, production will not drive returns. Though gold-mining giants sit on large cash reserves, they have pledged across the board to spend them more judiciously in the future, making projects like Ana Paula ideal takeover targets.
Aside from speculating about future ownership, a look at Newstrike's current shareholders is instructive as well. A 20% stake in the company is held by Lukas Lundin, one of the most successful mining investors in the world. Fickle speculative investors can effect volatility in early stage mining companies and the presence of a large shareholder acts as a stabilizing counterweight. This is especially true if said shareholder has the caliber and reputation commensurate with the aforementioned Swedish billionaire.
A quick look at technical indicators show some encouraging signs as well. The company's share price has rebounded over the last three months following the industry-wide downturn in gold equities earlier in the year. But it does not necessarily seem to have peaked. According to Forbes, Newstrike's shares crossed below their 200 day moving average on October 12th, showing that the dip experienced in the stock should be corrected in the near future. For those interested in more advanced technical analysis metrics, a look at the Bollinger Bands shows that the share price is moving from the upper band to the lower band, where the formula indicates a stock is cheap.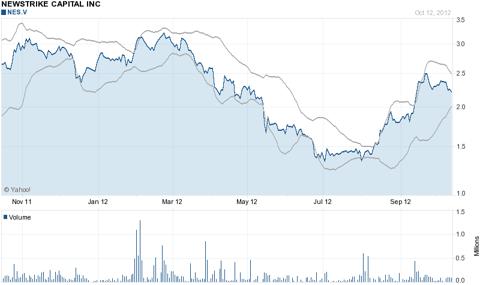 Source: Yahoo Finance
Overall, those looking at exploration miners should consider the upside presented by Newstrike Capital's shares. Contrarian investors looking to profit from an overcorrection in gold equities were on solid technical and fundamental grounds, and we may be approaching a similar undervaluation point. Those with the risk tolerance for early-stage miners would be well served to follow closely both the price movements and further drilling data.
Disclosure: I have no positions in any stocks mentioned, and no plans to initiate any positions within the next 72 hours. I wrote this article myself, and it expresses my own opinions. I am not receiving compensation for it. I have no business relationship with any company whose stock is mentioned in this article.