We think Exelon Corp.'s (NYSE:EXC) Chief Lobbyist Elizabeth Moler said it best when she said that Exelon is "The President's Utility." Exelon's largest subsidiary is its Exelon Generation LLC wholesale power generation business, which enjoyed spectacular growth from 2000 to 2008 as natural gas prices increased rapidly along with oil during the commodities boom. In fact, the commodities boom also spawned a natural gas ETF, the United States Natural Gas ETF (NYSEARCA:UNG). This ETF is designed to track in percentage terms the movements of natural gas prices.
Natural gas prices increased from $2.19/MCF at the end of 1999 to a high of $10.79/MCF in July 2008 before the financial crisis and fracking brought natural gas prices down to a low of $1.89/MCF in April 2012. Lower natural gas prices hurt ExGen's profits because its nuclear fuel input costs are primarily fixed and the price it receives for wholesale electricity generated is variable and based on natural gas prices. Fortunately for Exelon, natural gas prices have rebounded by nearly 100% from their April lows. In short, we can see that higher gas prices are the "promised land" for "The President's Utility."
Click to enlarge images.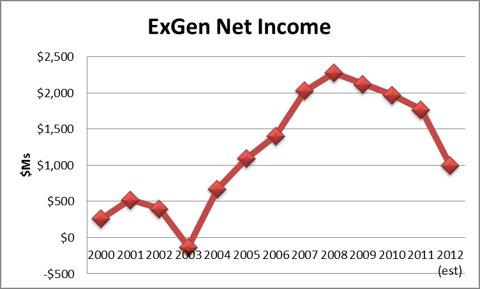 Source: Exelon's 2000-11 Annual Reports and our estimates.
Another reason why Exelon is The President's Utility is because Obama's former Chief of Staff Rahm Emanuel worked at Wasserstein Perella from 1998-01. Emanuel was hired as a managing director at Wasserstein Perella's Chicago office because he could make use of his political connections in order to help pitch deals. He used his connections as well as his negotiating tools to help broker major mergers and acquisition deals, most notably the Unicom-PECO merger that created Exelon Corp. in 2000. Exelon stakeholders should feel pleased these connections helped Exelon secure a $200 million taxpayer-funded stimulus grant from the Energy Department for its PECO subsidiary for a smart meter project it was already planning.
Recently, the movie "Promised Land" finished shooting. This was of interest to us because the screenplay was written by Matt Damon and John Krasinski. As such, we were not surprised that "Promised Land" painted hydraulic fracturing (fracking) in a negative light. We were kind of surprised that Damon turned to the United Arab Emirates government to help finance the movie, but considering that the UAE has a direct financial interest in slowing the development of America's natural gas industry, we can see why it was willing to help finance this movie. This is relevant for investors because although the movie is fictional and agenda-driven, not everyone who sees it is aware of that and the reaction of anti-fracking agitprop could serve to drastically reduce gas production and boost gas prices.
We also remembered that George Soros was an investor in Constellation Energy Group (NYSE:CEG) -- which Exelon acquired earlier this year -- from Q1 2009 to Q3 2011, as well as Exelon and Entergy. Because failing gas prices were hurting the share price and profits of merchant power generators like Constellation and Exelon and because natural gas prices were failing largely due to fracking changing the production/supply paradigm of natural gas markets, Soros teamed up with Hugo Chavez to fund the movie "Gasland," which was another film that criticized the gas industry in general and fracking in particular.
Exelon also sought to push up the prices of energy in general and natural gas in particular with its efforts to get the Waxman-Markey cap and trade bill passed. That bill would have allowed Exelon to increase its annual profits by $400 million in perpetuity because the regulations would have forced dozens of coal-burning plants to close. We think Exelon's retired CEO John W. Rowe said it best when he said that "We were the hyena looking for the dead stuff on the road." In this case, the dead stuff would be Exelon's competitors.
We bear no ill will against the anti-fracking campaigners because we understand why they want to ban fracking. Despite the fact that natural gas rigs in the U.S. have declined by 55% year over year, gas prices have only declined by 6.8% in that same time period. We can identify four reasons why natural gas prices have only declined by 6.8% year over year even though U.S. gas rigs have declined by 55%.
The first reason is that the number of U.S. oil rigs has increased by 31% during this time period, and the increased oil exploration has contributed to U.S. crude oil production increasing by 13% in the first seven months of 2012 vs. the first seven months of 2011. This increased supply of crude oil may not have been able to forestall a 6.8% increase in WTI crude prices over the last 12 months, but we believe that the increased oil resources served to keep natural gas prices somewhat in check.
The second reason is that oil production also yields high gas volumes in the ordinary course of oil production operations. According to analysts at Bank of America Merrill Lynch, areas such as Eagle Ford, the Permian Basin, and the Bakken yield between 10% and 35% natural gas production in the ordinary course of oil production operations.
Despite the collapse in the U.S. gas rig count, fracking has served as a gas production game changer and has resulted in the monthly marketed gas production increasing on a year-over-year basis for last 29 months as reported by the Department of Energy.
The fourth reason is that the U.S. is still facing a sluggish macroeconomic environment and yet it is still the cleanest dirty shirt in the world in light of slowdowns in emerging markets and the intractable debt issues in Europe.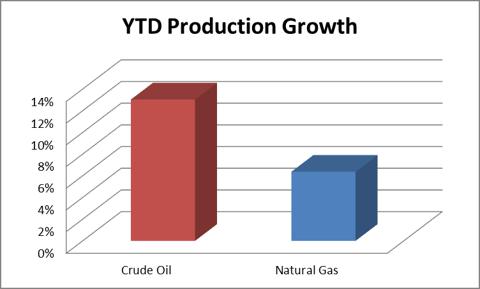 Source: U.S. Energy Information Administration.
In conclusion, we think the rally in natural gas prices is overdone. We think that investors need to come to grips with the fact that natural gas has already had one big bubble from 2002-08 and fracking has helped change the game for natural gas and to a lesser extent oil. Fracking has made it so that the U.S. has shifted from needing natural gas imports to potentially becoming an exporter of natural gas. We see that increased prices on natural gas helped Exelon generate strong profit growth from 2000-08 in its ExGen business and that helped it overcome weakness in its regulated utility operations.
With the U.S. mired in a recession and monthly natural gas production seeing year-over-year increases for nearly 30 straight months, we are amazed that natural gas production has nearly doubled since its April 2012 lows of $1.89/MCF. While this run-up in gas prices will help Exelon meet its $2.55-$2.85 adjusted EPS target, we don't believe that Exelon investors should expect much more than that. We believe that continued natural gas production growth will serve as a check on natural gas prices and investors should not expect increased regulations on fracking, which will also serve as a check on Exelon's pricing power in the wholesale power generation market. One piece of good news for Exelon's shareholders is that although the stock has seen a 50% decline from its July 2008 highs, at least they have not suffered the indignity of a 96% decline that UNG shareholders have endured.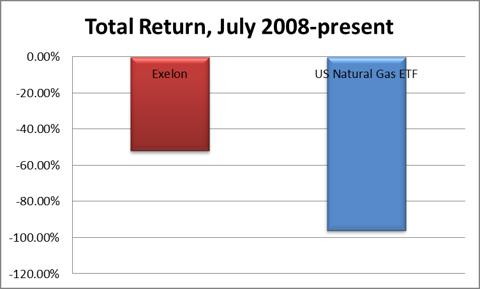 Source: Morningstar Direct.
Disclosure: I have no positions in any stocks mentioned, and no plans to initiate any positions within the next 72 hours. I wrote this article myself, and it expresses my own opinions. I am not receiving compensation for it (other than from Seeking Alpha). I have no business relationship with any company whose stock is mentioned in this article.
Disclaimer: This article was written by an analyst at Saibus Research. Saibus Research has not received compensation directly or indirectly for expressing the recommendation in this article. We have no business relationship with any company whose stock is mentioned in this article. Under no circumstances must this report be considered an offer to buy, sell, subscribe for or trade securities or other instruments.