On September 19, we published our report in which we evaluated Berkshire Hathaway's (NYSE:BRK.B) liquidation of its position in Intel Corporation (NASDAQ:INTC) during the second quarter. In the wake of Intel preannouncing an earnings warning for the third quarter, we concluded that was a timely decision on the part of Warren Buffett and his investment team. We're not surprised that Intel announced weakness in its Q3 results because we have seen that computing demand has shifted away from desktop PCs and laptops towards tablet computers and smartphones. We based that on our observations of Apple Inc. (NASDAQ:AAPL), which has reinvented the computer with its cutting-edge iPhone smartphone devices and iPad tablet computing devices. While Intel is still currently a technology titan and it would be premature to suggest an outright short of the company, we believe that investors should heed Berkshire's decision to sell Intel and reallocate the capital to a company that is less likely to be dead money. We believe it would be premature to suggest an outright short of Intel because the company is trading at a low PE, and has been steadily reducing shares and boosting its per share dividend distributions. However, we certainly expect it to underperform the S&P 500 and other major indexes.
(click images to enlarge)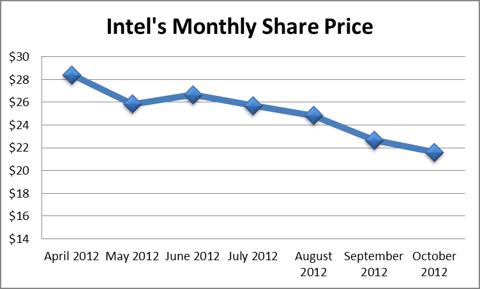 Click to enlarge
Source: Morningstar Direct
On September 7, Intel preannounced an earnings and revenue warning to the investment community, cutting its revenue range projection for Q3 2012 from $13.8B-$14.8B to $12.9B-$13.5B. This resulted in Intel's projected gross margin for the quarter slipping from 63% previously to a revised level of 62%. Additionally, analysts cut their consensus EPS estimates from $.60 to $.50.
The good news is that Intel's revenue of $13.5B for the quarter was at the high end of its guidance. Other good news for Intel included the fact that its gross margin of 63% was in line with its original forecasts, and that its adjusted EPS of $.60 met the original expectations of the analyst community. The bad news is that the steadily declining demand for traditional personal computers at PC makers like Hewlett-Packard (NYSE:HPQ) and Dell Inc (NASDAQ:DELL) is resulting in weak revenue and gross margin results at computer chip champion Intel. This has resulted in the company posting year-over-year declines in its most recent quarter of 5.5% in its revenue, 20% in its operating income and 11% in its EPS.
The ugly news for Intel is that it has a downbeat outlook on its Q4 results and that its financial performance has been sagging, even though it has made many acquisitions. Intel expects about $13.6 billion in fourth-quarter revenue, below the analyst forecast of $13.7 billion, and 2% less than its Q4 2011 results. More significantly, it said it expects a gross margin of 57 percent, well below the average for the last three years of 64 percent. This will negatively impact gross profit by $1B and shave about $0.12/share off its expected Q4 2012 EPS.
We can see that Intel still generates strong levels of free cash flow and has a solid balance sheet position, with $14.8B in gross cash and marketable investments, offset by $7.2B in outstanding indebtedness for a net liquidity position of $7.6B. This was basically the same position the company found itself in after Q2 2012, and we can see that the company devoted its entire free cash flow generated during the quarter to dividends and share repurchases.
While Intel is seeing its fortunes struggle, at least it is still dominating Advanced Micro Devices (NYSE:AMD). We find it amusing that even though Intel is facing a challenging operating environment due to the decline of the personal computer, at least it is giving noogies to AMD. We find it absolutely amusing that Intel's bottom line net income of $2.97B in Q3 2012 was comparable to AMD's top line revenue in H1 2012 of $3B. AMD preannounced another revenue decline of 10% for Q3 2012 on Thursday October 11, and it announced its second round of layoffs recently, in which it would cut up to one-fifth of its 12K employees. AMD reported $1.69B in revenue in Q3 2011, and we are estimating $1.52B in Q3 2012. This means that AMD's YTD revenue is estimated at $4.5B, which is a far cry from Intel's $8.5B in YTD profits. In a way, we think that Intel's dominance of AMD served to weaken it, because while Intel was beating AMD worse than a government mule, it overlooked the nascent smartphone and tablet computing devices, and these products have served to sap demand for desktop PCs and even laptops.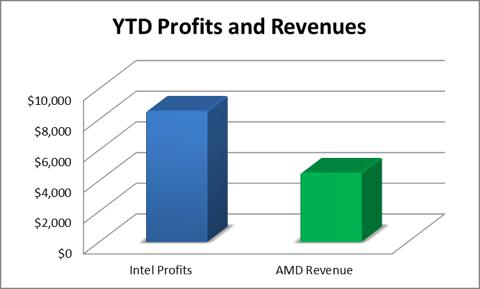 Click to enlarge
Source: Intel's Q3 Earnings Release and Our Estimates
In conclusion, we can see that Intel is still a titan in the technology sector. However, we believe that Intel is facing a significant number of negative headwinds, and at best, that Intel would be lucky to eke out positive total return versus the S&P 500 or any other major index. Based on the news out of Hewlett-Packard, we can see that Intel's customers are still struggling to compete against Apple's tablet computing devices, and even Intel CEO Paul Otellini is cautious about how consumers will react to Windows 8. Also, we think Intel stakeholders should be concerned about the weakening Chinese demand, as well as server CPUs from ARM Holdings.
Disclosure: I am long BRK.B. I wrote this article myself, and it expresses my own opinions. I am not receiving compensation for it (other than from Seeking Alpha). I have no business relationship with any company whose stock is mentioned in this article.
Additional disclosure: This article was written by an analyst at Saibus Research. Saibus Research has not received compensation directly or indirectly for expressing the recommendation in this article. We have no business relationship with any company whose stock is mentioned in this article. Under no circumstances must this report be considered an offer to buy, sell, subscribe for or trade securities or other instruments.