Shares of Costco Wholesale Corp. (NASDAQ:COST) have returned 12.49% over the past 12 months. The recent 9% drop from its 52-week high of $104.43 has created a buying opportunity for this quality dividend stock. In this article, I will walk you through the analysis that supports my view.
COST appears to be fairly valued relative to the company's financial performance (see table below). Analysts on average predict COST's revenue, EBITDA, and EPS to rise by 2-year CAGRs of 7.4%, 11.1%, and 13.4% over the current and next fiscal years. Compared to a peer group consisting of COST's primary competitors in both the US and Canada such as Wal-Mart (NYSE:WMT) and Target (NYSE:TGT), COST's growth estimates are generally better than the peer averages of 6.4%, 7.6%, and 15.5%.
In addition, COST's EBITDA margin is forecasted to expand by 0.3%, slightly higher than the peer average at 0.2%. However, on the profit side, COST underperforms the peer group as all of the company's profitability margins and capital return measures are below the group averages. In terms of leverage and liquidity, COST assumes a low level of debt as reflected by the firm's lower debt to capitalization and debt to EBITDA ratios. COST's trailing free cash flow margin is below the average, but due to its lower leverage, the firm's interest coverage ratio is slightly above the peer average. Lastly, both the company's current and quick ratios are fairly in line with the peer group, reflecting a healthy balance sheet.

In summary of the financial comparisons, COST appears to have above-average growth prospects, a low leverage, and an in-line liquidity position, but a lower profitability. As such, I believe the stock should reasonably trade at an in-line valuation with that of the peer group. The current stock valuations at 0.4x EV/sales, 10.3 EV/EBITDA, 22.3x EV/FCF, 0.4x P/sales, and 24.4x P/E (all on a trailing basis) represent an average valuation discount of only 0.6% to the peer-average trading multiples (see table above), suggesting a fair valuation in my opinion.
Despite the stock price have appreciated 12.5% over the past 12 months, its forward EV/EBITDA and P/E multiples are actually trading at 0.2% and 5.8%, respectively, below their levels in exactly a year ago (see chart below). It should be noted that COST' revenue, EBITDA, and EPS estimates for FY2013 and FY2014 have experienced multiple upward revisions over the same period (see tables below). Therefore, the stock valuation seems to become cheaper after the year.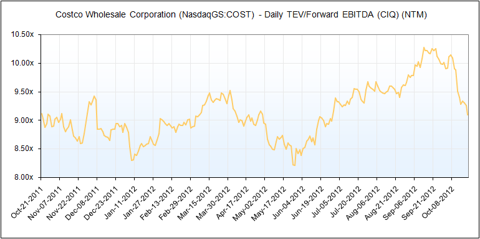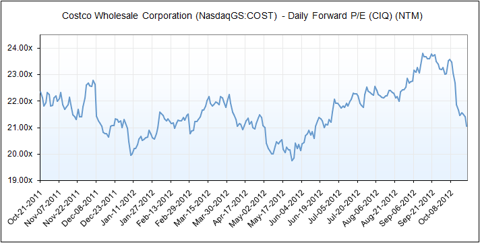 Comparing COST's current valuations to their long-term historical levels, the stock's trailing EV/EBITDA and P/E multiples are trading at only 4.1% and 5.2% premium over their 10-year historical averages (see chart below).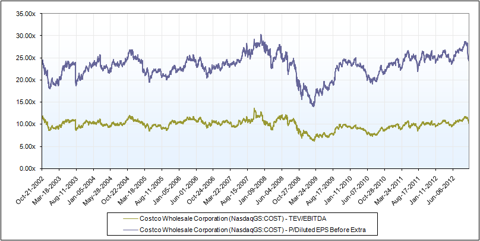 I believe the small valuation premium is completely justified by the company's financial and operating stability as well as the increasing dividends and share buybacks as described below:
COST's ROA, ROE, and ROIC ratios had been riding on a fairly stable trend over the past decade:

The firm's profitability margins also reflected a solid stability over the decade, and analysts in average predict the EBITDA margin to expand to 4.1% in FY2015, which is above the historical level: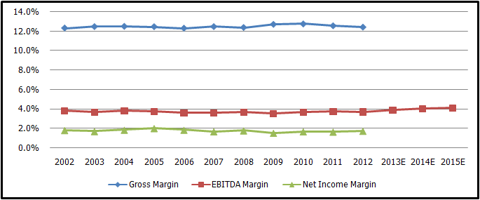 COST's operating metrics including total asset turnover, fixed asset turnover, and inventory turnover had been steadily improved from 3.6x, 6.3x, and 11.6x in FY2002 to 3.7x, 7.8x, and 12.6x, respectively, in FY2012: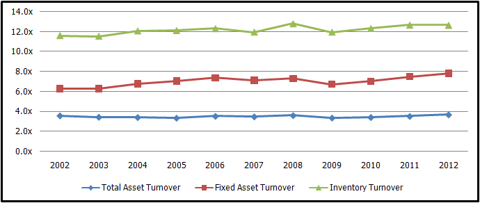 Despite a slightly declining growth trend, COST is still able to maintain solid growth rates that are still relatively comparable to the historical levels. The revenue and EPS growth rates are forecasted to be 8.8% and 11.9% in FY2015, not very far off from the 11% and 15% level in FY2002: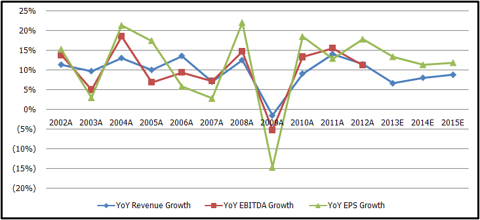 Moreover, COST initiated dividends and resumed share the share repurchase program in FY2004, and the facts that the dividend per share had been raised by a 5-year CAGR of 13.4% over the past 5 fiscal years and that the annual dividend paid and the share buybacks were historically backed by COST's robust free cash flows should warrant a premium stock valuation over the historical level (see charts below).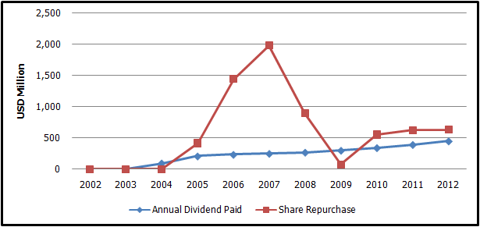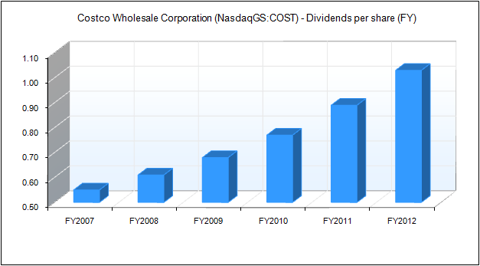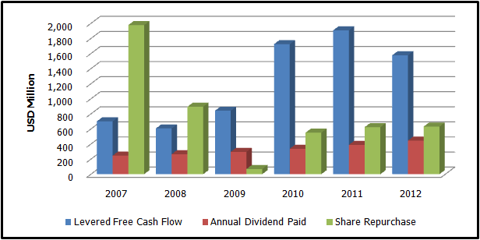 In conclusion, COST's fair valuations and sustainable dividend payout should offer investors a fair margin of safety for the investment. According to the chart shown below, the dividend yield of 1.05% appears to be the floor level since 2011. Assuming a target dividend yield at 1.05%, and further supposing that the current annualized dividend per share of $1.10 would be raised by 10% to $1.21 in the May 2013 payment period (I am being conservative in the growth assumption as it is lower than the historical dividend growth rate), the scenario implies an 1-year target stock price of $115.24, representing a 26% upside from the current market price. As such, in the light of the solid margin of safety, I recommend acquiring COST at the current price.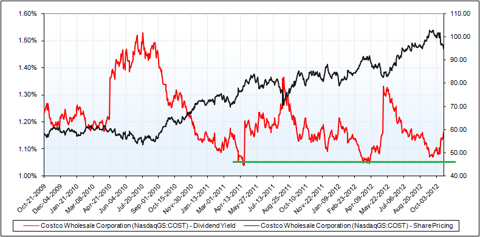 Comparable analysis table is created by author, all other charts are sourced from Capital IQ, and all financial data is sourced from Morningstar and Capital IQ.
Disclosure: I am long COST. I wrote this article myself, and it expresses my own opinions. I am not receiving compensation for it (other than from Seeking Alpha). I have no business relationship with any company whose stock is mentioned in this article.