By Brendan Gilmartin
Overview
Broadcom (BRCM) is scheduled to report Q3 2012 earnings after the close of trading on Tuesday, October 23. Results are usually available at 4:05 p.m. EST, and will follow with a conference call at 4:45 p.m. EST. Note that Broadcom's Bluetooth and Wi-Fi combo chip are embedded in the iPhone, along with a host of other premier smartphones and could, therefore, impact the trading in Apple (NASDAQ:AAPL) and other broad market indicators.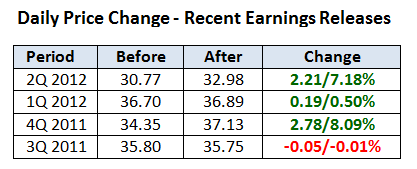 Outliers & Strategy
Key Measures:
Non-GAAP Earnings Per Share: The Street estimate is $0.77 (Source: Yahoo Finance), toward the high end of the projected range ($0.70 - $0.83). Note that earnings have topped consensus estimates over 12 straight quarters.
Revenues: Broadcom said back in July it expects revenues between $2.0 bln and $2.15 bln. The estimate is at $2.09 bln. Broadcom previously indicated that sequential revenue is expected to be up from 1Q on strength in the Broadband segment, slight improvement in Infrastructure & Networking, and "significant" gains for the Mobile & Wireless segment.
Revenues Guidance: The current consensus is $2.12 bln for the 4Q 2012 period. If the low end of the outlook is above this estimate, Broadcom may reverse the downward trend. If the high end of the range falls short of the consensus, look for a potential pullback.
Sympathy Plays: MIPS Technologies (NASDAQ:MIPS), Marvell Technology (NASDAQ:MRVL), MaxLinear (NYSE:MXL), PMC-Sierra (NASDAQ:PMCS), and EZchip Semiconductor (EZCH).
Broadcom is now trading at just 10.9x forward earnings, resulting in a Forward PEG ratio of just 0.80, implying the shares are trading at roughly a 20% discount to the estimated earnings growth rate.
Recent News
10/22: According to a Barron's post, Wedbush cut its price target on Broadcom from $41 to $39, suggesting that 3Q results could be marginally better than forecasts, but guidance for the 4Q period could disappoint. The analyst reportedly sees customer caution as the result of a weaker macroeconomic backdrop and tighter inventory levels.
09/28: According to a post on StreetInsider.com, Brean Murray Carret started coverage on Broadcom with a Buy rating and a price target of $42.00. The firm suggests Broadcom is among the best-positioned names in the semiconductor space, and is poised to benefit from the growth in tablets, smartphones, and connected homes through its WiFi and mobile segments.
09/19: Wells Fargo downgraded Broadcom from Outperform to Market Perform due to valuation, according to a report on StreetInsider.com. The firm also cited product and competitive risks in the mobile and wireless segments.
(click image to enlarge)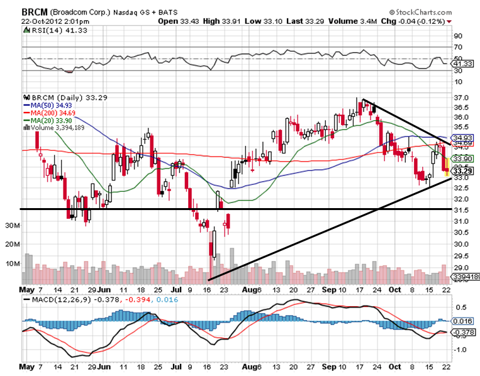 Click to enlarge
Technical Review
Broadcom shares are coming off the mid-September highs and are now hovering just above support at the $32.50/$33.00 area. Should earnings and Q4 guidance disappoint, there is downside risk to the $31 area, followed by the July lows in the $29.50/$30.00 range. Conversely, if earnings surprise to the upside and Broadcom delivers guidance at the high end of Street Views, there is initial resistance near at the 50-Day SMA near $35.00, followed by the recent peak near $37.00. (Chart courtesy of StockCharts.com)
Summary
Broadcom shares will come under the spotlight when it reports Q3 2012 earnings, given the chip maker's close ties to the smartphone market, particularly the Apple iPhone. Broadcom also maintains a strong position in the market for tablets and connected homes through its WiFi chipsets, but is facing intensifying competition from other semiconductor makers looking to gravitate toward mobile. Ahead of the results, most of the attention is likely to center on the outlook for the Q4 period.
Disclaimer: By using this report, you acknowledge that Selerity, Inc. is in no way liable for losses or gains arising out of commentary, analysis, and or data in this report. Your investment decisions and recommendations are made entirely at your discretion. Selerity does not own securities in companies that they write about, is not an investment adviser, and the content contained herein is not an endorsement to buy or sell any securities. No content published as part of this report constitutes a recommendation that any particular investment, security, portfolio of securities, transaction or investment strategy is suitable for any specific person.
Disclosure: I have no positions in any stocks mentioned, and no plans to initiate any positions within the next 72 hours. I wrote this article myself, and it expresses my own opinions. I am not receiving compensation for it (other than from Seeking Alpha). I have no business relationship with any company whose stock is mentioned in this article.