By: Brendan Gilmartin
Overview
Facebook (NASDAQ:FB) is scheduled to report 3Q 2012 earnings after the close of trading on Tuesday, October 23. The actual results are expected to come through at approximately 4:05 p.m. EST with a conference call to follow at 5:00 p.m. This is Facebook's second public earnings release since its IPO back in May and could have a direct impact on Linked-In (NYSE:LNKD) and online game-maker Zynga (NASDAQ:ZNGA).

Recent News
•10/18: Sterne Agee reiterated a Buy rating on Facebook, according to a post on Barron's, following the recent pullback, and suggests the shares could be bought on weakness, despite the uncertainty over mobile use and upcoming lockup expirations.
•10/18: BTIG Research downgraded Facebook from Neutral to Sell with a price target of $16 and cut earnings and revenues forecasts for 2012 and 2013, according to a report on StreetInsider.com. The firm cited Facebook's "mobile monetization approach."
•10/04: Facebook CEO Mark Zuckerberg announced Facebook reached 1 billion unique users.
•10/01: Oppenheimer reduced its price target on Facebook from $41 to $27, according to Barron's, based on uncertainty surrounding the shift in usage from desktop to mobile. The analysis is predicated on data from comScore showing a sharp drop in desktop Facebook minutes for August relative to previous months. The firm subsequently cut estimates for 2012 and 2013.
Outliers and Strategy
Facebook is expected to report Non-GAAP Earnings Per Share of $0.11 per share for the 3Q 2012 period. Estimates range from $0.08 to $0.13. (Source:

Yahoo

Finance)
Revenues for the 3Q 2012 period are forecast to come in at $1.23 billion, the mid-point of analyst estimates of between $1.17 billion and $1.30 billion.
Last quarter, Facebook shares retreated after Non-GAAP EPS of $0.12 was in-line with the consensus, while revenues of $1.18 billion were nearly 3% above consensus. The Street was looking for slightly higher results.
Facebook derived close to 14% of its revenues from online game-maker Zynga in the first half of 2012, according to Facebook's 10-Q released in July. Therefore the market reaction in Facebook is likely to have a direct impact on Zynga. Also note that, back on October 4, Zynga lowered 3Q earnings and revenue estimates based on "reduced expectations for certain web games including The Ville, and delays in launching several new games."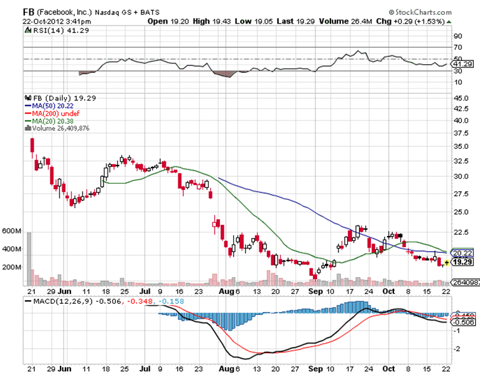 Technical Review
Facebook shares are hovering just above the low of $17.55 established back on September 4 ahead of its widely-anticipated 2Q 2012 earnings release. That low is the only noteworthy support level to watch in the event of a disappointing earnings release. Conversely, resistance is at the 20-Day & 50-Day SMA crossover near $20.25, followed by the September high near $22.50. (Chart courtesy of StockCharts.com)
Summary
Facebook shares are drifting near fresh lows ahead of its 3Q 2012 earnings release, due in large part to uncertainty over the transition from desktop monetization to its mobile strategy, along with the profit warning from Zynga. There are also lingering concerns over the flood of stock coming to market following lockup expirations. But with the shares at less than half the IPO value, those concerns appear priced in at these levels, particularly after the company announced it surpassed the one billion mark for unique users. Meanwhile, Mobile VP Vaughan Smith recently indicated the company's mobile ad click rates are 10x higher than PC click rates, and suggested Facebook is doing more to monetize its mobile applications than many are anticipating. A developing e-Commerce services platform, including the launch of Gifts, a compelling audience for retailers, and a strong management team and are other factors leading some to believe there may be a near-term floor in Facebook shares.
DISCLAIMER: By using this report, you acknowledge that Selerity, Inc. is in no way liable for losses or gains arising out of commentary, analysis, and or data in this report. Your investment decisions and recommendations are made entirely at your discretion. Selerity does not own securities in companies that they write about, is not an investment adviser, and the content contained herein is not an endorsement to buy or sell any securities. No content published as part of this report constitutes a recommendation that any particular investment, security, portfolio of securities, transaction or investment strategy is suitable for any specific person.
Disclosure: I have no positions in any stocks mentioned, and no plans to initiate any positions within the next 72 hours. I wrote this article myself, and it expresses my own opinions. I am not receiving compensation for it (other than from Seeking Alpha). I have no business relationship with any company whose stock is mentioned in this article.