Exchange traded funds that replicate hedge fund strategies are catching investors attention as a new market-neutral tool launched earlier this month. Emulating a hedge fund strategy is something researchers have been trying to accomplish, with the latest ETFs using "factor replication."
"Market Neutral is one of the largest hedge fund investment styles, both in terms of the number of funds and in the amount of assets being put to work,"Adam Patti, IndexIQ CEO, said. "After incubating the index underlying QMN for four years, we felt it was an excellent time to roll out this strategy, particularly given the volatility and uncertainty inherent in today's market environment.
The newest ETF to replicate a hedge fund strategy is the IQ Hedge Market Neutral Tracker ETF (NYSEArca: QMN) which is designed to give consistent returns in any market with low volatility. The ETF is the first to use a market neutral strategy by copying market neutral hedge funds.
Currently, there is the Hedge Multi-Strategy Tracker ETF (NYSEARCA:QAI) and Hedge Macro Tracker ETF (NYSEARCA:MCRO), based on "factor replication." Factor replication uses statistical modeling of funds to analyze the managers' investment patterns within six overall styles and recreate their risk-adjusted performance based on those factors for purposes of creating a fund of funds, reports Maureen Nevin Duffy for Institutional Investor. The funds have returned 2.9% and 3.2%, respectively.
Global X has also launched hedge fund replication ETFs using a different strategy, the Global X Funds' Top Guru Holdings Index ETF (NYSEARCA:GURU) and San Francisco-based AlphaClone's Alternative Alpha ETF (NYSEARCA:ALFA). The indexes that GURU and ALFA track are created based on the holdings of hedge fund managers as reported in their 13F SEC filings. ALFA has a 3-month average annualized return of 9.23 %, and GURU, which initiated trading on June 5, 2012, has a 3-month return of 9.60 %.
QAI and MCRO are both designed to protect investors in a downside market, but can also give upside exposure when markets turn, a hallmark of hedge fund strategies.
Hedge Macro Tracker ETF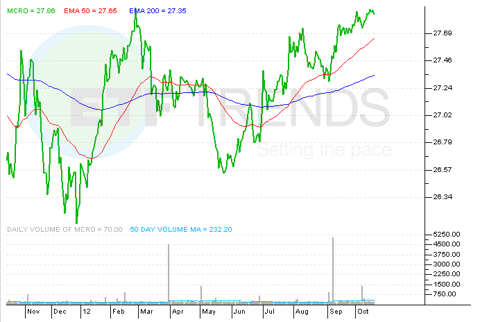 Click to enlarge
Tisha Guerrero contributed to this article.
Disclosure: I have no positions in any stocks mentioned, and no plans to initiate any positions within the next 72 hours. I wrote this article myself, and it expresses my own opinions. I am not receiving compensation for it. I have no business relationship with any company whose stock is mentioned in this article.