In an earlier article, I took a new approach to identifying bargains among Canadian oil companies. Of the three stocks I highlighted in that article, two -- Strategic Oil & Gas (OTCPK:SOGFF) and Pacific Rubiales (OTC:PEGFF) -- have done very well.
(click image to enlarge)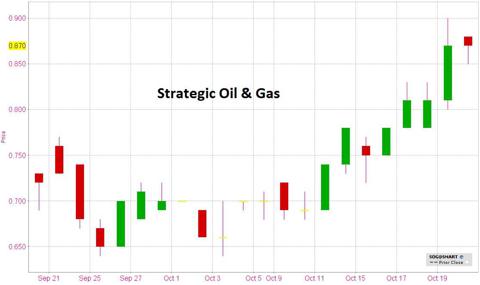 The other company, Pinecrest (OTCPK:PNCGF), is roughly flat. Pinecrest remains the best bargain among Canadian oil Exploration and Production (E&P) companies. So we'll take a closer look at it.
Management
Among junior and intermediate E&P companies, Pinecrest's management team stands out, having the most experience and the best track record. Its CEO and CFO were founders of Crescent Point (CSCTF.PK), which has been a spectacular success since then, rocketing from $1 to $44 even while it paid out hefty dividends. After Crescent Point, the Pinecrest team built up Peerless Energy, growing production from 0 to 6000 BOPD, then selling it to Petrobank (OTCPK:PBEGF), generating 200% returns for Peerless investors. This stellar team has a real stake in Pinecrest, owning 25% of the company on a fully diluted basis. Investing with this team in an E&P startup would be like investing with the late Steve Jobs in a tech startup. Nothing is guaranteed, but I want to place my bets with a team that has delivered big success before -- not just once, but twice.
Valuation
If we compare Pinecrest to other companies on a flowing barrel basis alone, it doesn't appear that cheap.
| Company | EV/BOEPD |
| --- | --- |
| Pengrowth (NYSE:PGH) | $41,000 |
| Enerplus (NYSE:ERF) | $46,000 |
| Penn West (NYSE:PWE) | $58,000 |
| Pinecrest | $92,000 |
By this metric, Pinecrest costs twice as much as Enerplus. But the catch is Pinecrest makes almost $66 a barrel -- about three times what Enerplus makes. And Pengrowth and Penn West make even less than Enerplus. Pinecrest makes more money because it is 99% concentrated on light oil, and its costs are very low. With only 8.75% royalties and $13.25/BOE operation costs, Pinecrest sports the highest netbacks in the entire Canadian E&P space.
Factoring in the netbacks, Pinecrest is cheaper than any of these companies. A comparison of their cash flows reflects this.
| Company | EV/Debt Adjusted Cash Flow (DACF) |
| --- | --- |
| Pengrowth | 7.5 |
| Enerplus | 6.8 |
| Penn West | 7.2 |
| Pinecrest | 5.7 |
More importantly, other companies are struggling to maintain production, while Pinecrest continues to grow its production at fantastic clip.
| Company | Annual Production Growth |
| --- | --- |
| Pengrowth | -12% |
| Enerplus | 2% |
| Penn West | -1% |
| Pinecrest | 49% |
The Big Upside
The big potential upside for Pinecrest comes from its exclusive focus on the promising Slave Point play. Pinecrest holds 260 net sections in the play, focusing on the Otter, Evi, Loon and Red Earth fields. Over 80% of this land remains undeveloped. Going with eight wells per section, Pinecrest has over 12 years of drilling inventory in the play.
Pinecrest commissioned global petroleum consultant Sproule Associates to conduct an independent assessment of its resources. According to Pinecrest's press release, Sproule estimated 584 mmboe of Discovered Oil Initially in Place. The real key to valuing this resource is determining the recovery rate. A small increase in the recovery rate translates to a huge difference in bookable reserves. The Sproule "best" estimate puts the recovery rate at 13%, which means 67.5 MMbbl of Contingent Oil Reserves. That would be roughly eight times Pinecrest's current reserves. But that assumes only four wells per section, rather than eight, which appears to be entirely feasible. Looking at other drilling results in the play, I think the recovery rate could be closer to Sproule's "high" estimate of 21%. That would give Pinecrest 110 MMbbl of Contingent Reserves, increasing its booked reserves by a factor of 13. In that case, buying Pinecrest is like buying oil at $4/barrel. Of course, all of this is prospective, but we see huge potential here.
We have two good indications of the potential of Slave Point. First, prices continue to rise -- to as much as $5000/hectare in the Red Earth field. Slave Point is now one of the most expensive areas in Alberta. Second, some of the bigger players with acreage in the play -- notably Penn West and Harvest (NYSE:HNR) -- are diverting resources to step up their drilling there. They're clearly seeing something that interests them there. Maybe it's recycle ratios that range as high up to 3.5 and payout periods as short as a year.
The Financials
Pinecrest is on extremely sound financial footing, with only $6 million in net debt and working capital. It also has lots of spare borrowing capacity, with a bank line of $125 million.
What Could Go Wrong
Small E&P companies come with a high degree of risk, particularly when they are narrowly focused on a single play. Other small carbonate focused companies in Canada -- like Second Wave -- (OTC:SCSZF) have had poor results recently. In its most recent operational update (August 28), Pinecrest announced that it had 17% downtime and 25,000 barrels of lost production due to weather. That was more than three times what was budgeted. With production at 2951/BOPD, Pinecrest has to go quite a way to meet its year-end exit guidance of 5000-5200 BOPD.
So Why Is The Share Price Down?
Since I originally highlighted Pinecrest, it took a substantial dive, trading as low as $1.53 on the Canadian exchange. It has since recovered to roughly where it was at the time of my article. Although the entire Canadian E&P sector has been under pressure, the negative moves in Pinecrest have gone beyond that. Watching the trading over the last two months, I've seen a large number of "iceberg" sell orders -- orders that appear as 500 shares in the order book (the minimum iceberg on the TSX), but actually mask an order 100 times that size. Iceberg orders of this size are typically from large institutions rather than retail traders. We know that Fidelity is Pinecrest's single largest holder at about 15% and has been reducing its position, selling over 5 million shares in September. Indications are that Fidelity has continued selling out of the 30 million shares it holds. With Pinecrest's top-notch management team, compelling valuation, and huge potential upside, I'm seeing the current prices as Fidelity's loss and my opportunity.
Disclosure: I am long OTCPK:PNCGF, PWE. I wrote this article myself, and it expresses my own opinions. I am not receiving compensation for it (other than from Seeking Alpha). I have no business relationship with any company whose stock is mentioned in this article.
Additional disclosure: I am not recommending the purchase or sale of any stock. For advice on your own investment strategy, see your investment professional.