Boeing (NYSE:BA), the aerospace / defense giant, reports before the opening bell on Wednesday morning, October 24th. Analyst consensus is looking for $1.13 in earnings per share on $20 billion in revenues for expected year over year growth in revenues of 13%, on a decline in earnings per share of 23%.
Boeing has been a woeful underperformer the last year, with the stock flat year-to-date (as of Monday's night's close), versus the S&P 500's +15% year-to-date return.
Still, we think BA is a low-risk play for longer-term investors, with the commercial airplane giant delivering 149 planes in q3 '12, roughly in line with estimates.
The Commercial Airplane (CA) segment is 60% of BA's revenues and operating income, and with the deliveries starting of the new 787 3 quarters ago, revenues started to ramp. The last three quarters, CA has put up 31%, 54% and 34% revenue growth respectively, generating operating income growth of 56%, 114% and 32%.
Current analyst consensus for BA is looking for 19%, 17% and 14% earnings per share growth in 2013, '14 and '15 on 8%, 7%, and 7% revenue growth. Currently trading at 15(x) expected 2012 earnings of $4.73, BA - at least on a p/e basis - is trading at 1(x) its expected growth rate.
However Boeing Defense is the rest of the business, and like all defense companies, has seen business slow as the US exits two theaters of conflict, and the looming fiscal cliff hangs over the sector. (David Stockman, Ronald Reagan's former budget director was on CNBC three - four weeks ago and his cause celebre' regarding the fiscal cliff was to immediately cut defense expenditures 30%. )
Boeing's current operating margin is 7.74% as of the June quarter. From our modeling of BA's history, the stock tends to peak with a peak in operating margin which has historically been 10%.
We think BA still has some upside but the stock needs to rally above the May '11 high of $80 - $81 to clearly break out. We think BA could eventually run to the low $100s but we would need to see the potential defense cuts evaporate, (or at least a less onerous paring of defense spending), and stronger airplane markets, particularly in SouthEast Asia.
Today, pre-earnings, we think BA is a function of low expectations, worries over a fiscal cliff catastrophe for defense, valuation that is moderately attractive for the aerospace / defense giant, but an attractive technical set-up.
We like this chart of BA - note how the stock held the upward-sloping trend line off the '09 lows both in 2011 and then again in the last month, and in addition the stock is trading above the 50-week moving average.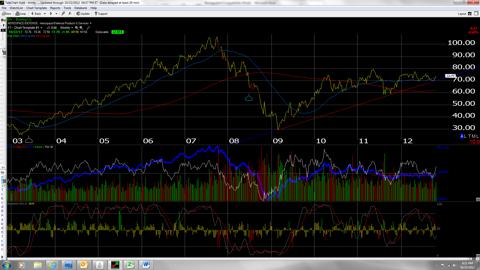 Click to enlarge
Boeing isn't Google - the stock isn't likely to open up down $10 on Wednesday. Just be patient and put this stock in the corner of the portfolio, as we await faster economic growth in 2013 - 2014.
Disclosure: I am long BA, GOOG. I wrote this article myself, and it expresses my own opinions. I am not receiving compensation for it (other than from Seeking Alpha). I have no business relationship with any company whose stock is mentioned in this article.