The Coca-Cola Company (NYSE:KO) is the world's largest non-alcoholic beverage company, which owns or licenses and markets more than 500 non-alcoholic beverage brands, including Coca-Cola, Diet Coke, Fanta, Sprite, Dasani, Powerade, and Minute Maid. KO has one of the widest moats in the consumer beverage industry and the company is well positioned to take advantage of the strong international growth through its diversified brands and extensive distribution network. In this time of the uncertain economic environment and global economic slowdown, KO will continue to be the safe haven for its investors with its strong competitive advantage, healthy cash flow, efficient management, and optimistic international growth potential in the long-term.
Recent Development
On Oct. 16, 2012, KO announced Q3 earnings with mixed results, where adjusted profit of 51 cents per share was in line with analysts' expectations, but revenue of $12.34 billion was below analysts' expectation of $12.41 billion, as reported by Martinne Geller from Reuters. This is mainly due to the strong dollar currency, which shaved 5 percent points of growth from net revenue and 7 points from operating income, as well as the slowdown in China and Europe. Later, on Oct. 18, the Company announced a new share purchase program, where the Board of Directors had authorized a new share repurchase of 500 million additional shares of the Company's common stock, as reported by Reuters. This positive news from the management supported our view that KO's revenue miss is a short-term issue due to the global economic slowdown and uncertain economic outlook, and KO still maintains its strong fundamentals and has sufficient resources to leverage through the near-term headwind to continuously increase its shareholder value.
Fundamentals vs. Short-Term Technical
KO's operating margin of 22.1% and net margin of 18.3% are higher than the industry average of 16.6% and 11.4%. While KO's ROE of 25.8 is only slightly better than the industry average of 24.3, its debt/equity of 0.5 is in great shape than the average of 3.4. With current P/E of 19.52, we believe KO is fairly valued as compared to the industry average of 19.5. KO's continuous, healthy free cash flow also gives KO a solid fundamental support for its share price.
From the technical perspective, KO was under selling pressure in the past three months. Since July 30, KO had been declining from $40.56 to $37.40 on Friday's close, with 7.8% drop. Since Oct. 15, MACD (12, 26, 9) had been showing a bearish sign for KO and the MACD difference continued to diverge with Friday's 1.16% drop, as seen from the chart below. At the current price of $37.40, KO is below its 50-day MV of $38.15 and still above its 200-day MV of $36.69. From the momentum perspective, the RSI (14) for KO at 37.88 is picking up the selling strength and approaching the over-sold territory of below 30. We believe the selling pressure will continue for KO in the near term and it should find some support at 200-MV of $36.69.
Click to enlarge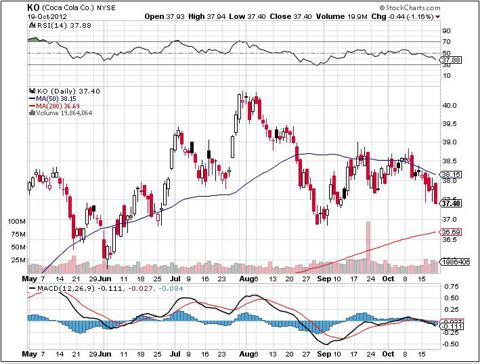 Click to enlarge
Source: StockCharts.com
Options Play
While we are confident about KO's long-term outlook, our short-term technical view for KO is neutral toward slightly bearish. We will review the following credit put options play for traders and investors who are willing to accept the purchase of KO stock at a discounted price as the worst case scenario.
Short 1x Jan 13, 2013 Put at the strike price of $36.25 for the credit of $0.75.
Buy 1x Jan13, 2013 Put at the strike price of $35.00 for the cost of $0.44.
The maximum profit potential is $0.31 and the maximum risk/margin requirement is $0.94 ($1.25 maximum loss - $0.31 credit received), which gives 33.0% potential return for the margin used. If this options play fails to profit, the KO stock will be acquired at the cost of $35.94 per share ($36.25 exercised price - $0.31 credit received), which gives us an edge of 3.9%, comparing to the current price of $37.40. Considering KO's annual dividend return is currently at 2.73%, this options play is worth a look for cash flow investors as it gives 33.0% profit potential and gives the stock buyer a discounted purchase price with 3.9% off over 3 month investing period. Enjoy! (as per Coca-Cola's classic slogan in year 2000.)
Note: All the prices are based on October 19's closing and all calculations are before fees and expenses.
Disclosure: I have no positions in any stocks mentioned, but may initiate a long position in KO over the next 72 hours. I wrote this article myself, and it expresses my own opinions. I am not receiving compensation for it (other than from Seeking Alpha). I have no business relationship with any company whose stock is mentioned in this article.