Advanced Micro Devices (NYSE:AMD) reported its quarterly results on Thursday, 10/18, coming in-line with the downwardly revised expectations and issuing very murky guidance. Shares of the company's stock were mercilessly pummeled, losing 16% during the tech-killing Friday, 10/19 trading session, closing at $2.18 -- lows not seen since the financial crisis.
While I have traditionally been bullish on AMD, believing that management would have been able to leverage the company's strong graphics-focused APU portfolio to help meaningfully gain market share, it seems that this thesis was incorrect. AMD's results -- and the Intel (NASDAQ:INTC) earnings call -- confirm that AMD lost share during the most recent quarter, and will continue to lose share during Q4.
As a result, AMD announced a number of strategic actions in order to attempt to once again become cash-flow positive in the long term:
Delevering From The PC Space - The new direction is simple: stop trying to fight Intel on its own turf. AMD has now set a long-term goal to have only 40-50% of its revenues depend on the traditional PC space. The company hopes to have the rest of its revenues come from alternate sources: semi-custom embedded design, micro-servers, and ultrathin/ultra low power APUs (still PC-levered, but not quite the same as traditional notebooks/desktops).
Staff Cuts - AMD needs to be able to become cash flow break-even at a lower revenue rate, so it will be cutting its workforce by 15%. While I hope that this will be more along the lines of a liposuction rather than a lobotomy, it is not completely clear at this point.
Unfortunately, there are a number of very significant headwinds for the company going forward:
Intel Will Be Ruthless - With the Windows RT/Android threat at the low end, Intel now has no real reason to allow AMD to have any of the traditional x86 segments -- high or low end -- at this point. Intel's processors in this segment are more sophisticated on the CPU front, and the company has shown an intense aggressiveness to become at least on-par with AMD in terms of integrated graphics. This is not surprising, given that Apple reportedly nearly used AMD's processors for its MacBook Air due to AMD's graphics superiority.
Nvidia (NASDAQ:NVDA) Will Be Ruthless - While trying to ramp up its mobile SoC "Tegra" products, which still negatively impact Nvidia's operating margins at the <$1B revenue level, the company needs a cash cow. That would be the gaming and professional graphics businesses, coupled with the blossoming HPC accelerator business. The company's products have been aggressively taking share, and I expect with the latest Tesla K10 and K20 refreshes, AMD's high-performance computer accelerators will see significant headwinds. On the graphics side, Nvidia simply makes a lot more money and has a healthier balance sheet thus, it can afford stronger R&D.
Tablets/Smartphones Eat The Low End - While an ARM (NASDAQ:ARMH)-based SoC will not displace any high-end Intel/AMD CPU or AMD/Nvidia GPU, the low end in which AMD generally operates is clearly in danger. Intel will be pushing its next generation "Atom" processors hard and the ARM-based giants -- Qualcomm (NASDAQ:QCOM) and Nvidia -- will be enabled as viable competitors thanks to the upcoming ARM-compatible Windows RT.
Cash Burn - AMD swung to an operating loss in the most recent quarter, and saw its cash balance decrease to $1.48B from $1.76B, and its debt load tick up slightly from $2.02B to $2.04B in the quarter. While AMD is not in any real danger of insolvency -- especially as the Mubadala development company owns ~20% of the company and could be a source of liquidity -- the cash situation will force AMD to become much more thrifty. This means it cannot necessarily get the best engineers and equipment, giving it a material disadvantage against better-capitalized peers.
Turnaround Prospects
As I mentioned earlier, AMD is looking to significantly reduce its exposure to the traditional PC space. So, it's time to evaluate its competitive position in its proposed new segments to see if it has a chance of turning around.
Semi-Custom Design
On the call, Lisa Su, AMD senior vice president and general manager, was asked the following question, and gave the following particularly unhelpful answer:
Patrick Wang: Okay. Can you quickly just mention a couple of the key competitors that are currently in that [semi-custom embedded] space today?

Lisa T. Su: I think you're familiar with many of our competition. I think our ability to be flexible and really put the semi-custom approach in place is something that's unique to our capability.
For my readers unfamiliar with the competition, here is a quick list, with some brief competitive information (I plan to do more detailed analyses of these companies in the near future):
Freescale Semiconductor (NYSE:FSL) - Lisa T. Su's former employer before she joined AMD. The company trades at a market capitalization of $2.30B, has $6.58B in long-term debt and $881M in cash. The company posted TTM revenues of $4.13B and EBITDA of $867M (the company's long-term debt interest, residual from an LBO, significantly eats into its earnings, hence its consistent operating losses despite positive EBITDA).
Microchip Technology (NASDAQ:MCHP) - The company trades at a market capitalization of $6.07B, has $1.66B in cash and $357M in long-term debt. TTM revenues come out to $1.36B, and TTM net income came to $316M. The company also yields 4.48%.
Texas Instruments (NYSE:TXN) - The company trades at a market capitalization of $31B, has $2.33B in cash and $4.70B in long-term debt. TTM revenues were $13.34B, and TTM net income was $1.58B. The company yields 3.02%.
While none of these companies is particularly "Intel-like," they represent more than trivial competition for AMD. AMD's graphics and CPU design technology is actually unique in the space, but it is unclear how well "unique" translates into "effective."
Micro-Server
AMD's $334M acquisition of SeaMicro, a company known for its energy-efficient, high-bandwidth micro-servers, seems to be a cornerstone of AMD's future attempts in the space. AMD's "Opteron" based chips for the traditional, high-end server market are generally uncompetitive with the Intel solutions on a performance and performance/watt basis, so AMD hopes that it can make a push in the ultra low-power space. Its next generation "Kabini" product, which should bring greater integration, a 28nm processor, and a brand new processor core (codenamed "Jaguar") to the table.
AMD will be using SeaMicro as a vehicle to push its own chips into the space, but it is clear that it also hopes to capitalize on the emergence of ARM-based server products by perhaps integrating some of the ARM products into the general interconnect fabric that SeaMicro brings to the table. The ARM providers in this space include Calxeda and Applied Micro (NASDAQ:AMCC).
Intel will also be a major competitor in the micro-server space with its "Centerton" Atom-based processor, available in 2H 2012, and its re-designed, highly integrated "Avoton" SoC, which is rumored to have between 2-8 next generation "Silvermont" cores, integrated memory, USB, SATA, and PCIe:
(click image to enlarge)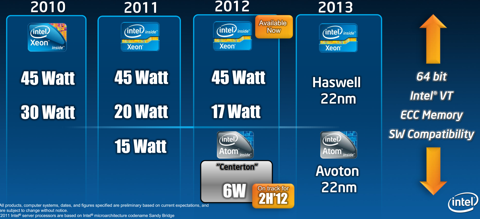 This space will also be competitive, but it is unclear whether Intel will actually have the same kind of advantage as it does in the PC and traditional server spaces.
Conclusion
AMD has a long road ahead of it. Intel has muscled it out of profitably competing in the PC and traditional server spaces, and the ARM ecosystem is quickly looking to eat into AMD's low-end offerings on the PC side with the Windows RT platform.
AMD is now a turnaround story. Plain and simple. It is no longer an investment. It has joined the ranks of Nokia (NYSE:NOK) and Research In Motion (RIMM) and now very quickly needs to define and follow a new path for itself. Management seemed pretty clear that it will lessen its dependence on the PC space going forward, but whether the new initiatives will succeed is anybody's guess.
Disclosure: I am long INTC, NVDA, AMD, QCOM. I wrote this article myself, and it expresses my own opinions. I am not receiving compensation for it (other than from Seeking Alpha). I have no business relationship with any company whose stock is mentioned in this article.