I believe that the equity markets are again at a major turning point, offering investors little upside potential. My investment assumption is that the perfect Dow peak and perhaps its top tick have been seen, with a very long and deep bear market in global equities to follow. Reiterating, we see global equity market rallies as resulting from global printing that will have merely created a series of 'sold-to-you-rallies' around the world.
That major negative fundamentals now define the U.S. is key, as that is where the world's safe haven equity and debt capital fled in 2012. Ad spending has always been a key leading indicator. Assessing this indicator in the electronic space, Google's results and its resultant smash last week were major causes for concern, as were the failure of half of the major reporting companies to meet revenue expectations.
The problems have hit the major holdings of most individual investor portfolios: Google (NASDAQ:GOOG), IBM (NYSE:IBM), Intel (NASDAQ:INTC), Apple (NASDAQ:AAPL) (the most widely owned stock in the U.S.), Ebay (NASDAQ:EBAY), Chipotle (NYSE:CMG), et al. The largest and most index-dominating companies' shares are falling by the wayside, index contribution-wise, joining the bond peak in damaging global investor wealth.
The coincident combination of equity and bond peaks create a very rare combination that necessarily spells deflation, since the investor has little in his/her portfolio that is appreciating. If real estate is falling as well, precious metals become the exception and there is only so much gold and silver to go around anyway.
A Dollar move toward 86 in the DXY would be supported by yet another repatriation of foreign earnings by U.S. corporations. Regardless the speed of repatriation, the actualization of the announcement will have been discounted through the first quarter of 2013, coincident with euro-related factors. This would all be consistent with equity-bearish themes.
While long-term money, smart money, will have sold through this rally, the "underweight" investors (hedge funds) will have created a post-Bernanke influx of funds, into which smart long-term manipulators and ruling class investors could distribute stock.
Many of the latter are involved in major mutual fund businesses. Therefore, the funds' recent mass liquidations at a peak have become a key leading indicator, not a contrarian one as in the past.
Therefore, I believe that much of Wall Street wants out.... and that many are setting up delta hedges amid this utterly collapsed volatility, a la 2007-2008. The upshot of the latter point is that once the major Wall Street players have those hedges, it actually behooves them to collapse the market when it does fall. In other words, it becomes profitable to make the decline compressed and violent once it gets going.
The following 5-year chart of the Dow Jones labels the three major moves up since the 2009 low. Each move is subdivided by five waves, as indicated below. To emulate the two preceding "moves", there needed to be a final thrust higher - which we have now indeed had, thus completing the 3rd cyclical advance.
A minor high would celebrate macro "good news" from Europe, but the disease is in the U.S. now, as described above. The pattern's interpretation below would not be altered.
NOTE: The labeling below does not reflect the rules of the Elliott Wave and is merely intended to illustrate the pattern since 2009 and how this 3rd move would end, if consistent.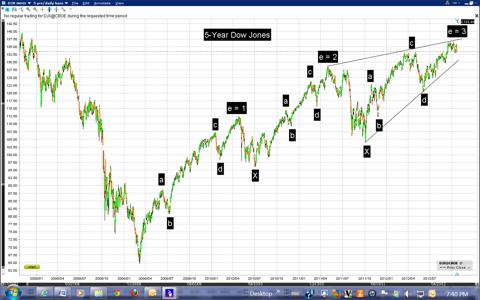 Click to enlarge
For diversification, the EFA index is a Morgan Stanley product that is designed to track the world, ex-U.S. It is heavily weighted to Europe, though Japan does comprise 20% of the index (see NIKKEI).
The 3-year EFA chart below illustrates a long-term shoulder-head-shoulder pattern.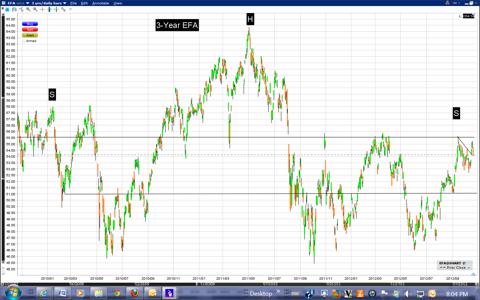 Click to enlarge
SUMMARY
I had had an idealized target of Dow 13,750. However, given the preceding, even if it did somehow occur, it matters little. Once everyone has gotten their statements and seen the bloodbath in their bond portfolios, they may wish to cleanse themselves of everything else too, including (even) Apple, if there are mortgage payments due.
As previously discussed, Bernanke has given himself the widest possible berth to deal with a year-end panic in the global equity markets, by being able to print as much as he wants, whenever he wants. However, stemming a tide is not preventing one.
I believe year-end and 2013 will be hellacious, making 2008 appear to have been somewhat more manageable.
NIKKEI
Any Nikkei rally would do so on the strength of BoJ printing, thereby creating another international "sold-to-you rally."
There are no other fundamentals that need be belabored. The Japanese are not getting orders coming in at these exchange rate levels. And regarding the latter, to have a positive economic impact, they will have waited too long to act.
The currency wars, coupled with present global economic conditions, have created a set of circumstances wherein massive printing may do very little for equity prices, as illustrated below. Economic woes cannot be resolved by " financial drugs."
My suspicion is that, on the strength of BoJ printing, the Nikkei could rally to the lower descending trend-line within the channel of the 5-year chart below, to ~9400.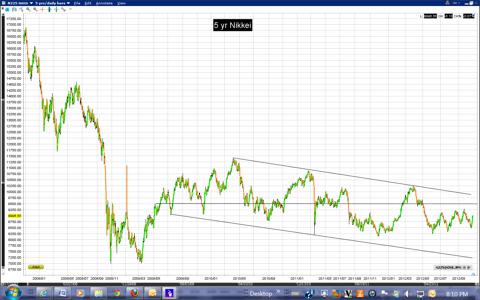 Click to enlarge
Having identified the perfect low at year-end, as well as the subsequent April 1, 2012 peak, I subsequently wrote that investors should abandon Japan after a sizeable rally. The rally has indeed occurred, leaving a corrective Elliott a-b-c pattern in its wake, suggesting that the decline may resume soon. In the global calamity of 2013, the Nikkei could smash to 5750 (as it tends to overshoot), upon breaking the 2008 bottom.
SHANGHAI
Economic numbers in China are improving and the next three months should be favorable. Again, the Shanghai index is off-cycle versus other markets, having made it almost easy to identify major turning points over these past five years, both at peaks, as well as troughs.
There exists potential for as much as 30% gains from bottom to top in this wild and wacky off-cycle market, which should outperform global markets, at least into mid-December, peaking last among major global indices.
As with the Nikkei, any bull move is related to currency and monetary policy manipulation.
I believe that this low in the Shanghai Composite is coinciding with the change in leadership. I may even be underestimating the probabilities of the China-related indices' strength in terms of price, with such underestimation perhaps extending the rally's duration into January.
However, I will stick to a mid-December peak, with gains bound by a 30% advance from bottom-to-top.
Below, the 5-year chart of the Morgan Stanley China A Share fund is followed by a look at the 4-year Shanghai Composite. These 30% rallies are bound by levels at 22.75 and 2600, respectively. That is where the downtrend channels and 4-year resistance lines intersect.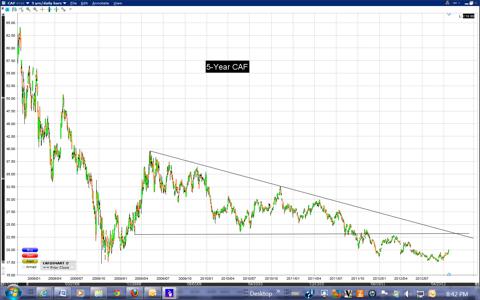 Click to enlarge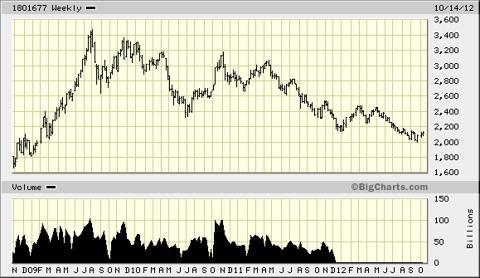 Click to enlarge
CONCLUSION
I continue to believe that the end of the year will mark a global calamity of epic proportions, as countries exit the eurozone (at least Greece), an eventuality upon which this forecast is NOT dependent.
There are "fiscal cliffs", dollar-related earnings miseries for the U.S. multi-nationals, financial (banking crises), economic (recessions) and political/military threats, all over the world. It is all over...in my opinion. At this point, the global shorting sequence has become: New York, Europe, Japan, China.

Disclosure: I own and may add additional DIA and EFA puts. I wrote this article myself, and it expresses my own opinions. I am not receiving compensation for it. I have no business relationship with any company whose stock is mentioned in this article.