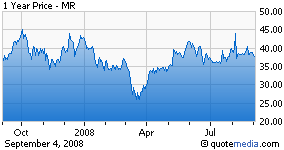 Mindray Medical (NYSE:MR) reported much improved results for its second quarter, the first quarter that included its acquisition of Datascope's patient monitoring business. The acquisition was completed on May 1, so Mindray's Q2 report reflects two months of combined operation.

In Q2, revenues climbed 100% to $145.7 million and net income was up an even greater 139% at $36.7 million.

Not surprisingly, Mindray's "Patient Monitoring & Life Support Products" division, which was the recipient of the acquisition, was the quarter's big winner. Its revenues shot 158% higher to $67 million and constituted 47% of the company's total. In Q2 of 2007, patient monitoring contributed 36% of Mindray's sales. Mindray did not break out separate numbers for its Datascope assets, as they are already a part of the Patient Monitoring division. However, as a very un-rigorous estimate, the Datascope acquisition seems to have increased Patient Monitoring by about 30.5% or $16 million over the two months.

Mindray's other divisions are also doing very well. The In-Vitro Diagnostic Products division reported a 62% increase in revenue at $34.9 million and Medical Imaging Systems rose 51% to $35.4 million. All of these are very positive results.

Mindray reiterated its 2008 guidance in its announcement. The company expects revenue of about $570 million and net income (non-GAAP) of $133 million during the year. The net income reflects the company's expectation that it will qualify for the 15% tax rate that is given to high tech enterprises. So far, China has not ruled on any company's application for the lower rate. At present, Mindray is reserving for an 18% tax rate, the transitional rate this year that will increase over time for most companies to 25%. Mindray expects its local Shenzhen government to make a positive ruling on the tax matter before the end of the year.

In the conference call, management said that it currently estimates that Mindray will be able to achieve about $30 million in manufacturing and R&D synergies in the Datascope assets, though it will be approximately three years before those levels are reached. The company also will be able to shrink the sales force somewhat by eliminating overlapping. Mindray says it has learned from Datascope's sales force since the American focused model is very different from the China distributed sales technique.

For the full year, Mindray now expects the acquisition will be slightly accretive to earnings, which is an improvement from their earlier forecast that the transaction would be neutral. Management also warned that Q3 usually exhibits less growth, but that it predicts Q4 will make up for the shortfall.

Disclosure: none.