Sykes Enterprises (NASDAQ:SYKE) provides outsourced customer contact management services. The communications and technology consumer markets represented 63% of 2007 revenues, but the company also serves the financial, health-care, transportation, leisure, government, and utilities markets. Almost two-thirds of revenues came from the Americas. A small amount came from the Asia-Pacific region. The remainder came from Europe, the Middle East and Africa.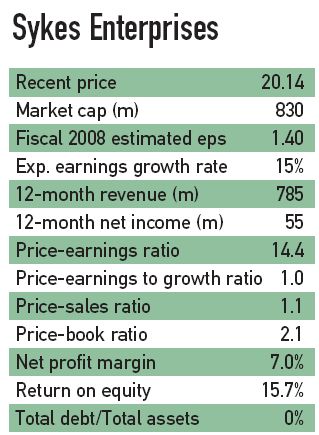 SYKE's solutions focus primarily on front office business process outsourcing [BPO], which is comprised of three categories: Customer care services include information requests, account activation, complaint resolution, billing inquiries, claims handling, and warranty management. SYKE also provides technical support for hardware and software products, communication services, and Internet-related issues. Finally, acquisition services center on inbound up-selling of client products and services. These services generated 96% of the company's revenues in 2007. SYKE relies on a worldwide network of 42 customer contact management centers across 18 countries, including 15 low-cost off shore locations in the Philippines, China,Argentina, Costa Rica and El Salvador. Collectively, these centers employ 27,400 seats.
The remaining 4% of revenues is derived from enterprise support services and fulfillment activities related to customer care and technical support services. The former includes technical staffing services and outsourced corporate help desk solutions. The latter consists of sales order and payment processing, inventory control, product delivery and product returns handling. SYKE saw strong top line growth during the past year because deteriorating worldwide economic conditions put clients under financial and operational pressure, prompting them to seek ways to outsource non-core activities. Outsourcing is often cost-effective and allows clients to focus on core competencies.
Net revenues through the first half of 2008 were up 22.3% year-over-year to $411.4 million. The operating profit margin improved 173 basis points to 7.99%. Net income jumped 84.4% to $33.4 million or 82 cents per share. Results were particularly strong in Q2. Revenue growth was broad-based with about 60% of the growth coming from existing customers. SYKE had a net gain of 2,100 seats year-over-year and the utilization rate improved to 81% from 78%.
Because results are largely dependent on conversion rates, a further deteriorating of the economy would be problematic. Indeed, the company's customer base within the retail, appliance, and handset markets contracted slightly due to economic concerns. In addition, expenses are expected to rise during second half of the year as wage increases are implemented in offshore locations. Advertising, recruiting, and training costs are also expected to rise.
Yet demand remains favorable. Conversions also remain healthy in all geographic regions, especially within the the technology and communications markets. The business-to-customer space in financial services is also strong. And the lower-than-average size of the company's accounts could make it easier to close deals since competitors tend to focus on bigger accounts. Expenses incurred during the second half of the year should help SYKE support growth. It plans to add 1,300 seats in Q3.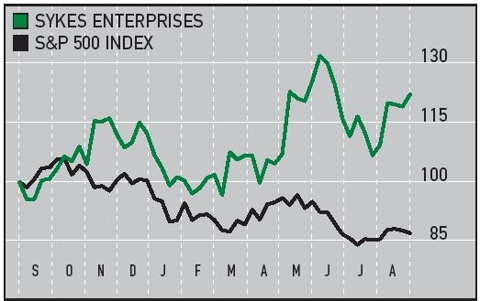 Click to enlarge