The Market Vectors RVE Hard Assets Producers ETF launches
On Wednesday September 3, Van Eck and Jim Rogers teamed up to launch the Market Vectors RVE Hard Assets Producers ETF (AMEX: HAP). The fund is being billed as "the first and only global hard assets ETF" (press release).
Branching out from the growing popularity of ETFs and ETNs that invest in commodities futures contracts (DBC and DJP are two of the most popular examples of this type of fund), HAP instead invests in equities of the companies that produce those commodities.
What's in it?
The fund's performance is tied to The Rogers™ Van Eck Hard Assets Producers Index, which launched in June of this year and is chaired by Jim Rogers. The index includes 321 components; the top 10 components account for 33% of the total weighting. HAP captures more than 90% of the commodity producing industry's global market cap.TheStreet.com's Roger Nusbaum points out that HAP's top three holdings, Monsanto (MON), Potash Corp. of Saskatchewan (POT) and Exxon Mobil (XOM), "make up close to 15% of the fund. A misstep by any of these three could be a drag on the fund's performance." Year to date, The Rogers™ Van Eck Hard Assets Producers Index has lost 10% - most of that over the last month - mirroring the global sell-off in commodities.
The Rogers™ Van Eck Hard Assets Producers Index uses a unique consumption-based methodology for weighting components, rather than a market cap-based one, leading to a more even spread across hard asset sectors, as broken down in the chart below. The Index's approach means that its asset allocations are derived from global consumption (in dollar totals) of its respective components (so for example, 40.3% of the $7.2 trillion in hard assets consumed globally in 2006 were energy resources).
click to enlarge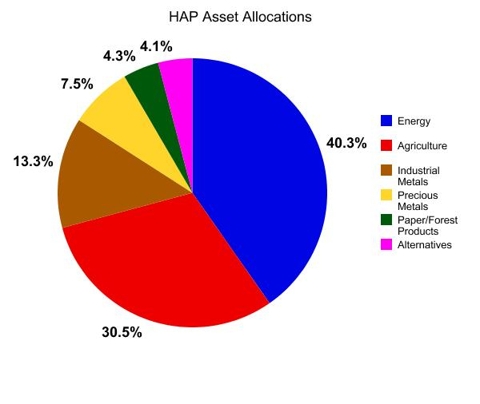 According to an accompanying pamphlet [PDF file] published by Van Eck to coincide with HAP's launch, commodity producer equities as represented by The Rogers™ Van Eck Hard Assets Producers Index have returned 262% in the five year period ending July 31, 2008, versus physical commodity returns of just 73% over the same period (the Dow Jones-AIG Commodity Index was used to calculate the later figure), making HAP an appealing alternative to futures-based commodity ETFs and ETNs.
In terms of global diversification, 39.2% of HAP's holdings are U.S.-based, 14.8% are based in Canada, followed by Britain, Russia and Brazil with weightings of 6.2%, 5.6% and 5.1% respectively. The ETF holds almost exclusively large- and mid-cap names (market cap of at least $1.5 billion), with only 1.8% of its holdings being classified as small-caps.
Competition and expenses
Other commodity producer ETFs (expense ratio in brackets) include narrow ETFs -- such as the Claymore Global Timber ETF (CUT) [0.65%], the Van Eck Market Vectors Agribusiness ETF (MOO) [0.65%], the Van Eck Market Vectors Coal ETF (KOL) [0.65%], and the Van Eck Market Vectors Gold Miners ETF (GDX) [0.55%] -- and broad ETFs such as the iShares S&P North American Natural Resources Sector Index ETF (IGE) [0.48%].
By way of comparison, Index Universe's Eric Rosenbaum points out that iShares S&P North American Natural Resources Sector Index ETF (IGE) contains an energy sector weighting of 80% due to its cap-weighting approach, and the fact that energy producers have much larger market caps than their agricultural peers.
HAP boasts an expense ratio of 0.65% - at least until May 2009. According to the prospectus [PDF file], gross expenses are actually 1.09% but have been marked down by 0.44% while the fund gathers assets. By buying a combination of two iShares funds - S&P Global Materials (MXI) and S&P Global Energy (IXC) - an investor can capture many of the top holdings included in HAP for a lower expense ratio (by 17 basis points) of 0.48%. There are, however, significant differences in the holdings and underlying weightings of the respective funds, warranting further analysis before adding them to your portfolio.
Watch out for volatility!
Another possible disadvantage to HAP relates to its underlying volatility. Unlike most physical commodities, whose spot prices have negative, or low positive correlations with equities, HAP sports a three-year beta of 0.99 to the S&P 500, along with a performance correlation of 0.53. What this means is that while the fund offers somewhat of a hedge against longer-term market performance, it is not going to provide much cushion against short-term market swings, as it essentially moves in tandem with the major indexes.
Related Documents [in PDF format, except where noted otherwise]