If you've been listening to the Street, you will have no doubt heard more talk of a real estate bottom again. Admittedly, there have been a few encouraging signs emerge in the last month. They include an improvement in the rate at which the S&P Case-Shiller 10 and 20-city composite home price indexes have been dropping and signs from a number of regions that prices are actually increasing month-over-month in a few cities (see chart).
In some areas hardest hit, buying foreclosures has become the latest fad and sales figures in areas of California, for example, have experienced impressive increases. How long this continues, however, remains to be seen.
But before breaking out the champagne and doing the bottom dance, here are some rather sobering charts (and numbers) to consider.
click to enlarge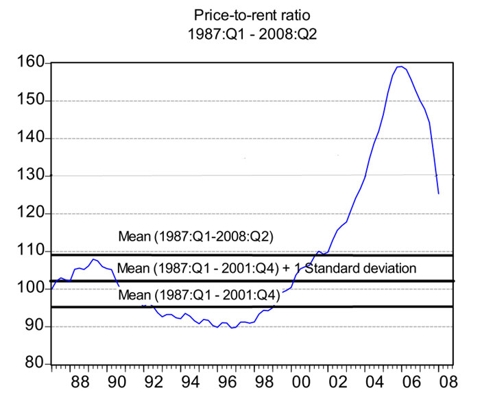 Figure 1 – Quarterly chart showing changes in the price-to-rent ratio over the last two decades. The bubble beginning in 2002 and ending in 2005 is clearly visible on the right-hand side. It also shows that we have a long way to go to get back to the historic norm in mean (average) prices to average incomes over different periods. Chart – Northern Trust
As we see from Figure 1, although the price-to-rent ratio has fallen dramatically since peaking in 2005, the correction still has a way to go to return to any of the historic norms. To return to the average (mean) prices, either home prices still have to fall approximately 12% more nationwide or rents would have to increase roughly 15%. This is possible, but given the history of bubble aftermaths and the fact that our economy is deteriorating and already in recession (don't believe another GDP or CPI report until you read http://tradesystemguru.com/content/view/206/58/#Mass ), prices have a greater probability of falling well below trend before finally leveling off.
Next, we see a chart of the ratio of the value of the family home as a percentage of household income.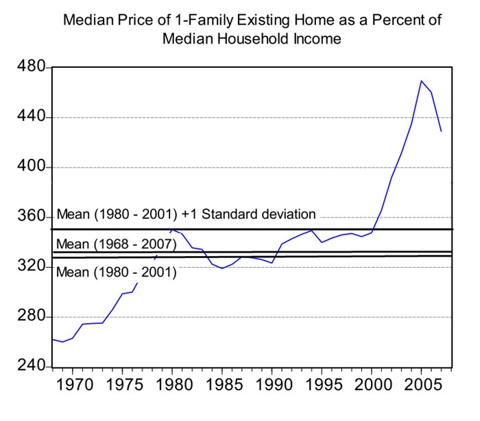 Figure 2 – Value of the family home as a percentage of median income showing that the correction still has a long way to go. Chart – Northern Trust
This chart bodes even more ominously for a bottom or recovery in home prices anytime soon. Historically, home prices have increased roughly in line with real income growth that is until 2001. Fueled by historically low interest rates and a flow of capital out of stocks and into housing, prices were propelled far above the level incomes could support. According to this chart, home prices must fall another 27% to get back to the normal ratio of average incomes to the mean price of the family home from 1968 through 2007.
Figure 3 shows another view of this relationship – median home prices to median household income for the US and a number of major cities.  As we see, US home prices still have to drop another 20% or more to return to the historic ratio of home prices/income of 3.5. For places like Los Angeles (10 x income), Miami (7.25 x income) and even Chicago (5 x income), prices still have a long way to fall to return to the historic norm.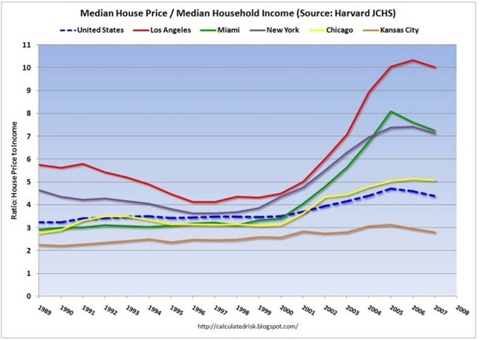 Figure 3 – Relationship between median home prices and median household income for the US (blue dashed line) and a number of major US cities. Data – RealtyTrac
No one, not even eternal property bull and head cheerleader for the National Association of Realtors Lawrence Yun, will dispute the fact that stubbornly high unsold housing inventories remain a serious challenge. As of the latest figures (July), inventories continue to grow and are above 11 month supplies for both existing and new homes. Increasing foreclosures are a major source of the problem. Where foreclosures go, the housing market is sure to follow, at least for the foreseeable future.
As we see from Figure 4, there are no signs of foreclosures slowing. Just the opposite is true, as this chart clearly demonstrates. Even if foreclosures level off at their Q2-08 rate, it means another nearly 3 million foreclosed homes will be added to unsold inventories by Q2-09.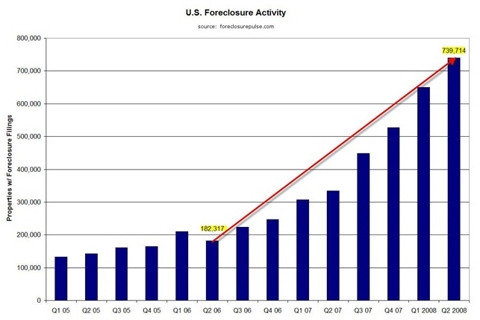 Figure 4 – Increases in homes foreclosed between Q1-05 and Q2-08. Chart: ForeclosurePulse.com
Optimism is a good thing most times. But it can be a very costly emotion to traders and investors, especially when it's misplaced. And judging by this data, it is certainly too soon to break out the housing bottom party shoes and start buying homes again just yet.
Disclosure: None