In my article "Apple: Why is the Cult of Mac so Misunderstood", I wrote:
An 8GB $299 mini iPad wouldn't be a surprise, it follows the strategy of "containment" - controlling the opponents' advance while expanding itself.
I also provided my assumptions of where the "iPad mini" would fit from a marketing perspective:

If the rumors are correct, it would appear that Apple will be releasing the iPad mini within the same timeframe as Microsoft's (NASDAQ:MSFT) Surface launch. Not surprisingly, pundits are now worried that the iPad mini will cannibalize the regular sized iPads. Will this "speculation" hold any water?
Based on the rumors swirling; I've updated my matrix below to show what I meant by "containment":

My assumptions are based on the following:
The iPad2 will be phased out within a year. There will only be the "iPad" (regular sized) and the "iPad mini".
The distinguishing characteristics between the two (for now) will mainly be the size.
Nothing prevents Apple from pricing the "mini" at a premium (e.g. MacBook Air) as long as there is a meaningful trade off.
Apple successfully continues to design its chips in house.
Based on the assumptions above and assuming the upcoming "mini" models will start from $299, Apple will have the opportunity to "contain" the price points (in green) ranging from $299 to $699. The Android tabs will have to compete in the sub $299 with Amazon's (NASDAQ:AMZN) Kindle and Research in Motion's (RIMM) Playbook (don't laugh!). Microsoft's Surface has one shot to make a dent on this segment; if it fails, it will be difficult to supplant the disruption started by the iPad.
While it may be true that Apple may lose one iPad sale for every 5 iPad mini sold, I would prefer to think that Apple is gaining 5 iOS users instead of just one. These are 5 users that may be less likely to use other platforms over time. Would the margins from 5 iPad mini's be equal to one iPad? Highly doubt it; hence, I find the speculation about cannibalization premature. We should not forget that Apple would prefer to disrupt its own product line. Maybe the better iPad is the smaller iPad!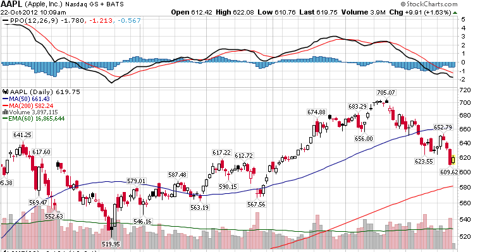 It appears that we may get Christmas in October. Should we buy before or after earnings? Aggressive investors should see if we will bounce off $623 while conservative investors should wait till after their earnings and guidance release before opening a position.
Disclosure: I am long AAPL. I wrote this article myself, and it expresses my own opinions. I am not receiving compensation for it (other than from Seeking Alpha). I have no business relationship with any company whose stock is mentioned in this article.