With such a strong foothold in mattress and upholstery fabrics, Culp Inc. (NYSE:CFI) looks better positioned than its competitors to strive during this soft economic environment. This Zacks #1 Rank (Strong Buy) has a compelling valuation, including a price-to-sales (P/S) ratio as low as 0.56 and a price-to-book (P/B) multiple of 1.66. In addition, the company has beaten the Zacks Consensus Estimate in 3 out of the last 4 quarters.
Profit Surges, Beats Estimate
On August 29, Culp Inc. reported fiscal first quarter earnings of 28 cents per share, topping the Zacks Consensus Estimate by 7.7% and rising twofold from the prior-year quarter. Looking at the earnings surprise history over the last 4 quarters, the company has outperformed the Zacks Consensus Estimate by more than 8%.
Net sales of $69.2 million comfortably surpassed the Zacks Consensus Estimate of $65 million and grew 14.8% year-over-year, reflecting sales increases across Mattress Fabrics (up 18%) and Upholstery Fabrics (up 11.1%). Gross profit grew 47.8% to $13.1 million, whereas gross profit margin expanded 430 basis points to 19%. Operating profit surged 75.6% to $5.5 million, while operating margin increased 270 basis points to 7.9%.
Management expects total sales for the fiscal second quarter to jump between 2% and 6% year-over-year, buoyed by a 3% to 8% increase in sales at the Mattress Fabrics segment. Upholstery Fabrics sales are expected to be in line with the prior-year period.
Positive Earnings Estimate Revisions
The Zacks Consensus Estimate for fiscal 2013 has jumped more than 15% in just the past 7 days to $1.21 per share, as 1 of the 2 estimates moved higher. It is also up nearly 20% from 2 months ago. This outlook suggests year-over-year growth of practically 34%.
Meanwhile, the Zacks Consensus Estimate for fiscal 2014 increased 4.7% to $1.12 per share in 60 days.
Impressive Valuation
In addition to low P/S and P/B multiples, the stock looks attractive with respect to a forward price-to-earnings (P/E) multiple of 9.98 (under the peer group average of 12.55). A P/E below 15.0, a P/S ratio less than 1.0 and a P/B ratio under 3.0 generally hints at a value stock. Volume is fairly strong, averaging roughly 31K daily. The return on equity (ROE) also looks attractive. It has a trailing 12-month ROE of 14.5%.
A Look at Chart
A quick glance at the price and consensus chart reveals that the stock price line remains below fiscal 2013 and 2014 earnings estimate lines, reflecting that the stock is still undervalued. Currently, the stock price is in the range of $12.00–$14.00, and has generated a solid year-to-date return of 36.3%, significantly higher than the S&P 500's return of 12.2%.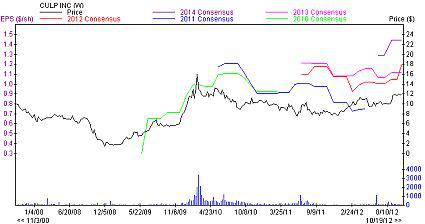 Founded in 1972 and headquartered in High Point, North Carolina, Culp, Inc. is the manufacturer and marketer of mattress fabrics utilized in covering mattresses and box springs, and upholstery fabrics principally used for residential and commercial furniture. The company operates through two segments, Mattress Fabrics and Upholstery Fabrics. Culp, which competes with International Textile Group, Inc. (OTCPK:ITXN), has a market cap of $146.6 million.