Atlanta-based The Coca-Cola Company (NYSE:KO) recently reported quarterly earnings that confirmed operations are continuing to grow, despite global uncertainty. While the slowdown in Europe and weakening dollar did affect the company's earnings, Coca-Cola continues to expand both geographically, and in case volumes. Investors have been buying stock in Coke for the past few years, as stable earnings and increasing dividends offer some degree of certainty in volatile markets. It is worth noting that Warren Buffet's Berkshire Hathaway (BRK.A, BRK.B) is the largest shareholder, holding 8.89% of shares outstanding.
Even after the recent earnings announcement, shares still offer a compelling entry point for long-term investors. The growth in emerging markets continues to be the story of Coca-Cola - it is swiftly moving products to virtually every place on the globe. Rival PepsiCo Inc. (NYSE:PEP) is following in Coke's footsteps; however, with over 146,000 worldwide employees and 126 years of business under its belt, Coke has established itself an extremely dominant brand and isn't likely to be threatened. Through this article, I will highlight Coca-Cola's financial strengths and rationale for why this stock may belong in your portfolio.
Revenue and Cash Flow
Quarterly Revenue Growth (chart below) has grown at a CAGR of 10.56% over the past decade. The most recent quarter ended September 28th (not pictured below), saw sales increase 1% quarter over quarter to $12.34 billion. With over 3,500 beverages in the Coke portfolio and operations in over 200 countries, this beverage giant still has room to grow.
Click to enlarge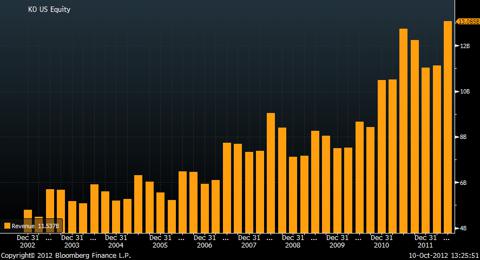 Source: Bloomberg
The income statement can be very complicated and easily manipulated when dealing with companies of this size. I like to evaluate the statement of cash flows to see how much cash is actually being collected. This gives a cleaner picture of the financial health and cash flow generating power of a particular company. Coca-Cola not only delivers on earnings, but on operating cash flow as well. In the nine months ended September 28th, Coke has generated $7.84 billion in operating cash flow, roughly a 15% increase over the same prior period. The chart below depicts the companies cash flow from operations over the past decade. Expectations are for Coke to surpass 2011's mark of $9.47 billion this calendar year.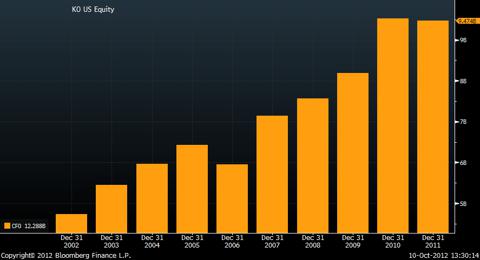 Source: Bloomberg
Dividend
Shares of Coca-Cola currently trade with a dividend yield of roughly 2.70%, very attractive given the current interest rate environment. I believe one thing that draws investors to this stock is the company's track record, fifty consecutive years with a dividend increase. This is an astounding feat for any company to achieve. Although past performance is no guarantee of future results, it is worth nothing that the company is not struggling to achieve this dividend payment. The chart below shows the dividend payout ratio for Coca-Cola that is typically 50% of earnings.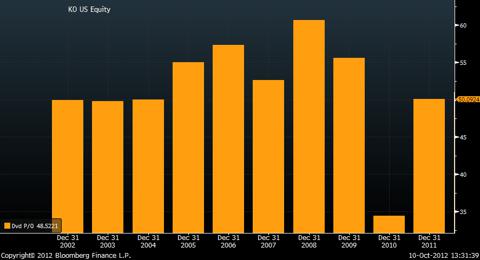 Source: Bloomberg
Even during the financial crisis of 2008 and 2009, the company was able to maintain paying a dividend and not jeopardize its financial health. The chart below depicts the dividend payment (orange line-left hand scale) and dividend yield (white line-right hand scale) over the past decade. Note: the current dividend rate is $1.02.

Source: Bloomberg
Of all Wall Street analysts Bloomberg covers, the blended average projects a three-year dividend growth rate of 8%. I always prefer to take a more conservative approach to valuing securities, this way unexpected events can be adjusted for much more easily. Assuming the current dividend grows at 5% per year over the next three years, your dividend payment will grow to $1.18. If the market continued to trade Coca-Cola stock with a 2.7% dividend yield, the projected price would be roughly $44. This would equate to an annualized return of roughly 7.6% (assuming dividends are not reinvested).
Valuation
Depending upon which valuation multiple you favor, shares of KO are either undervalued or fairly valued based upon historical prices. Using the widely follow Price-to-Earnings ratio, which is currently 19.5x, shares trade close to their historical average, and are likely fairly valued. Price-to-Cash Flow also displays a fairly valued security based upon historical multiples. Price-to-Book and Price-to-Sales show a company that currently trades below its historical averages, and may imply some value to be found in Coca-Cola.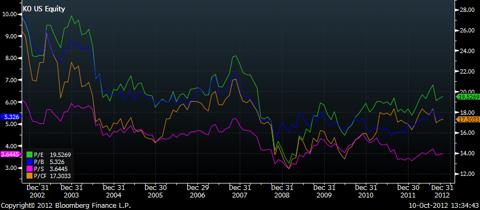 Source: Bloomberg
Conclusion
As Coca-Cola continues its expansion into new markets, the company will likely continue its revenue growth for years to come. Its diversified product line up offers investors access to rapidly growing markets such as energy drinks, while still providing stable sales from the flagship Coke brand. If you are looking to hit a home-run with your investments, Coca-Cola is likely not the stock for you. However, in my opinion if you are looking for stable consistent dividends, with a high likelihood of increased dividend payments, Coke may be a fit for your portfolio.
Even though the company faces risks from currency fluctuations, commodity price increases and slowdowns in consumer spending, it has proven itself through numerous economic cycles. Regardless of the company's mistakes in the past - (changing the Classic Coke formula) - it has managed to regain momentum and continue growing market share. This shows not only the strength of Coke's brand name, but also the management team in place. Shares of KO at today's price offer long-term investors value. Short-term or technical investors could wait for a brief pullback to the low $37 range where the 200-day moving average may offer further support.
*Note: All data reported and graphed is pulled directly from Coca-Cola's website, press releases, and SEC filings (10K's and 10Q's).
Disclosure: I have no positions in any stocks mentioned, and no plans to initiate any positions within the next 72 hours. I wrote this article myself, and it expresses my own opinions. I am not receiving compensation for it (other than from Seeking Alpha). I have no business relationship with any company whose stock is mentioned in this article.