By: Brendan Gilmartin
Amazon.com (AMZN) is scheduled to report 3Q 2012 earnings after the closing bell on Thursday, October 25. Results are typically released between 4:01 and 4:10 p.m. EST. A conference call will follow at 5:00 p.m. EST.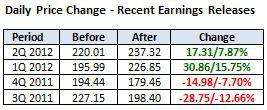 Amazon provided the following guidance for the 3Q 2012 period back in its July earnings release:
Net sales are expected to be between $12.9 billion and $14.3 billion, or to grow between 19% and 31% compared with third quarter 2011. The current consensus is toward the high end of this range at $13.92 billion. (Source: Yahoo! Finance!). Revenue is a critical measure for Amazon and often dictates the after-hours trading action, given the wide breadth of analyst and company estimates.
Operating income (loss) is expected to be between -$(350) million and -$(50) million, down from $79 million a year earlier. Consensus estimates call for -$(43) million.
Amazon is expected to post a loss of $0.08 per share (range is -$0.31 to $0.20), down from $0.14 in the prior year. (Source: Yahoo! Finance)

Forward guidance is a critical measure for Amazon and usually impacts the ensuing trading activity. Current estimates (4Q 2012):
Revenues: $22.84 billion. If the low end of revenue forecast exceeds this estimate, shares could return to all-time highs.

While much of the attention centers on Amazon's retail operations, an overlooked part of its business are the hosted web services & cloud-computing segments that are contributing meaningful revenue.
Recent News
10/23: Amazon shares declined after shipping giant UPS (NYSE:UPS) posted weaker than expected earnings and cut its FY2012 outlook for the second straight quarter.
09/20: According to a post on StreetInsider.com, Cantor Fitzgerald initiated coverage on Amazon with a Buy rating and a price target of $300, calling the company the "best play on growth in global online retail."
09/11: Barclay's raised the price target on Amazon from $220 to $245 and boosted 2012 earnings and revenue forecasts, according to Barron's. The positive outlook follows the unveiling of the new Kindle Fire and forecasts for increased share in the tablet space. The analyst reportedly believes the new devices will drive content sales.
09/06: Amazon introduced the Kindle Fire HD-the next generation of Kindle Fire.

Technical Review
After surging to a 52-week high of $264.11 as recently as September 14, Amazon shares have fallen more than 11% and now threaten to violate longer-term support at $230 - a level going back to last May. But with the Relative Strength Index (RSI) now hovering just above the oversold 30-level and a MACD over-extended on the downside, a bounce could be in order so long as 3Q results and guidance, at a minimum, fall in-line with consensus. (Chart courtesy of StockCharts.com)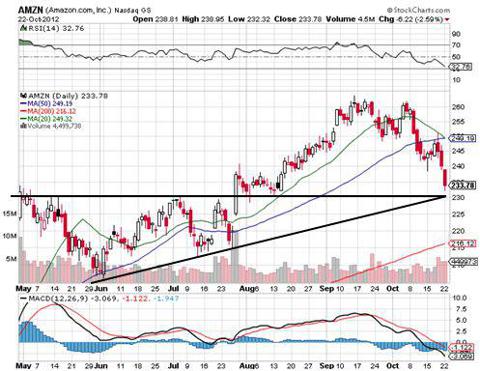 Click to enlarge
Summary
Amazon.com surged to an all-time high in mid-September, buoyed by the unveiling of the new Kindle program and dominant position in online retail and web hosting and services. Since then, however, the shares have slipped more than 10% amid concerns over slower global growth, weaker consumer spending trends, tighter margins, and intensifying competition from the likes of Target (TGT) and Wal-Mart (WMT). Against this backdrop, Amazon needs to deliver results that top consensus and deliver a robust outlook to lift the shares back toward all-time highs.
DISCLAIMER: By using this report, you acknowledge that Selerity, Inc. is in no way liable for losses or gains arising out of commentary, analysis, and or data in this report. Your investment decisions and recommendations are made entirely at your discretion. Selerity does not own securities in companies that they write about, is not an investment adviser, and the content contained herein is not an endorsement to buy or sell any securities. No content published as part of this report constitutes a recommendation that any particular investment, security, portfolio of securities, transaction or investment strategy is suitable for any specific person.
Disclosure: I have no positions in any stocks mentioned, and no plans to initiate any positions within the next 72 hours. I wrote this article myself, and it expresses my own opinions. I am not receiving compensation for it (other than from Seeking Alpha). I have no business relationship with any company whose stock is mentioned in this article.