The dynamics of the technology sector have changed considerably over the past few years. VMware, Inc. (NYSE:VMW) has relished this new environment that focuses on cloud-based systems. As the market leader in virtualization (55% market share), VMW has posted an average revenue growth rate of 40% over the last five years. The stock is currently trading at a P/E of 27x and we believe these valuations will improve. Due to a positive outlook for virtualization and cloud computing, we are bullish on VMware and give the company a buy rating.
VMware

VMware provides virtualization and virtualization-based cloud infrastructure solutions. The solutions are aimed at increased cloud computing access, software lifecycle management, business continuity and corporate end-user computing device management. VMW has three main products - Cloud Infrastructure and Management, Cloud Application Platform, and End-User Computing. Last year, 85% of the company's revenues came from software maintenance and 15% from professional services.
According to a study conducted by IDC, VMware has more than 55% market share in the virtualization industry. As the market leader in its segment, VMware has a broad range of partners. The partners include vendors of servers and microprocessors, storage companies, security firms and so on. Recent acquisitions by VMW include Wavemaker, SlideRocket, Packet Motion, Shavlik, Neo Accel, Digital Fuel and Socialcast.
Segment Performance
VMware posted a revenue increase of 32% YoY in 2011, which was a 9% decline from 2009 revenues. For 2012, consensus revenue estimates stand at $4.6 billion, a 22% increase over 2011 reported revenues. In 2010, the Services segment recorded 46% growth, compared to 36% by Licenses segment. The growth in Services slowed down to 32% in 2011, while License growth came down slightly to 31%. The results of the first two quarters indicate that License growth has slowed down considerably to approximately 11%, while Services growth was strong at 33% YoY for Q2 2012.
$ in millions

2010

2011

2012

2009

2010

2011

Q1

Q2

Q3

Q4

Q1

Q2

Q3

Q4

Q1

Q2

Revenues

634

674

714

836

844

921

942

1,060

1,055

1,123

2,024

2,857

3,767

YoY

33%

37%

32%

27%

25%

22%

41%

32%

QoQ

6%

6%

17%

1%

9%

2%

13%

0%

6%

Licenses

312

324

343

422

419

465

444

514

482

517

1,029

1,401

1,841

YoY

34%

44%

29%

22%

15%

11%

36%

31%

QoQ

4%

6%

23%

-1%

11%

-5%

16%

-6%

7%

Services

321

350

371

413

425

456

498

547

573

606

994

1,456

1,926

YoY

32%

30%

34%

32%

35%

33%

46%

32%

QoQ

9%

6%

11%

3%

7%

9%

10%

5%

6%
Analyst Opinion
Most analysts have a buy or strong buy rating for VMW. There are 27 analysts with a buy or strong buy rating in the current month as compared to only three with a sell or underperform rating. The numbers of analysts with a hold position have remained stable over the last three months.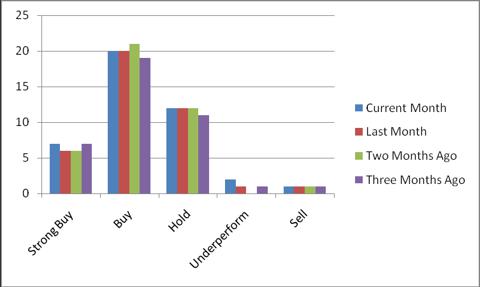 Conclusion
The market is moving towards cloud computing. Consumer focus is also shifting towards handheld devices. In such an environment, the prospects of the world's leading virtualization company remain strong. VMware's major competitors include Hewlett-Packard (NYSE:HPQ), IBM (NYSE:IBM) and Microsoft Corporation (NASDAQ:MSFT). The stock is currently trading at a forward P/E of 27x and has traded between trailing P/E range of 32x and 139x in the past.
VMware's P/E is not comparable with competitors because its competitors businesses are diversified and virtualization contributes only a small part of their earnings. According to Reuters, the average EPS growth for the next five years is 45%, which is 5 times the industry average. VMware's long-term growth prospects make us bullish on the company. We, therefore, give it a buy rating.
Disclosure: I have no positions in any stocks mentioned, and no plans to initiate any positions within the next 72 hours.
Business relationship disclosure: The article has been written by Qineqt's Technology Analyst. Qineqt is not receiving compensation for it (other than from Seeking Alpha). Qineqt has no business relationship with any company whose stock is mentioned in this article.