Apple (NASDAQ:AAPL) has experienced extreme volatility recently, and I have capitalized with option strategies since 2010 with positive results (past performance is not indicative of future returns). For reference, please view the first and other articles about Apple to understand the strategy and its potential returns.
This strategy is to simultaneously generate income and reduce your effective cost basis by selling out-of-the-money options to generate weekly income without sacrificing long-term returns. Even if you have no plans to engage in the options market, this is your one-stop primer for the critical Apple developments from the past week.
Click to enlarge images.

Click to enlarge
This is the most important week of the year for Apple as not only will the company be announcing the much-anticipated iPad Mini today, but it also reports fiscal fourth-quarter 2012 earnings. Analysts' consensus estimates are for $8.9 billion in earnings on $36.3 billion in revenue. Apple is increasingly becoming an iPhone company as its beefy margins generate most of the firm's profits. This quarter will be extremely difficult to predict, as Philip Elmer-DeWitt points out:
Estimating iPhone sales for Q4 2012 -- the quarter that ended Sept. 29 -- is particularly tricky. For the first 10 weeks, unit sales were depressed by customers holding out for the new phone they kept reading about. For the last two weeks, the company sold iPhone 5s as fast as it could make them. How fast that was, and how slow sales were before the iPhone 5's release, is anybody's guess.
The median estimate for quarterly iPhone sales is $27 million; however, I am going to come in decently low at approximately $24 million primarily due to supply issues. I have been performing supply checks weekly at both Apple and AT&T (NYSE:T) stores and the vast majority have been constantly sold out. The only model that I was able to find at more than one location since the launch was the 16GB Black AT&T. Many of the AT&T stores that I checked have had no public shipments since launch day about a month ago. To clarify, this does not mean that these outlets have had no sales; it just means that they have only had enough to fill customer orders and have had no extra to sell to the public. It is clear that Apple is still facing supply constraints and, as you can see, I do predict that Apple will miss estimates this quarter. Fortunately for Apple this is a supply issue that is not uncommon, and sales just slip to the following quarter. If you are a long-term investor you should use this is as an opportunity to buy Apple. The conference call will be critical as it will include commentary about Apple's iPhone 5 sales and supply issues.
If it is possible, there will be even more focus on Apple's earnings than ever because of Google (NASDAQ:GOOG), Microsoft (NASDAQ:MSFT), and other technology company's relatively underwhelming earnings last week. The pressure will be on Apple to break the generally negative technology trend. If the tech sector continues to sell off you could easily see Apple crack the $600 level before it reports earnings.
As I have done with previous product launches, I will present you with a cheat sheet with feature probabilities and their likely impact on Apple's stock. This is simply my best estimate of what Apple may do and how the market will react accordingly:
$250 Entry-Level Price Point: 30% Chance; Positive Impact on Stock
Retina Display: 40% Chance; Positive Impact
A5 Processor: 90% Chance; Mixed Impact
Siri Support: 75% Chance; Positive Impact
3G Support: 60% Chance; Positive Impact
4G Support: 5% Chance; Positive Impact
Other factors as important such as whether a SmartCover will be offered, and the colors that the device will be available in; however, those are less critical. Some investors are still cautious about whether the iPad Mini will have an impact on Apple, but I have addressed potential cannibalization earlier this summer. With Apple below $630 it is trading at current and forward P/Es of 14.9 and 11.9, respectively. The stock has historically faced resistance when Apples current P/E falls below 13 and the forward P/E has protection at 10. The bargain is sitting in front of you and you would be wise to take it.
Apple's options spike in value for the week of earnings announcements and this week is no exception. In fact, the options are worth even more due to the iPad Mini announcement today. For example, the Oct. 26 (weekly) $635 have a time value ratio of 2.81%, which is the second highest mark for the year (only late April had higher premiums). This indicates lots of bullish sentiment and it would be logical to take advantage of it by selling out-of-the-money calls or puts. Buying calls can reward investors handsomely but there is significant risk involved. I currently hold a long January 2013 $705 call as a "home run" investment.
Below I present three possible scenarios and the potential returns for the Apple options. The first scenario represents a negative outlook for Apple, while the final two scenarios are more reasonable. These scenarios are forecasts and there is no guarantee that they will come to fruition. Even if you are optimistic, it is important to consider both positive and negative circumstances in order to stress your assumptions. As a general rule, selling calls with higher strike prices has greater potential return but additional risk of loss due to the lower (or lack of) downside protection. For more information on the fundamentals of covered calls, click here.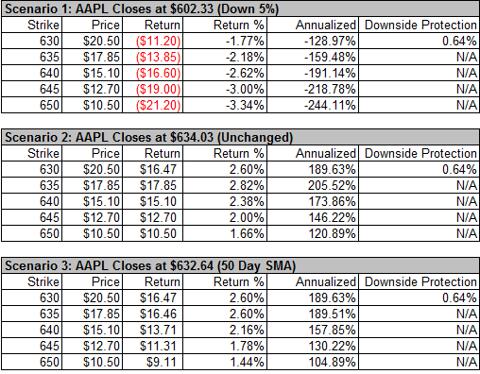 Click to enlarge
Additionally, if you would like even more information, I have prepared a sensitivity analysis for absolute return and percent returns, respectively. After studying the information above, these two charts make it easy to pick a strike price based on where you believe Apple will close at the end of the week. Estimate where you believe Apple will close and select the strike price with the highest return.

Click to enlarge
With this information, executing a buy-write on AAPL Oct. 26 (Weekly) 635s is the optimal risk/return strategy as an opening Apple transaction. If you are uncomfortable with this strike I would consider a buy-write in the range of 630-660. Even if you are extremely bullish you can still profitably sell covered calls; Apple is volatile enough that you will have opportunities to repurchase on further dips. An alternative approach is to sell out-of-the-money 615 puts and collect the premium without having to purchase the stock outright. The 615s are currently trading around $10.55 and appear to offer the best risk/reward profile for the week. The long calls discussed above entail much more upside potential, but the drawback is the higher risk assumed. Note that if the stock declines to the strike price, you are obligated to buy the stock (or close out the position). You should always consider the risks (particularly with naked calls or puts) raised in this article in light of your personal circumstances (including financial and taxation issues) in consultation with your professional financial adviser.
Disclosure: I am long AAPL, T. I am also long AAPL January 2013 $705 calls. Please refer to my profile page for disclaimers. I wrote this article myself, and it expresses my own opinions. I am not receiving compensation for it (other than from Seeking Alpha). I have no business relationship with any company whose stock is mentioned in this article.