He got shaken out of the tree...
Funny? Not so much if you were one of those who sold in a panic as shares of Sirius XM (NASDAQ:SIRI) dropped off what seemed like the deep end in Monday's trading. After hitting a high of $2.95, it seemed that volume dried up and Sirius XM traded sideways before falling off a cliff mid day and plummeting to as low as $2.85 per share. I received a few messages at the time asking if investors should sell.
My answer? "No. Maintain perspective. What has changed in your long term perspective today?" The answer to my question, of course, was "nothing."
What may have seemed like a sell point was actually still well within bullish territory. While yes, shares have touched highs of as much as $2.97 as recently as last Thursday, the fact of the matter is that $2.85 is still well within bullish territory. Because shares have come so far, so quickly, it's taking some time for the averages to catch up. That's important to consider moving forward. Take a look at the following chart :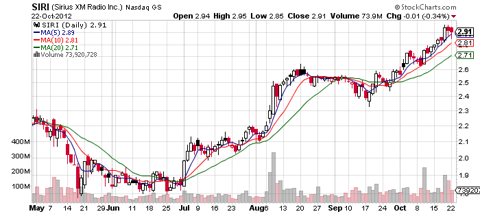 The 10 day moving average has not yet appreciated beyond $2.81, and share prices didn't even reach that level today. This is normal behavior, folks. After long fruitful runs of appreciation shares of companies typically will take a short breather for a period of consolidation. Sirius XM is no different. The dip towards the end of the day turned out to be a major tree shake, and it appears that many investors panicked and sold out of their positions.
While locking in recent gains might be prudent for a trader, succumbing to these types of short term moves can severely cripple a long term investor's future potential. Long term holders should not confuse short term consolidation in the market with a change in long term sentiment.
While I believe another day or two of consolidation may be in order, I believe investors would do well to hold fast to their shares at least until Sirius XM's Q3 earnings call. As author Spencer Osborne highlighted in his article on Monday, this earnings call has a lot of questions leading into it that are begging to be answered. Generally, the street has expectations of some serious good news coming through the pipes regarding future potential of Sirius XM as well as talk of an impending multi billion dollar share buyback.
For a more speculative take (for now) investors might also wish to consider the beginnings of what may be big news moving forward. As Spencer outlined over at siriusbuzz.com, there are whispers of possible handshakes being made between Sirius XM, Verizon (NYSE:VZ), and AT&T (NYSE:T) that could develop into something big in the future surrounding telematics services. Stay tuned as Spencer will likely dig more deeply into this story as it develops.
And for a bit of reinforcement that the recent moves have some force behind them in short term sentiment, consider the money flow into Sirius XM lately which can be checked under the trade flow tab at AVAFIN.com. Money flows are an often overlooked but very useful tool in confirming movement in share price. When looking at Sirius XM's hundreds of millions in positive cash flow into the stock over the last several weeks, including days of consolidation, it's obvious that shares have more room to run.
Do investors still need to maintain a vigilant watch? Of course. The macro situation appears to be getting ugly and demands some attention, but I will say that Sirius XM has greater potential to maintain current share price levels with expectations of a buyback holding the bottom line. While many investments tanked on Friday and Monday, Sirius XM closed both days nearly flat. That should be indication of some of the strength Sirius XM has lately, even in an uncertain market. While Sirius XM has typically sold off twice as fast as the over all market during times of turmoil, it appears the game has changed.
If you're a long term investor in Sirius XM, don't let a tree shake drop you from the branches. As you can see in the chart above, those who have succumbed to tree shakes in the last few months have found few opportunities to get back in at similar pricing. Maintain long term perspective and hold on when the tree gets shaken. In my opinion Sirius XM's best days are just beginning.
Disclosure: I am long SIRI. I wrote this article myself, and it expresses my own opinions. I am not receiving compensation for it (other than from Seeking Alpha). I have no business relationship with any company whose stock is mentioned in this article.