The newspaper industry has been adversely affected by the internet; the industry has one of the highest short ratios. Warren Buffett, however, sees some potential in newspapers focusing on particular communities, despite recognizing the challenges that newspapers face in this digital age with regard to online content subscriptions. This article discusses some of the bigger newspaper publishing companies, which are not the same as Buffett's buys, like New York Times (NYSE:NYT), Gannett (NYSE:GCI) and other smaller cap companies, including The McClatchy Company (NYSE:MNI).
Newspaper companies need to come up with versions for iPads and tablets, and also develop other online subscription models in order to remain in demand, like Berkshire Hathaway's (NYSE:BRK.B) The Buffalo News is doing. In this digital age with digital advertisements, diversification will help companies thrive. A rebound in the economy could also lead companies to spend more on advertisements in newspapers. According to a Benchmark analyst, advertising revenue drop rates at MNI, NYT, GCI would slow down to 4-7% in 2013 because of the steadily improving economy. Moreover, recent results of some newspaper companies show that they have started to show signs of adapting to the shift towards the internet.
We recommend buying NYT and GCI based on the reasons discussed below.
Warren Buffett's purchases:
Some parts of newspaper publishing might not fare badly, according to Warren Buffett. Earlier this year, Buffett acquired 63 daily and weekly newspapers from Media General Inc (NYSE:MEG) for $142 million in cash, and a further $445 million in loan, under its World Media Enterprises division. The deal also resulted in Berkshire Hathaway getting convertible warrants, which would be about 19.9% of the outstanding shares of Media General. Previously, the company only owned The Buffalo News. These newspapers are not the only ones. Berkshire Hathaway purchased other small and medium newspapers like Waco Tribune-Herald and a 3% stake in Lee Enterprises (NYSE:LEE), which also operates in the newspaper publishing industry. Warren Buffett hinted at further acquisitions of smaller newspapers that cover local communities in detail. In his words "make your paper indispensable to anyone who cares about what is going on in your city or town."
Buffett thinks that, at the moment, the biggest challenge is to make people pay for getting news content online when much of the news is already publicly available on the internet.
Gannett :
In our last article on Gannett, we had reiterated our recommendation of buying GCI. Our recommendation was based on its recent progress, and the return of $1.3 billion that the company has committed to provide its shareholders by 2015 through a dividend yield of 4.3% and share repurchases.
Gannett is one of those companies that have been reinventing themselves through new digital marketing services, as well as a new all access content subscription model. The company also operates TV stations (broadcasting revenues were up 36%) and websites (4.7% increase in revenues in Q3) that drive growth as well. Overall, revenues grew by 3.4% while net income was up 33% in Q32012. The company gets the bulk of its revenues from its publishing (advertising and circulation) business (63% in Q32012). Revenues were up for all segments; however, publishing advertising revenues declined by 6.6%. Advertising revenues could receive a boost from the recent revamp of USA Today.
The stock is up almost 40% YTD. The stock price has moved up from $10 to $18 over the last year. The margins for the company are far better than its 5-year averages. Net profit margin of 9.28% (trailing twelve months) is well above the 5-year average of -13%. Debt of $1.66 billion is also not an issue, as the interest coverage ratio is 6.
The forward P/E for the company is 8x. The mean target price is $20, at present, while the high target is $23. The next 5-year growth rate for earnings is 5% as compared to -14% for the last 5 years.
New York Times
NYT faced a decline in print advertisement revenues of 6.8%. To compensate for this, the company is increasingly focusing on shifting to the internet. Circulation revenues (8.3% increase) compensated for the decline in advertisement, and led to an increase of 1% in overall revenues. Q2 saw digital subscriptions rise by 13%, and it marks the one year anniversary of digital subscriptions to NYTimes.com.
Digital advertising will improve advertising revenues in Q3, as well as circulation revenues (expected to be up by mid-to-high single digits), according to the outlook given by the company.
Debt is not an issue with its cash flows improving. Total debt is $776 million, while the trailing twelve month's free cash flow is $157 million. Net debt is $206 million, a decline of 40% from Q1's $343 million. 4.61% senior notes ($75 million) mature in 2012, followed by 5% $250 million senior notes in 2015. The interest coverage ratio is 2, while the quick ratio is 2 as well, which means that current liabilities can be met by the company.
The stock is up 40% YTD. Barclays recently upgraded the stock to a buy due to increasing revenues from its paywall and better cash position. The analyst at Barclays also commented on the increased probability of a cash return to shareholders, as the company generates $650 million from the sale of non-core assets. Another theory doing the rounds is the possibility of a "go-private" transaction. The stock was up 3.7% on the upgrade. The next 5-year earnings growth rate is 3.4%, from -11% in the past 5 years. The short ratio is 11.8 days with 11.5% of the float short.
The company trades at a forward P/E of 17x, which translates into an $11 share price at 2013 EPS estimates of $0.63. The 5-year average P/E for NYT is 29x. Q32012 earnings are expected to be released on October 25.
Other smaller cap companies:
These include Journal Communications (NYSE:JRN), McClatchy and The E.W. Scripps Company (NYSE:SSP).
SSP's shares are up 37% YTD, and with its subsidiaries, it is a diversified media company that has interest in newspapers as well as in television stations and news websites. The company's trailing twelve month margins are well above their 5-year averages because of the company's television segment. Newspaper revenues are expected to continue going down by low-to-mid-single digits in Q3. The overall revenues in Q2 rose by 19%, mainly because of political advertisement. The consensus target price is $13, which translates into an upside of 18%.
JRN's shares are up 15% YTD. The company derives revenues from its broadcasting and publishing segments. Its Q2 results benefited mainly from political advertisements. Revenues were up 6% due to broadcasting revenue increases of 18.4%. Publishing revenues declined by 6.9%. Broadcasting forms 57% of total revenues. The company expects broadcasting revenues to increase by low double digits and publishing revenues to decline by mid-single digits. Q2 EPS were in line with analyst estimates. The company buys back shares and has a forward P/E of 12x; the growth rate for the next 5 years is 5%. The consensus target price is almost $7, which means a 35% upside considering the current price of $5.17.
MNI's shares are up 7% YTD, and it has a forward P/E of 5x. Q2 2012 earnings were $0.31/share, up from 6 cents/share last year. Advertising and circulation revenues were down, however, digital advertising, which forms 22.5% of total advertising revenues, increased 5%. Overall, revenues decreased by 4.8%. The company plans to focus on direct and digital marketing, as well as on expense control. The company has $1.564 billion in debt; the nearest maturity is $66 million in November 2014, and the interest coverage is 2.24 times. Earnings are expected to grow by 5% in the next 5 years.
Conclusion:
While Warren Buffett sees value in newspapers in areas with a strong sense of community, we think that larger media outfits NYT and GCI are worth investing in, and the smaller cap stocks are less compelling buys. The graph below shows the stock price performance of the companies discussed above. All of them have shown considerable improvement over the last year, and have outperformed the S&P 500 index, with GCI leading the pack.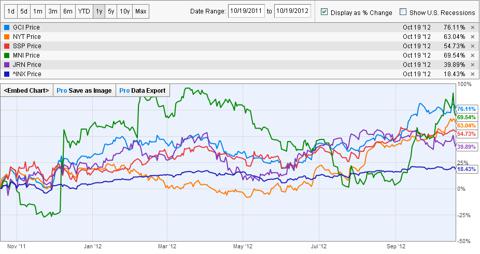 Disclosure: I have no positions in any stocks mentioned, and no plans to initiate any positions within the next 72 hours.
Business relationship disclosure: The article has been written by Qineqt's Retail Analyst. Qineqt is not receiving compensation for it (other than from Seeking Alpha). Qineqt has no business relationship with any company whose stock is mentioned in this article.