The stock market fell 22.6% on Black Monday 25 years ago on October 19, 1987. The crash began in Hong Kong, spread into Europe, and then reached the United States. There are many theories as to what caused the crash. One theory blamed it on program trading; another theory attributed the crash to international disputes about foreign exchange and interest rates along with fears of inflation. Another cause has been attributed to large institutions that owned portfolio insurance that were selling their stocks simultaneously. The cause may have been a combination of these.
It was widespread panic selling in worldwide markets. There is definitely a possibility of something similar happening in the future. For example, a major terrorist attack, or a major war breaking out could cause some serious panic selling. Although the 2008 financial crisis never produced a 22% drop in one day, it did produce enough selling pain over a longer period of time which was much worse than the Black Monday event.
Investors should know that the market recovers nicely after these violent drops in price. It did take a couple of years for the market to return to the pre-Black Monday highs, but it was a nice steady climb higher. The same gradual recovery took place after the dot-com bubble burst and after the fallout from the financial crisis bottomed out. If the market recovered from the Great Depression, then it can overcome whatever else comes its way.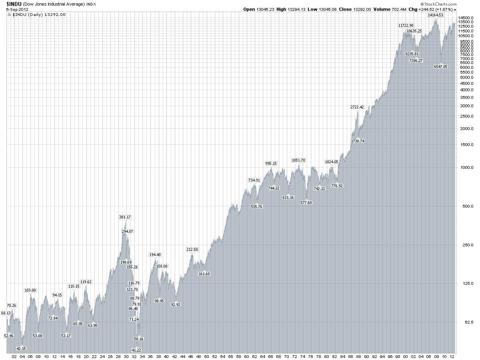 Click to enlarge
The chart of the Dow Jones Industrial Average (NYSEARCA:DIA) shows that we are in a period of consolidation, similar to the 1960s and 1970s. During these consolidation periods, the market never breaks much higher than the previous long-term peak. This lasts for about a decade and a half. These periods are followed by a significant period of rising stock prices similar to 1982 to 2000. That should put things into perspective for the long-term investor. Hopefully, we're not that far away from the next period of significant stock price increases after enduring a rough twelve-year consolidation period from 2000 through 2012.
To stay protected from major catastrophes, Investors should always re-evaluate their asset allocation according to their age. The mix of stocks/bonds should change according to what is appropriate for the age group. Younger investors in their 20s and 30s have more tolerance for risk than those who are closer to retirement. Use an asset allocation calculator to determine your optimal asset mix. This strategy will allow for strong portfolio growth over time and provide protection from risk as investors near retirement. It is events like Black Monday, the dot-com bubble burst, and the financial crisis that make proper asset allocation of utmost importance. It is easy to get complacent when everything is going well. So having an age-appropriate asset allocation will keep investors on solid financial footing.
The way to allocate assets in a portfolio can be as simple as owning 2 ETFs: The Vanguard Total Stock Market Index ETF (NYSEARCA:VTI) and the Vanguard Total Bond Market ETF (NYSEARCA:BND). Investors can change the ratio of stocks to bonds based on their age with these two funds. If your age group calls for a 70% stocks/30% bond mix, then your money can be allocated accordingly among these funds.
The VTI stock fund has a low expense ratio of 0.06%. This is 95% lower than the average expense ratio of funds with similar holdings. The BND bond fund has an expense ratio of 0.10%. This is 89% lower than the average expense ratio of funds with similar holdings. The low expense ratios of these funds allow investors to keep more of their money invested and growing over the long term.
To conclude, investors should always be prepared for the unexpected. We never know what will happen in the future. If another Black Monday event does happen, then be comforted knowing that your asset mix is appropriate for your age and that the market heals itself over the long term.
Disclosure: I have no positions in any stocks mentioned, and no plans to initiate any positions within the next 72 hours. I wrote this article myself, and it expresses my own opinions. I am not receiving compensation for it (other than from Seeking Alpha). I have no business relationship with any company whose stock is mentioned in this article.