By Siraj Sarwar
Houston-based Enterprise Products Partners (NYSE:EPD) is one of the largest Master Limited Partnerships in the U.S. EPD processes and transports energy commodities, mainly natural gas, refined products and natural gas liquids. The vast majority of its pipelines and processing plants are focused along the Gulf Coast. Being a partnership, EPD pays no corporate income tax. Instead, the unit holders pay taxes on received distributions.
Obviously, there are risks to look at with any investment. Many of the risks to the MLPs are macroeconomic. The upcoming fiscal cliff, banking troubles and sovereign debt in Europe, and decreasing expansion in China are the most significant factors at present. These challenges affect the capacity for economic growth and, consequently, the demand for commodities.
However, even with these growing risks, Enterprise Products Partners is within the midstream. EPD's business environment is more defensive than others. For example, EPD revenue is produced mainly from fixed-fee contracted assets. These contracted assets tend to be secure from macro risks as well as others. Contracted pipelines are primarily subject to capacity charges, which signal that there is not as much volumetric risk as with non-contracted pipelines. Therefore, the cash flows from contracted pipelines are fairly stable and predictable.
Quarterly Distributions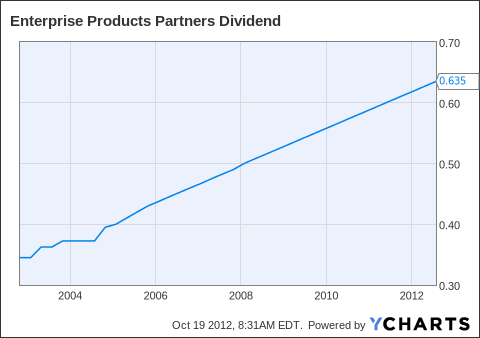 EPD Dividend data by YCharts
Over the previous 32 quarters, EPD has consistently elevated its cash distributions. EPD has increased its cash distribution by more than five percent over the past seven years, and has an attractive yield of 4.66 percent, with a projected yield of 4.74 percent. In financial year 2011, EPD paid $2.435 in unit distributions. Most recently, Enterprise increased its quarterly cash distribution rate, paying $0.65 per common unit or $2.60 per unit on an annualized basis to partners. Meanwhile, cash distributions of $0.65 per common unit are up from $0.635 in the last quarter, and up from $0.62 two quarters earlier. This is the 42nd distribution rate increase since Enterprise's initial public offering in 1998 and the 33rd consecutive quarterly increase.
EPD recently announced plans to raise fourth quarter distributions. The partnership is expecting to increase its quarterly distribution by 6.5 percent in the fourth quarter of 2012. For income-seekers, this is certainly pleasing news.
Income, debt and Ratios Analysis
Enterprise Products Partners recently documented results for Q2 of FY2012. On a consolidated basis, revenue was lower by 12.7 percent compared to Q2 of FY2011. Revenue was lower mainly due to the sizable decreases in the NGL Pipelines & Services segment and in the Refined Products. Operating costs and expenses were lowered by 14.5 percent in the second quarter. Cheaper costs and expenses forced operating and net income to expand.
Figure in millions except per unit

Quarter ended June 30

 

2012

2011

Change

Total Revenue

9,789.8

11,2165

-12.7%

Total cost and expenses

9,052

10,583.7

14.5%

Gross operating Margin

1033

919.8

12.3%

Operating income

749.1

643.9

16.3%

Net Income Attributable to partners

566.3

433.7

30.6%

Diluted earnings per unit

0.64

0.51

25.5%
(Table is sourced from 10Q form)
As the table above shows, gross operating margins were generally higher compared to the same period last year. Overall, gross operating margins improved due to higher tariffs and higher sales margins. In addition, increased production, higher storage volumes and higher export volumes help to increase the company's gross operating margin. NGL pipelines and services generated almost 55 percent of EPD's gross operating income. Meanwhile, onshore natural gas pipelines and services contribute 17 percent and petrochemical and refined products account for 15 percent. EPD has also increased its net earnings by 30.6 percent. Diluted earnings per unit stood at $0.64 for Q2 2012, up 25.5 percent from the previous year's quarter.
At the end of the second quarter for this year, Enterprise Products Partners had $15 billion in outstanding debt. The partnership has currently matured debt of nearly $1,700 million. It also showed a low ratio of 0.67 for the latest quarter, though its current ratio looks better in comparison with its peers. One of the competitors, Williams Partners (NYSE:WPZ), has a current ratio of 0.71. EPD documented consolidated liquidity, unrestricted cash and borrowing capacity of $3.1 billion at the end of the second quarter of fiscal year 2012.
Cash flow
Cash from operating activities fell by 23.7 percent over the previous six months. The decrease in cash from operating activities is due to the timing of particular disbursements and cash receipts. Nearly 50 percent less cash was used in investment activities. Cash used in investment activities was down due to proceeds from asset sales. Approximately $375.1 million in additional cash was used in financing activities. Borrowings, as well as cash paid to unit holders as distributions and monetization of certain derivatives, also added more cash to financing.
Cash and cash equivalents stood at $14.5 million for this period, decreasing aggressively by $94.6 million. The EPD cash-flow-to-sales ratio stood at negative 2.39 for the past twelve months. Obviously, the ability to generate consistent and high percentages of cash flow is a positive investment quality.
Competition
| | | | |
| --- | --- | --- | --- |
|   | EPD | CLMT | NRGY |
| Market Capitalization | 48,303 | 1,824 | 2,700 |
| Yield | 4.66% | 7.44% | 10.54% |
| D/E | 1.1 | 1.0 | 0.5 |
| P/B | 3.9 | 2.1 | 2.5 |
(Chart is sourced from Morningstar.com)
Two major competitors of EPD are Inergy, LP (NRGY) and Calumet Specialty Products Partners, LP (CLMT). EPD has a market capitalization of $48.303 billion. Meanwhile, CLMT and NRGY have market capitalizations of $1.824 billion and $2.7 billion, respectively. EPD also has an attractive yield of 4.66 percent, and is expecting to increase its distributions by 6.5 percent. However, CLMT still has a better yield of 7.44 percent and has recently increased its distributions by 24 percent during Q2 2012. Furthermore, EPD has increased its distribution for the last 33 consecutive quarters, which makes it a better dividend paying investment.
Summary
EPD gets a huge portion of its operating incomes from fee based long-term deals. This business model offers a great deal of cash flow security, as well as visibility of chances for potential distribution increases.
EPD has the asset base, liquidity position, and potential to undertake major projects that can produce strong cash flow growth. The 2009 consolidation with TEPPCO Partners made Enterprise Product Partners the largest MLP. Furthermore, the 2010 merger with its general partner sets Enterprise apart from its large-cap competitors. In my opinion, EPD is a top-tier MLP that is perfectly positioned to weather challenging markets and flourish in healthier times.
Disclosure: I have no positions in any stocks mentioned, and no plans to initiate any positions within the next 72 hours.
Business relationship disclosure: EfsInvestment is a team of analysts. This article was written by Siraj Sarwar, one of our writers. We did not receive compensation for this article (other than from Seeking Alpha), and we have no business relationship with any company whose stock is mentioned in this article.