Commodity Chart Of The Day
Lean Hogs
(click image to enlarge)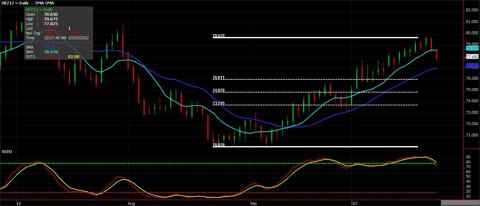 Lean hogs -- the other white meat. This is not as much about how much money can be made, but my interpretation is little risk needs to be taken. That, in combination with the market rolling over from overbought levels and giving me confirmation by trading under the 9 day MA makes this an attractive opportunity, in my eyes. My suggestion is to use the Fibonacci levels on the chart above as your targets on bearish trade.
As for a specific trade idea… short futures while simultaneously selling out of the money puts 1:1. Assuming we get a trade under 75 cents in the December contract, traders should be able to pick up $500-800/per, depending on exactly what strike they sell against their futures. On this particular trade, if my assessment is correct, traders implementing this strategy would make more money on their futures leg than they would lose on their options leg.
Risk Disclaimer: The opinions contained herein are for general information only and not tailored to any specific investor's needs or investment goals. Any opinions expressed in this article are as of the date indicated. Trading futures, options, and Forex involves substantial risk of loss and is not suitable for all investors. Past performance is not necessarily indicative of future results.
Disclosure: I have no positions in any stocks mentioned, and no plans to initiate any positions within the next 72 hours. I wrote this article myself, and it expresses my own opinions. I am not receiving compensation for it. I have no business relationship with any company whose stock is mentioned in this article.