On the 2nd of October we wrote an article advising readers to sell puts on United States Steel (NYSE:X) as the outlook called for higher prices. The trade is already showing healthy gains and the stock continues to trend upwards as projected. The puts we sold have already lost roughly 50% of their value since we sold them. Today we are going to review the trade and update our views on the stock. The steel sector is in the doldrums and most experts continue to shun the sector, so it was hard to paint a bullish picture for this stock. We are going to list the reasons we provided for being bullish on the stock when the trade was issued.
Some other reasons to consider United States Steel Corp:
A positive levered cash flow of $471 million
The

percentage

short of float stands at an astounding 25%. This makes it an ideal candidate for a short squeeze.
The steel sector is hated and so from a contrarian perspective could make for a good long term investment. The best time to establish a position in a stock is when the masses are not paying attention to it.
Zacks

has

projected EPS of $2.73 for 2013, which represents a significant increase over its estimate of $1.58 for 2012
A good current ratio of 1.70. This ratio enables you to see if a company can pay its current debts without jeopardizing future earnings. A company should have a ratio of 1 or higher. United States Steel has a ratio of 1.7, so it should have no problems in meeting its debt obligations.
A projected growth rate of 67% for 2013, according to dailyfinance.com
Strong institutional presence; percentage Held by Institutions is 78.2%
Net income has improved from -$1.4 billion in 2009 to -$53 million in 2011
Cash flow per share has increased from -$5.27 in 2009 to $3.62 in 2011
A 3-5 year estimated EPS growth of 8%
In that same article we made the following comments:
Long term view

From a long term perspective, the stock is extremely oversold and appears to have found support in the $16.90-$17.500 ranges. It has tested this zone on multiple occasions without breaching it. This is a sign that the stock is attempting to put in a long term bottom formation. As long as it does not close below $16.00 on a weekly basis the long term outlook will remain neutral to slightly bullish. A weekly close above $22.50 will turn the outlook to bullish.

Short to midterm view

The stock has very strong support in the $17.60-$18.30 ranges. It tested this zone three times and on each occasion it mounted a rally within a few days of testing this zone. The stock could potentially trade down to the $18.30-$18.50 ranges again. As long as it does not close below $18.29, it would continue to put in a bullish pattern of higher lows. A close above $22 should easily lead to a test of the $24.50-$25.50 ranges. The stock has the potential to trade as high as $30 before experiencing another strong correction.
The stock closed above $22.50 on a weekly basis and in doing so turned the outlook to bullish. It now has a really good chance of testing the $24.00-$25.00 ranges.
The competition
Before we review how the puts are faring, we are going to take a look at the competition as we believe the entire steel sector is a pretty good buy from a long-term perspective. Strong pullbacks can be used to establish positions in United States Steel or in some of its competitors. A similar strategy of selling puts can also be employed when the stocks trade in the oversold ranges. A good time to sell puts is when the stock is trading in the oversold ranges and your outlook on the stock is bullish. We are going to take a look at United States Steel and the competition using key ratios such as Revenue, Gross margins, quarterly revenue growth, P/E, etc.
| | | | | | |
| --- | --- | --- | --- | --- | --- |
| | X | (NYSE:MT) | | (NYSE:NUE) | Industry |
| Quarterly revenue growth | -0.02 | -0.11 | -0.03 | -0.09 | 0.15 |
| Revenue | 20.09B | 91.84B | 39.3B | 19.8B | 4.91B |
| Gross Margin | 0.09 | 0.09 | 0.09 | 0.08 | 0.17 |
| EBITDA | 1.08B | 9.46B | 3.45B | 1.64B | 176.21M |
| Operating Margin | 0.02 | 0.05 | 0.01 | 0.05 | 0.05 |
| Net Income | -307.00M | 629.00M | -325M | 502M1 | N/A |
| EPS | -2.21 | 0.12 | -0.61 | 1.58 | 0.51 |
| P/E | N/A | 139.16 | N/A | 26.11 | 9.28 |
| PEG (5 yr expected): | 2.57 | 0.84 | N/A | 3.74 | 1.21 |
| P/S | 0.16 | 0.27 | 0.20 | 0.65 | 0.3 |
M= Million B= Billion
The original strategy
On the 2nd of October we advised readers to put the following strategy to into play.
The April 2013, 17 puts are trading in the $1.83-$1.87 ranges. It should be relatively easy to sell these puts at $1.83 or better. We will assume that the puts can be sold for $1.83. For each put sold, $183 will be deposited into your account.
Investors should have had no problem selling the puts at $1.83 or better as the puts traded higher on that day, and we used the bid price as our entry point. The puts traded even higher on the 3rd of October when the stock dipped down to $18.74.
What are the options doing right now?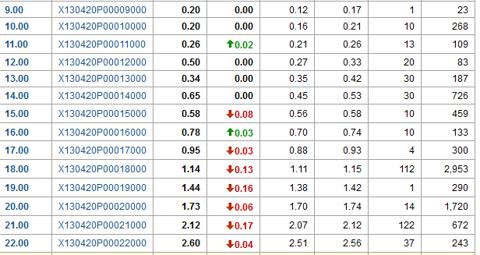 The April 2013, 17 puts are currently trading in the $0.88-$0.93 ranges. In this short time, these puts have already shed roughly 50% of their value. If you had to close this position out today, you could walk away with a gain of roughly 6% in less than three weeks.
We believe that the stock could trade to the $24.00 -$25.00 ranges now that it has managed to close above $22.50 on a weekly basis. As long as it does not trade below 18.30 the outlook will remain bullish. If the stock trades to the $24.00-$25.00 ranges consider banking your profits as the puts will be worth almost nothing at that point.
Conclusion
In the article that was published on the 2nd of October, we noted that a weekly close above $22.50 would turn the outlook to bullish in the longer time frames. We also noted that a daily close above $22.00 would indicate that the stock was ready to trade to the $24.50-$25.50 ranges under the shorter term outlook. The stock has closed above $22.50 on a weekly basis and there is a good chance that it will test the $24.50-$25.00 ranges before pulling back. If the stock trades to the above ranges, investors should close the position out. The puts will be almost worthless at that point in time, and it would not make sense to hold them just to squeeze a few extra cents out of the play. If you are nervous about this play, then you could bank your profits right now and walk away with gain of roughly 6% in less than three weeks.
Options tables and competitor's data sourced from yahoofinance.com.
Disclaimer
It is imperative that you do your due diligence and then determine if the above strategy meets with your risk tolerance levels. The Latin maxim caveat emptor applies-let the buyer beware.
Disclosure: I have no positions in any stocks mentioned, and no plans to initiate any positions within the next 72 hours.
Business relationship disclosure: This article was prepared for Tactical Investor by one of our analysts. We have not received any compensation for expressing the recommendations in this article. We have no business relationships with any of the companies mentioned in this article.