We previously wrote about why we at Saibus Research preferred the taste of Coca-Cola (NYSE:KO) for our portfolios instead of PepsiCo (NYSE:PEP). We also expressed our displeasure that both Coca-Cola and PepsiCo were fairly valued on July 30th and we said that investors should wait for a lower price to get in to these companies. Because of the solid track record of these companies in terms of free cash flows and returning cash through dividends and share repurchases, we felt that it would be prudent for investors to take profits in KO or PEP if they held long positions in these companies but not necessarily to engage in an unhedged short. We were pleased that our report was recognized for its high quality content and if an investor had sold his or her shares the same day our report was published, they would have avoided a 5.7% decline in Coca-Cola's shares since that report was released. We're surprised that PepsiCo's shares have only declined by 2.85% during that time period considering that Coca-Cola has had stronger performance. Maybe PepsiCo's stakeholders are betting on the company replacing Indra Nooyi as Chief Executive Officer, which will eliminate PepsiCo's biggest weakness.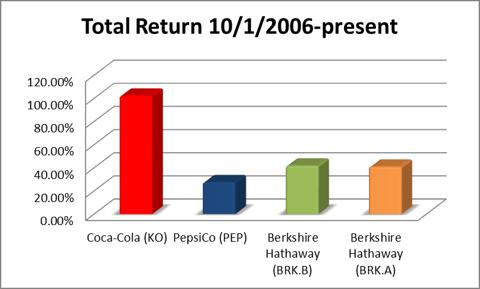 Source: Morningstar Direct
While Coca-Cola saw headwinds to its growth, it was able to manage a 5.4% growth in its reported EPS for Q3 2012 versus Q3 2011. The company grew its reported net income by nearly 4% and a 1.6% reduction in its shares outstanding. Revenue increased by 1% and the company benefitted from lower non-recurring operating charges and positive operating leverage. Cost of goods sold decreased by 0.45% and that combined with lower non-recurring operating charges offset a 1.6% increase in selling, general and admin expenses. This resulted in a 1.5% increase in year-over-year operating income. On a Non-GAAP basis which excludes the impact of ostensibly non-recurring charges and changes in income from transaction gains and losses, the company posted $0.51 in Q3 2012 EPS, which was a 2% decrease from the prior year's comparable quarter and which met the consensus estimate.
Recent performance highlights for the company include the following:
Global volume grew by 4% for the quarter and 5% year to date, which was the same as the second quarter. The strength of 5% international volume growth more than offset 2% volume growth from North America.

North American volume growth of 2% year-over-year in Q3 2012 versus Q3 2011 exceeded the 1% volume growth in Q2 2012 versus Q2 2011.

Q3 operating income grew by 1% reported basis and 1% constant currency.
Operating income was negatively impacted by 7% in the most recent quarter versus Q3 2011 levels to growth due to negative effects of the strong US dollar in 2012 versus 2011 levels.
We can see that the

Euro,

as represented by the Currency Shares Euro Trust

ETF,

bottomed out in July at $119.73 and ended the quarter at $127.69.

A

lthough the Euro is not KO's only foreign currency, we believe that the performance of the Euro against the US Dollar is a good quick proxy for determining strength or weakness of the US Dollar.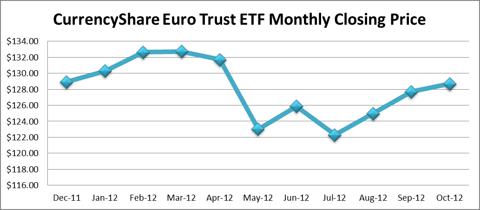 Source: Morningstar Direct
Key drivers of volume growth were the BRICs: India (15%), Russia (7%), China (2%) and Brazil (6%) as well as South Africa (7%). These countries helped offset a tepid 1% volume growth in Europe.
Volume growth from non-carbonated beverages (10%) outperformed sodas and other traditional soft drinks (3%)
Highlights from the fast-growing non-carbonated beverages product line include the following:
Tea Volume grew by 13% for the second straight quarter due to growth in key brands such as Gold Peak and Honest Tea in North America, Ayataka green tea in Japan and Fuze Tea, which was launched in Latin America during the quarter.
Packaged Water grew by 10%, based on strong growth from Dasani and its Glaceau water brands. According to management, part of the reason why Coca-Cola's Packaged Water business has grown by 10% over the last couple of quarters is because of consumer awareness of the company's new PlantBottle packaging. We've seen it ourselves however it has not compelled us to switch from store brand water to Dasani since store brand water is $3.49 for a 24 pack and Dasani on sale is no lower than $3.99 for a 24 pack.
POWERADE grew by 9% during the quarter and this marks the fourth consecutive quarter in which POWERADE has led the North America sports drink category in absolute unit case volume growth. POWERADE still has a ways to go before it is at the same level as PepsiCo's Gatorade but it has increased its market share from 14.5% in 2006 to 24.5% in 2011. Gatorade had a 23 year head start on POWERADE but we can see that POWERADE is working to make up for lost time.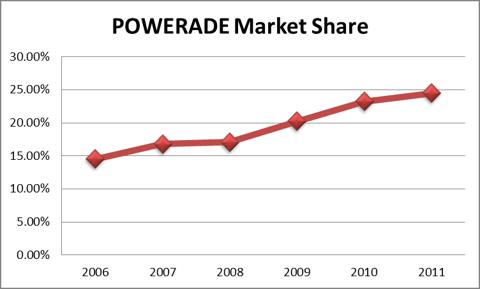 Source: Business Insider
The company continues to return cash to shareholders. Earlier in the year, the company increased its dividend per share by 8.5% and repurchased $2.3B in stock net of employee stock program issuance in the first 9 months of 2012. Coca-Cola targeted $2.5B-$3B in net repurchases earlier in the year. We were impressed by the fact that net cash from operating activities increased by 15% year-over-year in YTD 2012 versus 2011, but that the proceeds from the disposal of bottling companies, other investments and PP&E nearly covered its gross capital expenditures. While we are not expecting that feat to repeat itself, we think it is remarkable and rare occasion when a company's asset sales represents nearly 90% of its gross capital expenditures. Although the company has $32.7B in outstanding indebtedness, that is partially offset by $18B in liquid marketable cash and securities. We'd like to see the company pay a $4/share special dividend based on its gross cash and securities holdings. That would represent 10.5% of KO's market cap and would unlock value for KO's shareholders. We can see that the company generates strong enough cash levels to service its current debt load and the company wouldn't be buying back stock at such a rich valuation.
In conclusion, we believe that both companies are fairly valued. We like the fact that the companies generate above average dividend yields relative to the S&P 500 and both firms have the ability to create "homemade dividends" through stock repurchase programs. We also like that both companies are backed by well-known shareholders (Berkshire Hathaway (NYSE:BRK.B) backs Coca-Cola and Ralph Whitworth of Relational Investors backs Pepsi). Other than that, we believe the companies are fairly valued relative to the consensus long-term growth rates both companies are expected to achieve. Coca-Cola has a forward PE of 17.3 and a consensus LTG of 8.5%. Pepsi has a forward PE of 15.9 and a consensus LTG of 5.2%. We believe that investors should realize that they would be paying a rich price in order to access the dividend streams of Coca-Cola and Pepsi and as such, we believe that these shares will perform in line with the major market indexes. However, if investors insist on one of these soft-drink makers for their portfolio, we believe that Coca-Cola offers a better risk/return scenario versus Pepsi since its PE/G ratio is 2.035 and that is much better than the 3.018 PE/G ratio of Pepsi.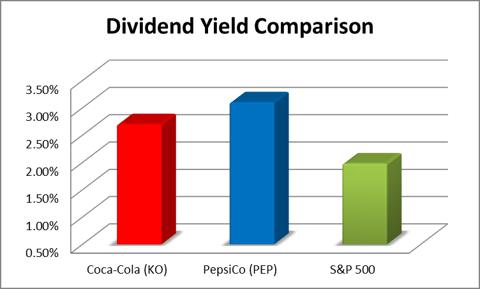 Source: Morningstar Direct
Disclosure: I am long BRK.B. I wrote this article myself, and it expresses my own opinions. I am not receiving compensation for it (other than from Seeking Alpha). I have no business relationship with any company whose stock is mentioned in this article.
Additional disclosure: This article was written by an analyst at Saibus Research. Saibus Research has not received compensation directly or indirectly for expressing the recommendation in this article. We have no business relationship with any company whose stock is mentioned in this article. Under no circumstances must this report be considered an offer to buy, sell, subscribe for or trade securities or other instruments.