Small caps are the developing stocks, those that have the ability to grow at fast and furious paces. Therefore, These stocks are mostly expensive - it is a price to pay for the rapid growth. But, today's screen shows that not all fast-growing small caps is valued at a high price. The stocks' market cap will range between $500M and $2B, the normal range for a small cap.
Here are the criterion for today's screen:
1. Low Debt
-Long Term Debt/Equity Ratio Of Below 0.1
I like stocks with low debt as it proves that the company has the ability to generate enough capital and expand itself without borrowing much money. This ensures that the company has a stable business model, which can provide it with enough return over the long term.
2. Inexpensive
-P/E below 20
A high valuation would mean that the stock is priced for perfection, with no space for failure. A few examples of stocks that plunged due to a small miss in earnings as their valuations were too high were Mellanox Technologies (MLNX) and Chipotle Mexican Grill (CMG).
3. Quality
- Current Ratio >1
- ROE >15%
The company also has to be in an acceptable financial state, therefore the current ratio has to be at least 1. Any current ratio below 1 would mean that the company has more liabilities than assets (Current ratio: Assets/Liabilities), which is dangerous, especially for a small cap. Its ROE should also be above 15%, as management should be making good use of shareholders' investments well, and not wasting them away.
4. Rapid Growth
- EPS Growth Past 5 Years >20%
- EPS Growth Quarter-Over-Quarter >15%
The small cap should also have a rapid growth in earnings. This rapid growth in earnings can, firstly, prove that the services/products that the company offers is well liked. Additionally, the resources gained from the sales, the company can then expand further.
5. Momentum
-YTD Up > 20%
Momentum is also a need. There is a reason for every drop in stock price, and stocks on a downtrend for extended periods of time should be avoided (unless there is a special reason, eg. an overdone drop). The criteria that a stock has to go up at least 20% Year-To-Date was set to ensure that the stock outperformed the general market (S&P 500, YTD up 13%). This is to ensure that these stocks provide at least a return better than what the market can provide us with.
Keeping the various criteria in mind, here are the 4 stocks.
1. rue21, Inc. (RUE)
Snapshot:
Price (22.10.2012)

$30.13

Market Cap

716.79M

Income (2011)

43.25M (P/E: 17.80)

(Forward P/E: 14.15)

Sales (2011)

822.33M (P/S: 0.87)

Book Value Per Share

$6.66 (P/B: 4.52)

EPS Growth Past 5 Years

5.52%

ROE

19.06%

Current Ratio

1.53

Debt/Equity

0.00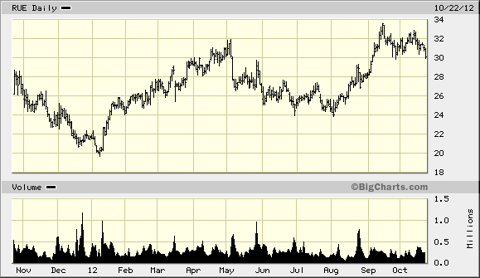 Courtesy of bigcharts.com
Sector: Services
Industry: Apparel Stores
Country: USA
rue21 operates as a specialty apparel retailer in the USA. It provides apparel and other accessories for both male and female, and things it sells include T-shirts, dresses, denim, hoodies and jewelry. As of August 2012, the company, founded in 1976, had 843 stores in 46 states.
2. Sturm, Ruger & Co. (RGR)
Snapshot:
Price (22.10.2012)

$46.73

Market Cap

895.35M

Income (2011)

54.75M (P/E: 16.69)

(Forward P/E: 15.17)

Sales (2011)

405.66M (P/S: 2.21)

Book Value Per Share

$8.49 (P/B: 5.50)

EPS Growth Past 5 Years

117.62%

ROE

37.57%

Current Ratio

3.32

Debt/Equity

0.00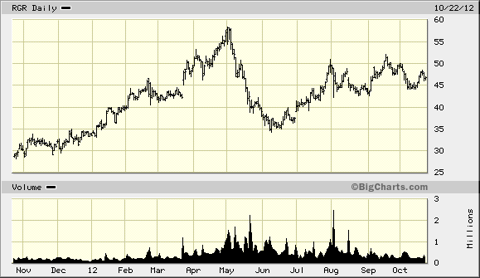 Courtesy of bigcharts.com
Sector: Industrial Goods
Industry: Aerospace/ Defense Products & Services
Country: USA
Sturm, Ruger & Co. designs, manufactures and sells firearms in the USA. It offers a variety of guns, including single-shot, autoloading, bolt action, sporting rifles and single and double action revolvers. The company, founded in 1948 and based in Connecticut, also sells its products through a network of commercial distributors, directly to law enforcement firms and to foreign governments.
3. Dorman Products (DORM)
Snapshot:
Price (22.10.2012)

$29.56

Market Cap

1.08B

Income (2011)

59.54M (P/E: 18.13)

(Forward P/E: 14.21)

Sales (2011)

552.29M (P/S: 1.95)

Book Value Per Share

$9.64 (P/B: 3.07)

EPS Growth Past 5 Years

30.95%

ROE

18.61%

Current Ratio

6.30

Debt/Equity

0.00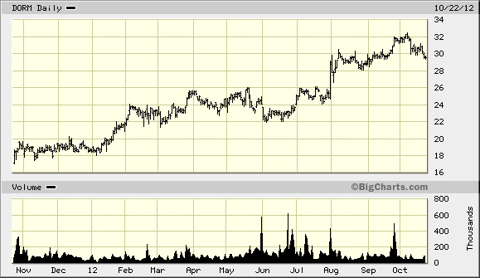 Courtesy of bigcharts.com
Sector: Consumer Goods
Industry: Auto Parts
Country: USA
Dorman Products supplies auto replacement parts, fasteners and service line products primarily for the auto market. Besides this, it also sells other parts essential in a car like steering pulleys, harmonic balances, wires, tools and other accessories. The company, with its headquarters in Pennsylvania, was founded in 1978. It also offers its products under other brand names like HELP!, OE Solutions, Pik-A-Nut, Autograde and others.
4. Giant Interactive Group (GA)
Snapshot:
Price (22.10.2012)

$5.12

Market Cap

1.21B

Income (2011)

192.61M (P/E: 6.32)

(Forward P/E: 6.10)

Sales (2011)

317.49M(P/S: 3.80)

Book Value Per Share

$1.83 (P/B: 2.78)

EPS Growth Past 5 Years

30.95%

ROE

26.48%

Current Ratio

2.64

Debt/Equity

0.00

Dividend

$0.30 (5.86%)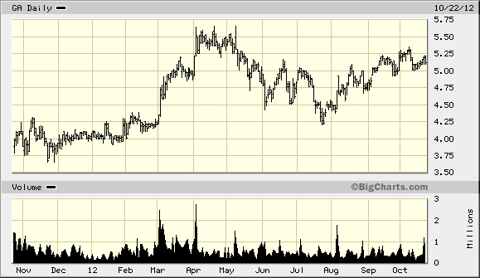 Courtesy of bigcharts.com
Sector: Services
Industry: Business Services
Country: China
Giant Interactive Group develops and operates online games in China. Founded in 2004, it primarily offers Multiplayer Online Role Playing Games (MMORPGs). It currently operates 11 games, with 9 MMORPGs, 1 multiplayer online game and 1 strategy browser game. Besides games, it also sells prepaid game cards and game points through distributors, retail outlets, internet cafes and convenience stores in China.
All in all, the stocks mentioned here are fast growing and are more suitable for growth investors who like action. Although these stocks might be considered risky to some, they also have some good catalysts that may drive some of their stock prices higher. One example is Sturm Ruger Co's 41% short float, which could cause a short squeeze if the company performs well in short-term events like quarterly earnings.
Even so, please still do your due diligence before investing and use this list only as a starting point for your research.
Disclosure: I have no positions in any stocks mentioned, and no plans to initiate any positions within the next 72 hours. I wrote this article myself, and it expresses my own opinions. I am not receiving compensation for it (other than from Seeking Alpha). I have no business relationship with any company whose stock is mentioned in this article.