Alcatel-Lucent (ALU) has three main operating segments; Networks, S3 (Software, Services, and Solutions) and Enterprise.
Networks is the bread and butter of Alcatel-Lucent, generating over 60% of the revenue. Networks includes divisions of IP, Optics, Wireless and Wireline activities. S3 is as stated above, Software, Services and Solutions. This is mostly complementary to the Networks infrastructure and makes up about 30% of their revenues. The last 10% comes from the Enterprise segment which is communications and network solutions for business of all sizes.
In simpler terms; Networks is the raw infrastructure businesses need, S3 is the software, setup, and maintenance, and Enterprise is general communications advisory for businesses.
So why is this once high-flyer priced around $1? Negative earnings.

Click to enlarge
Can management turn things around?
Management thinks so. Directors Camus and Verwaayen (Chairman of the Board and CEO, respectively) bought 50,000 shares each toward the end of 2011 at a price of around 2.5 Euros/share ($3.20 U.S.). One of the other directors bought over $800,000 of stock at the end of 2012 at a price of $1.63. The remaining directors all have a portion of their compensation, about 20%, linked to buying and holding shares. All of these other directors are independent and free of conflict of interest.
Company Growth: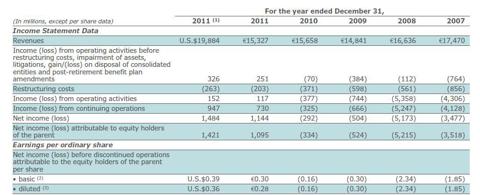 Click to enlarge
As is evident here, revenues have been stable over the last 5 years. The growth of earnings is going to come from a declining cost of operating activities and continuing operations. Alcatel-Lucent has made great strides in efficiency and now looks to turn a tidy profit.
Debt is well under control, with slightly more cash and cash equivalents than bonds, notes issued, and other debt.
Strategic Advantages:
Alcatel-Lucent boasts high market shares in all of its network segments. A few examples: #2 in IP/MPLS routers with 23% market share, #1 in mobile backhaul with 25% market share, #2 in terrestrial optical networking with 16% market share, #2 in WDM long haul with 17% market share, #1 in submarine optical networking with 35% market share, #1 in packet microwave transmission with 53% market share. The list could continue for another paragraph.
Alcatel-Lucent also boasts a portfolio of 29,000 active patents. Their strategy of licensing expands the reach of their technology and generates consistent revenues. This moat protects their position and market share in the sector.
Competitors:
Because the market Alcatel-Lucent serves is so broad, they have many competitors. These include Avaya, Cisco Systems (NASDAQ:CSCO), Ericsson (NASDAQ:ERIC), Fujitsu, Huawei, ZTE, Nokia Siemens Networks, and Juniper (NYSE:JNPR). Because credit is tight, consolidation among competitors is likely. Increased size would allow the competition broader entry into markets and better use of resources.
Risks:
Research and Development is geared toward next-gen technology and away from mature technology that has brought in revenue in the past. If the choices of ALU prove inconsistent with customers' investment spending it will hurt revenues.
The telecom industry is impacted by the environment in which businesses who buy their products find themselves. A poor economy hurts two-fold, because revenues drop and because finding sources of liquidity becomes more difficult. If the credit worthiness of customers decline, the value of accounts receivable also declines.
Because they employ over 70,000 people, ALU has a large pension account to fund. This fluctuates with many factors, including financial markets worldwide, medical prices, interest rates, and changes in legal requirements.
Because they operate worldwide, ALU must hedge its operations using derivatives, especially forex.
An impairment of intangible assets or goodwill could cause a worse than expected year-end result because of the nature of their annual impairment tests.
The telecom industry is highly competitive. If ALU does not compete on price it will be difficult to maintain market share.
ALU depends on only a few internal and external manufacturers, distributors, and suppliers. Failure of these would be a huge hurdle for ALU to overcome.
Financials and Valuations:
However, even given all these risks, ALU has some very solid financials and ratios.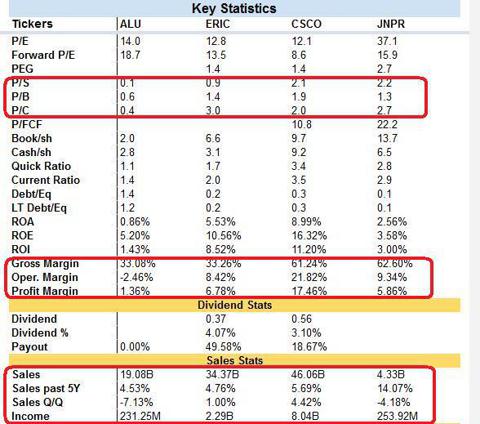 Click to enlarge
There are three key areas to look at and see why ALU is an attractive buy at these levels. First, the Price/Sales ratio is absolutely insane. This implies great room for growth in earnings given proper management. P/B also implies great value here. Finally, price/cash shows just how much more cash on hand they have than the competition (in relative terms).
The middle is where things get ugly. Gross margins are similar to Ericsson, but they pale in comparison to CSCO and JNPR. Worse still, Operating Margins are much, much worse than comparable companies. This needs to change.
If it does change, and margins reach similar levels to their peers, expect income to improve from 231M to over 1.0B. This would imply a price of $5/share at current valuations.
Catalysts:
Though the main driver of value stocks is always time, there are a couple of things to keep an eye on.
If R&D's new focus on next-generation technology bears fruit into arms of a burgeoning world economy, stagnant sales could give way to huge growth.
Second, a strong 4th quarter earnings report could turn the momentum. Because of seasonality the 4th quarter is generally ALU's strongest, and an upside surprise could be in the cards.
Conclusion:
Alcatel-Lucent is a stock priced as if it is having solvency problems. The reality is that they have as much cash on hand as long term debt, and 19B in sales. Though the risks it faces are many, this is no different from other firms in highly competitive industries. The twin moats of market share and patent portfolio should protect them. Shares have been hurt as of late because of poor forecasting of future earnings.
As mentioned above, if management can get margins in line with industry norms, the price at current valuations would be $5/share. A conservative valuation then, weighing future risks and market inefficiencies, yields a price target of $2.50/share.
Disclosure: I have no positions in any stocks mentioned, but may initiate a long position in ALU over the next 72 hours. I wrote this article myself, and it expresses my own opinions. I am not receiving compensation for it (other than from Seeking Alpha). I have no business relationship with any company whose stock is mentioned in this article.