Last week Intel (NASDAQ:INTC) broke down further, commencing another accelerating downward leg of the slide it began from its $29.00 intermediate-term high, which it registered in early May of this year. While many supporters of the company have been roaring "buying opportunity" for several months, on Oct. 16 the stock re-entered an oversold region of its historical trading range that, over the last 10 years, signaled a buy opportunity with a significant return.
Click to enlarge images.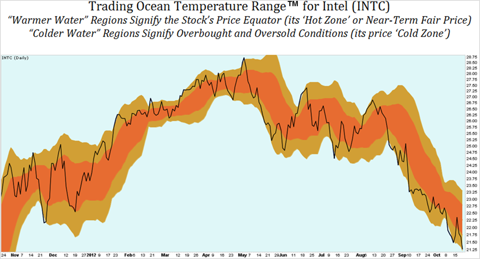 Click to enlarge
If, over the past decade, investors had purchased Intel every time it entered the current "colder water" (golden-brown area on the chart above) temperature region of its trading range and subsequently sold whenever Intel's price returned to the middle of the "warmer waters" (orange temperature region) around its "price equator," investors would have pocketed a cumulative return of 86% across 201 such trades over that period. This trade would have been profitable 73 out of 100 times. By comparison, simply buying Intel and holding it for the long run would have resulted in a 47% return over that same period.

Click to enlarge
In recent years, Intel's current oversold condition proved to be an even better buying opportunity relative to a holding strategy. Over the past five years, simply buying and holding the stock would have resulted in a loss of roughly 21%, whereas the Trading Ocean trade pair discussed above (see below for a description of the Trading Ocean methodology) would have returned 26% across 97 such trades -- a 47% improvement vs. a buy-and-hold strategy for Intel. Across one-, two-, five-, and 10-year time frames, the Trading Ocean trade pair significantly outperformed a buy-and-hold strategy by an average of 43%. It would have prevented Intel investors from taking between 12% and 21% in losses over the previous one- and five-year periods.
Methodology of Trading Ocean Historical Market Simulations
Trading Ocean Historical Market Simulations are a proprietary technology developed by Daniel Nadler (PhD Harvard 2013; United States Federal Reserve 2012) and Pete Kruskall (MIT 2008; Google employee). Trading Ocean uses algorithms and powerful computing to historically simulate and backtest the performance of thousands of market signals, trade strategies, and trades that financial analysts and commentators offer as important. Then, for each stock it selects the best-performing trade strategy for any given investing time frame, reporting clearly their exact historical odds of succeeding.
Looking Ahead -- Exiting the Trade
A rebound to the $22.25-$22.50 region would place Intel squarely back around its "price equator" (its near-term fair price "hot zone"), and would be considered the sell signal of this Trading Ocean trade pair.
Disclosure: I have no positions in any stocks mentioned, and no plans to initiate any positions within the next 72 hours. I wrote this article myself, and it expresses my own opinions. I am not receiving compensation for it. I have no business relationship with any company whose stock is mentioned in this article.